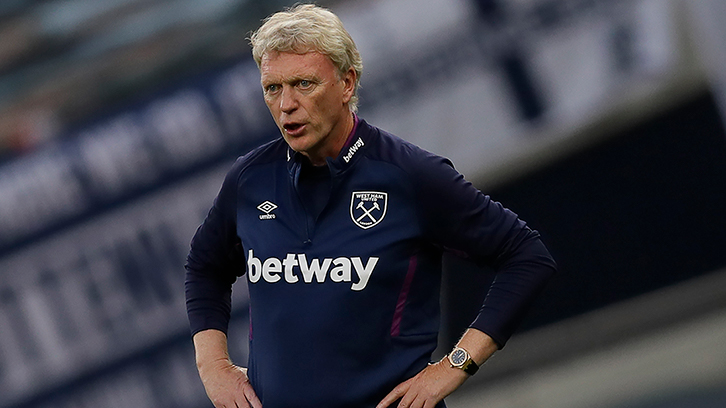 West Ham United manager David Moyes bemoaned his side's profligacy and a VAR decision as a display featuring plenty of effort ultimately yielded no points against Tottenham Hotspur on Tuesday evening.
An open game saw a number of chances for the Hammers go begging in north London, with a controversial own-goal from Tomas Soucek and a late clincher for Harry Kane settling the game 2-0 in the home side's favour.
Presentable opportunities for the likes of Michail Antonio, Pablo Fornals and Jarrod Bowen were not taken on the night, and Moyes feels his side's lack of ruthlessness in front of goal was a crucial factor in the result – and one his side must improve upon in future matches.
"I thought the team worked really, really hard," Moyes told Sky Sports. "We had a shape we wanted to play in to make it difficult for Tottenham. 
"I thought we had some chances ourselves in the game, so there were a lot of good things we can take from the game. I thought the players put in a tremendous amount of effort, but ultimately it was the points we needed. We need the effort but we need the points to go with it.
"We're lacking goals, but we're short with what options we've got to make that happen. We got one or two chances. Pablo had a chance and Antonio had an opportunity, Jarrod hit the post, so we had some opportunities tonight which we didn't take but which we have to take, because we're not going to get loads and loads of opportunities."
While Moyes was able to see positives in the display, he was frustrated that the Video Assistant Referee (VAR) opted to allow Tottenham's opener – with a handball from Davison Sanchez, which caused the ball to divert in off Tomas Soucek, not subsequently penalised.
"I've only just seen it," Moyes admitted. "I can't believe that they've ruled that as a goal, after the rules which are any handball which leads to a goal is disallowed. 
"We had a great goal scored against Sheffield United for something similar, and they've not ruled that one out. 
"That's the rule. I didn't think it was a particularly good rule, but that is the rule, and for them not to give that tonight, I can't believe it."
While ultimately the night ended in defeat, Moyes believes enough signs were there that they can build on the display.
He said: "I think we've improved from the first game and tonight was better. Not a better result, but I think there were signs that it was better. 
"I think there were some really good performances from some of the players. We're still growing, we've got one or two new players in the team which we brought in in January, so they're still getting used to it.
"We want to build a new young team, so we're trying to get people like Jarrod Bowen, Tomas Soucek, one or two others if we can, and improve on what we've got."