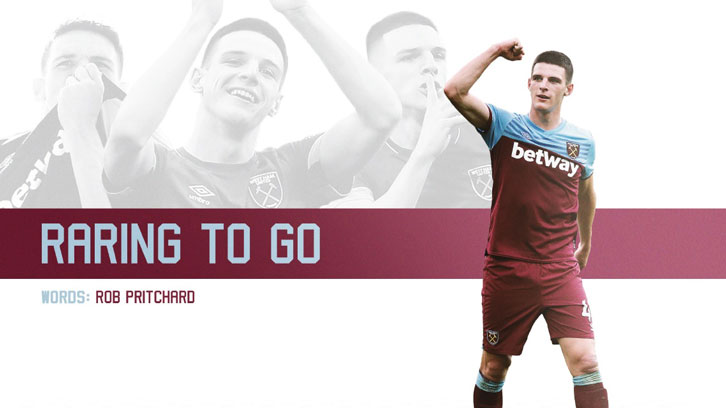 And so, 105 days after stepping off the pitch at Emirates Stadium, frustrated and disappointed after suffering a 1-0 Premier League defeat at Arsenal, Declan Rice and his West Ham United teammates will be back in action this evening.
The Hammers will kick-off their final nine games of this never-to-be-forgotten season with the visit of Wolverhampton Wanderers to a London Stadium that will be empty, save for two 20-man squads, backroom staff, emergency crews, and the media, due to restrictions put in place to stop the spread of COVID-19.
While the surroundings may be unique, there will be no time to settle into them. West Ham return sitting outside the relegation zone on goal difference, and Rice knows they need to hit the ground running, regardless of the circumstances.
"We can't go easy into the nine games – it has to be full throttle now," the 21-year-old told the Official Programme. "We know the position we're in and it's not good enough, so we have to give 100 per cent to achieve the best outcome. We know, me and all the players, that we have to give everything to get the win every time we step on the pitch.
"We'll be ready, no question. Wolves is the first one, then we've got Chelsea and Spurs and we're always up for a derby as it always gives you that extra spurt to go out there and win those games so, when they come, I'm sure we'll go out there and give them tough games. We've had some great results in those London games in recent times, so we'll be ready for everything that comes at us and we'll go out there and give it everything we've got.
"We're not out of trouble at all. We know that we're down there and that's the reality of it. We've got tough games, but those big games are the ones we tend to turn up in. That's West Ham. We've beaten Manchester United and won at Chelsea this year, played well at Liverpool and Arsenal, and we'll roll our sleeves up in our remaining nine games and say 'let's have it'. We're confident that we can rise to the occasion and get out of it."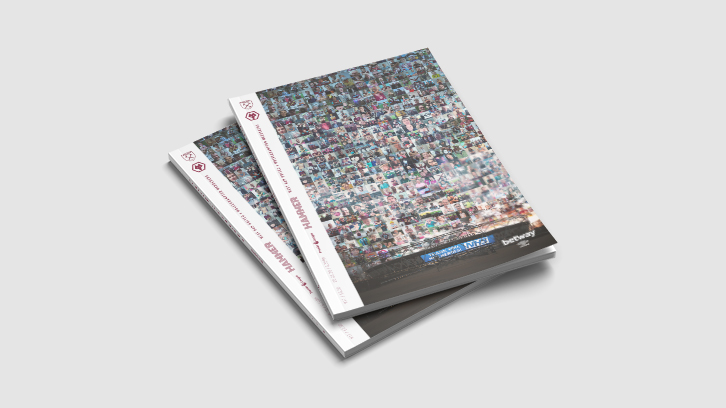 Click here to request your free digital copy, which will be delivered to you on the morning of each of the five remaining home matches! This week's edition includes enhanced video content and an exclusive retail 10% OFF promo code.
Or if you'd like to add to your printed collection, you can also buy your Programme in print, with each copy costing just £3.50 (plus postage and packaging) and delivered direct to your door.
Supporters should note that the digital issue will also be available to download every home matchday from whufc.com.
The front cover of the Wolves issue will feature photographs of hundreds of Hammers heroes – NHS and Key workers who have given their all to provide frontline services to the public during the pandemic. The back cover will feature two 'squads' of 25 heroes representing Barts Health NHS Trust and The Royal Wolverhampton NHS Trust.
Inside, readers will be treated to the usual combination of exclusive news, interviews and photographs, columns, statistics and historical articles.
Alongside Rice's feature interview, goalkeeper Darren Randolph and Academy winger Amadou Diallo reveal their favourite things, while U23s and U18s coaches reflect on their curtailed but successful 2019/20 campaigns.
Club photographer Arfa Griffiths reflects on nearly 25 years of catching West Ham on camera, while former players Bobby Gould and Geoff Pike look back on their careers in Claret and Blue.
With columns penned by manager David Moyes, captain Mark Noble and Evening Standard correspondent Ken Dyer, plus a detailed guide to opponents Wolverhampton Wanderers, there Official Programme is your indispensable guide to the big match.
You can order your copy of 'Hammer' and mark West Ham United's return for just £3.50 each, plus postage and packaging, by clicking here now.
Support our Club. Stay safe. Follow at home.