West Ham United manager David Moyes spoke to members of the assembled media in a quite unique pre-match press conference on Friday afternoon.
The manager fielded journalists' questions via video conference, as he and his side look forward to their first Premier League fixture in 105 days, hosting Wolverhampton Wanderers at London Stadium on Saturday.
From the challenges - and opportunities - presented by the break in fixtures, to his side's determination to do the supporters proud from behind closed doors, read on for all of the manager's thoughts…
 
We're ready to play and looking forward to it
I'm not too sure how some clubs think that they're better off after the lockdown. We've all probably started to get one or two injuries back as well, but I think we won't really know until we get back playing. 
We'll all have some different players who are back, but undoubtedly behind the scenes all the clubs will have injuries because we've all come through the equivalent of a pre-season – or even longer than a pre-season in many ways – without many games.
That's why extra substitutions have been given the go-ahead. I don't think anyone will be quite sure about their teams, and even the teams we've seen in the couple of the games were maybe not as expected.
We're all a little bit unsure, but I believe we're all ready to play and looking forward to it. We can't wait to get started. We play football, that's what we do for a living and we want to get it done.

We've taken every opportunity we can
We were very encouraged by how the players had been performing before the break. We felt as if we were gaining a bit of momentum. 
I actually think the good thing about it is that we have had some time to work with the players. We felt as if we'd finished quite strongly and seen good signs. Results were maybe not as good as the performances, which maybe merited more points, but overall I was pleased with the players. 
I was really pleased with the way they've gone about their work in the lockdown and since they've come back. We've been right at it from day one, trying to prepare them and get them as ready as they can be.
We've tried to be right on the front foot at every opportunity, getting the players in training and working with them, so we're hoping that we'll benefit from that. 
What we need now is the players to show that, and show what they can do on the pitch. I believe that they've got more to show than what they have done so far.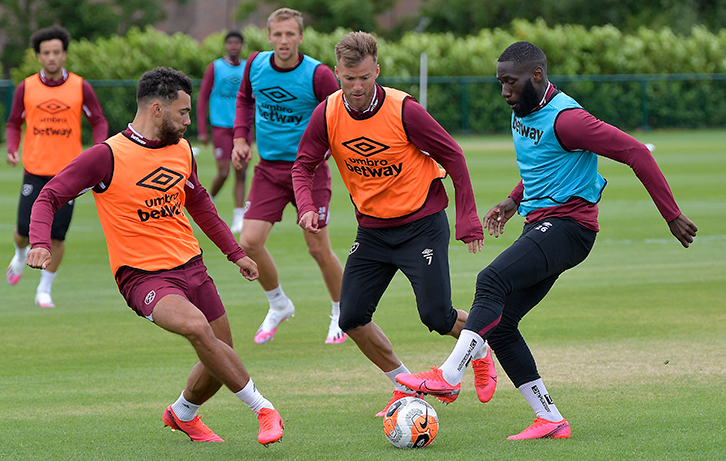 Wolves have done well – but we have more to play for
Wolves have done remarkably well and are in a great position, but I actually think it would have probably been better to play them after they played in Greece at Olympiacos.  I've been there before and it's not an easy trip, a long trip as well, so it could have been a better situation for us playing them then.
But ultimately you have to play every team in the Premier League twice, so you might get a team at a good time or a bad time depending on form. We're playing at home and we've got a lot to play for. Wolves have a lot to play for, but in my mind it's not as big as what we're playing for at West Ham.

Bowen is more than capable of making the difference
I think Jarrod Bowen was always going to be somebody I didn't want too much pressure to go on too soon, and we kept him back. 
I'm still saying we don't want him to suddenly become someone who has to make all the difference at West Ham, but I have to say in those early games, in his training, he's shown that he's more than capable.
We have to remember that he's a player with not a lot of awful lot of Premier League experience at the moment. That could go up and down a little bit, but we've been mightly impressed with him since he's joined the Club.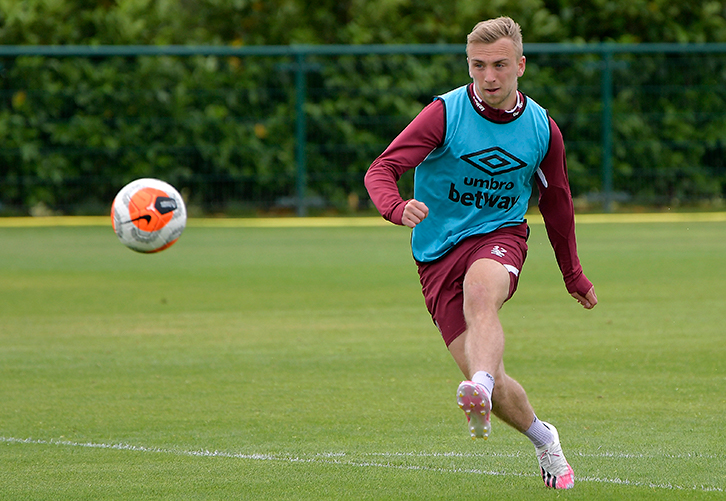 Marcus Rashford's work has been a class above
The first thing I'd say about Marcus Rashford is that there are very few people who've showed the level of class he has done in this lockdown. 
He was a young player when I was at Manchester United, I remember him well, and I have to say he's gone on to show he's not just a good footballer, he's an incredibly good human being, trying to help others, and I think you have to give him great credit for that. He deserves it.
 
Every small action helps
When we all went into lockdown initially we were all shocked. Football shut down immediately, and when I went home, my wife was away. The local fruit and veg shop asked for drivers to deliver, and I must say I really enjoyed it. It gave me something to do, whether that was for older people or families with young kids who didn't want to leave the house at the time. 
What I've got to say is that what I did was miniscule compared to what the people out there really did, but hopefully every little bit of what people did helped.
I was speaking to supporters too, and I have to say the Club did a brilliant job with them in lockdown. I have to praise them for the work they've done at the training ground too.
 
We can't wait to see our fans again
We'll miss them – 60,000 supporters in the stadium, there are very few clubs in the country who could say that – so if you're getting that backing with the people behind you, it's going to be missed.
We can't wait to get them back – we've had some games in the stadium already, and we feel it. We don't see the fans, we don't hear them or feel the atmosphere. 
We'll be thinking about them and hopefully we can get them back as quickly as possible.
For now, though, support our club, stay safe and follow at home.