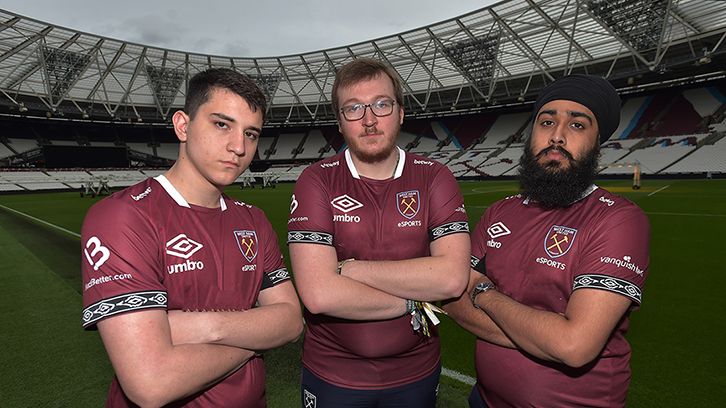 West Ham United eSports player 'Yago' Gabriel Fawaz has finished as the ninth-ranked player in the world – and third-best in South America – in the FIFA 20 PlayStation4 Global Series rankings.
The Argentinian, who recently teamed up with Premier League goalscorer Sergio Aguero to reach the eNations Cup Final, accumulated 2,360 Global Series points over the 2019/20 season through in-person events and online competitions.
Ranking 38th in the world on Xbox One, Hammers star 'Jas' Singh also finished highly, as the fifth-highest competitor in the United Kingdom, while Jamie 'Jamboo' Rigden ranked 41st on the same console.
The season's early conclusion was announced by EA last week, with final rankings confirmed in a final update today.
Yago's high total came at the conclusion of a sensational season for the professional FIFA player, who finished PS4 runner-up at the first FUT Champions Cup of the campaign, as well as reaching the last 16 at two further tournaments, and qualifying for the now-cancelled Stage IV competition.
"I feel like I've played at a very good level throughout the season, both in tournaments and qualifiers, and that is what matters," Yago told whufc.com.
"I am very curious to know what my final position might have been if the season had not ended early, but I have been happy to be in the top ten all year.
"I played at a very high level and reached all the FUT Cups that I missed out on last time - this has been my best season so far."
Jas, meanwhile, added:
 
FIFA 20 competitive year has ended, I finish 5th place in England and 38th in the world for the season. (Xbox) Not as well as I hoped but next year we're going in hard! pic.twitter.com/IUIOVcv7Nq

— Jas Singh (@Jas1875_) June 12, 2020

The announcement comes at the end of Yago and Jas' first seasons as West Ham United eSports players, and Yago looks back fondly on his first campaign as an Iron.
"My best moment of the season has to be the first FUT Champions Cup in Bucharest," he smiled. "It was my first experience as a West Ham player, and I enjoyed my best performance there."
Yago's ranking will therefore qualify him to participate in the upcoming FIFA 20 Summer Cup Series, which will take place between 17 July and 9 August.
The series will comprise regional online tournaments open to the best eight players on each continent – with Yago's ranking qualifying him for the South American tournament, where a prize pool of $30,000 will be open.
These events will replace the Ultimate Team events of the FIFA eNations Cup 2020, Global Series Playoffs and FIFA eWorld Cup 20, which – to ensure a level playing field – would require competitors to play in person, and have therefore been cancelled this year.
More information on the Summer Cup series is due to be unveiled shortly.
For news of future tournaments, events and prizes, follow @WestHamEsports on Twitter and Instagram.