Over the past few months, West Ham United has been overwhelmed with remarkable stories of NHS staff and other key workers making vast sacrifices to keep the country safe and operational during the coronavirus (COVID-19) pandemic.
It is with immense pride, therefore, that West Ham United - in association with Club partner Heineken - continue to celebrate these #HammersHeroes.
With Premier League football on the verge of resumption, this week, West Ham United are proud to introduce you to Rebecca Smith, a Paediatric Registrar from Medway, Kent, whose love of the game – much like her job – is truly family-centred.
"I was brought up in a West Ham household – my Dad was a massive West Ham fan," Rebecca explained. 
"He'd supported them since he was a kid. Whenever you watch my baby videos, there's just football on in the background, so I don't think I ever really had a choice!"
It seemed fitting, therefore, that it was Rebecca's father, Tony, who originally wrote to the Club to express his pride in his daughter's accomplishments during the recent lockdown.
Like so many of her colleagues in the National Health Service, Rebecca has worked hard, long hours under ever-evolving safety regulations, helping the youngest members of her community to recover, while also adapting to changing circumstances.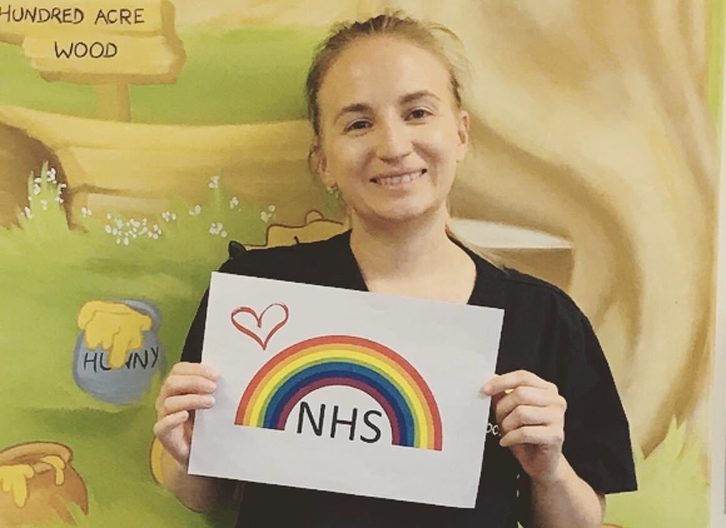 "I basically always say I'm a children's doctor, which is an easy way to explain it," Rebecca said. "I do both general paediatrics, which is kids coming into the hospital from home, but I'm also trained in neonatology, which is helping special care or premature babies.
"At first during lockdown, all our meetings and all our teaching events went. Then all our research went, so we couldn't do any of that either, and we had to be a lot more cautious – we have to wear masks all the time and be much more aware of how many people are in any one room. 
"One challenge has been staff levels – people have caught the virus or had to isolate – so everyone's had to put in a lot more hours and be more flexible, which is tough.
"From the point of view of our patients, the biggest change is that we have to restrict parental visiting, which is really tough – we're only allowed one parent at a time, rather than big families or siblings – so it's changed the whole situation on the ward. 
"We used to get to know whole families when we had young patients, and all their siblings. Mums, Dads, grandparents used to be able to come and visit. We like to be family-centred, but we've kind of had to restrict that more, which is hard on the patients."
While the situation remains fluid, the naturally upbeat, friendly and warm Rebecca has been pleased to see her and her colleagues come together to boost one another's morale throughout this period.
"I do find that we all communicate a lot more, trying to help each other through it, which is nice," Rebecca smiled.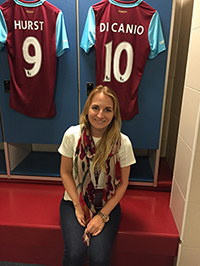 "Then, within, our actual hospital, it definitely has brought us closer. We do talk a lot more, just because we've had to all help each other out. I mainly stay positive in that I'm very lucky and love my job; going to work is never a chore."
As such an evidently family-oriented figure, Rebecca and her relatives have relished being part of the West Ham United family, with the Club immensely proud of her and all the #HammersHeroes.
"Football is just always everywhere in my life!" she revealed. 
"I don't get to go to West Ham games that much because of what I do for work, but my Dad, brother and Mum are all Season Ticket Holders, so they're there all the time. My boyfriend is a big football fan, so it's always on in our household – it's just everywhere!
"My Dad thinks my first game was against Manchester City at the Boleyn Ground. I must have been about eight or nine. I don't remember the game, but I do remember the feeling of walking out from the concourse to the pitch-side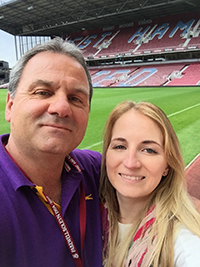 and just being amazed by how big it was."
As for her favourite West Ham memory: an unforgettable afternoon at Wembley for all in Claret and Blue.
She added: "Me and my Dad also went to the 2012 Play-off Final. At the end, I just remember my Dad picking me up a lot. 
"I wasn't a child at that point, but he still managed to pick me up, just going mad! I remember that. Being just me and my Dad, that was quite special."
Claret and Blue born and bred, Rebecca will be one of millions of West Ham supporters cheering the Irons on remotely this Saturday – and has urged her fellow supporters to keep following government guidance and help support one another's welfare.
"It's just so important we all keep safe and do what we can to help out the NHS at this time," she explained.
Introducing Rebecca Smith: a true #HammersHero.