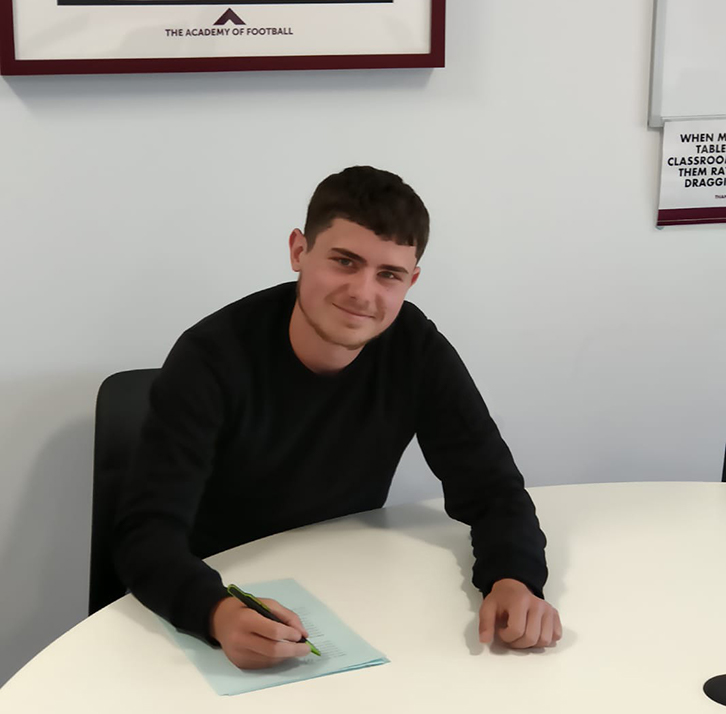 Last week, seven promising Academy of Football scholars put pen to paper on their first professional contracts in football.
The youngsters, who have all impressed at Under-18s level under Lead Coach Kevin Keen this season, will further their dreams of following in the footsteps of the likes of Nathan Holland, Ben Johnson and Declan Rice and, one day, appearing for West Ham United's first team.
Amongst their ranks was versatile midfielder Dan Chesters, an 18-year-old playmaker acclaimed for his creativity and vision on the ball – and his sheer tenacity off it.
"I was absolutely buzzing to sign my first professional contract," Chesters told whufc.com. "I've wanted this most of my life, so I'm proud of myself. I have to thank my family for taking me everywhere when I was little and for all of their support.
"I'd also like to thank all the coaches, staff and players here. If I didn't have them all, I don't think I'd be where I am today. They've just always told me to play with my heart, give a hundred per cent every game and do everything properly. 
"Also, even though he's not here anymore, my old coach Jack Collison's always been really good to me. He always took me under his wing and tried to help me in life. I've always looked up to him."
A softly spoken young footballer who does most of his talking on the pitch, Chesters' professional contract came at the culmination of a productive two-year scholarship.
 
I've had the time of my life. I think playing for West Ham is just a real privilege and I just love every moment of it

Dan Chesters

Before signing that initially, however, Chesters had impressed sufficiently to make his U23s debut as a 15-year-old in a Premier League 2 fixture with Liverpool in February 2018 – where he came face to face with one of England's great modern footballers.
"I first joined West Ham when I was eight-years-old," Chesters explained. "Ever since then, I've had the time of my life. I think playing for West Ham is just a real privilege and I just love every moment of it.
"My highlight has probably been making my U23s debut against Liverpool. There were ten minutes to go and I felt like I was going to get on. I put my shin pads on and was just getting ready, and then [coach] Liam Manning finally called me over and sent me on.
"I was just so excited. I got on the pitch and had a ten-minute run-out – and it was in front of Steven Gerrard! Oddly enough, though, I'd also made my U18s debut in front of him at Little Heath that same season!"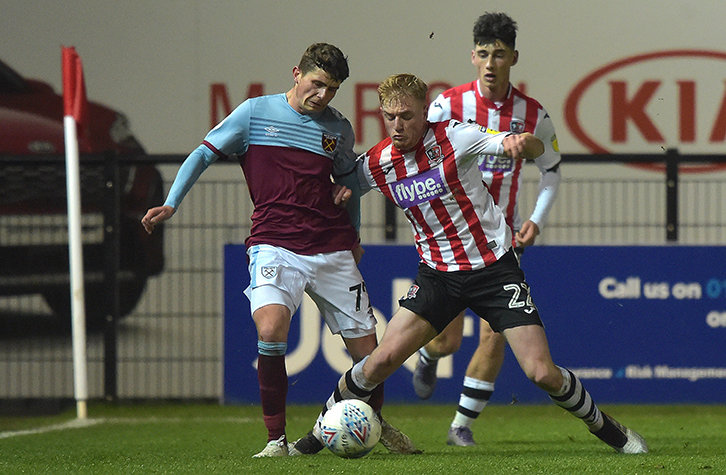 Chesters has enjoyed a fine 2019/20 season with both Keen's U18s – with whom he recorded one goal and four assists in eleven league games – and also the Hammers' U23s outfit, where he registered his first Premier League 2 assist inside four league appearances.
Prior to the early curtailment of the Academy Games Programme due to the coronavirus (COVID-19) outbreak, both teams were chasing their respective league titles – and Chesters was relishing the opportunity to play his part.
"I feel like I've done pretty well," Chesters said. "At the start of the season I picked up a couple of injuries, dislocating my toe and stuff. I found it hard to get back into it, but once I did, I thought I had a really good season overall.
"With the Under-18s, the team have been doing really well. It was unfortunate we didn't have the chance to see if we could win the league, because the season finished early, but also being with the Under-23s, it's been really beneficial to sometimes be involved and get chances on the pitch."
As for when it is deemed safe for Academy football to return next season, Chesters has high hopes that he can draw inspiration from the likes of Holland, Johnson and Rice, and push himself onto the next level.
"I just can't wait to get back to training! I've been so bored during lockdown," he smiled.
"This season definitely shows that West Ham are giving their youngsters a chance, but when you're given that chance, I know that you have to take it. Even when you go over and train with the first team, you have to be confident and show what you've got.
"I want to stay injury-free as much as I can and really kick on. The dream is to be involved in the first team if I can in any way - I just want to play in the Premier League one day!"