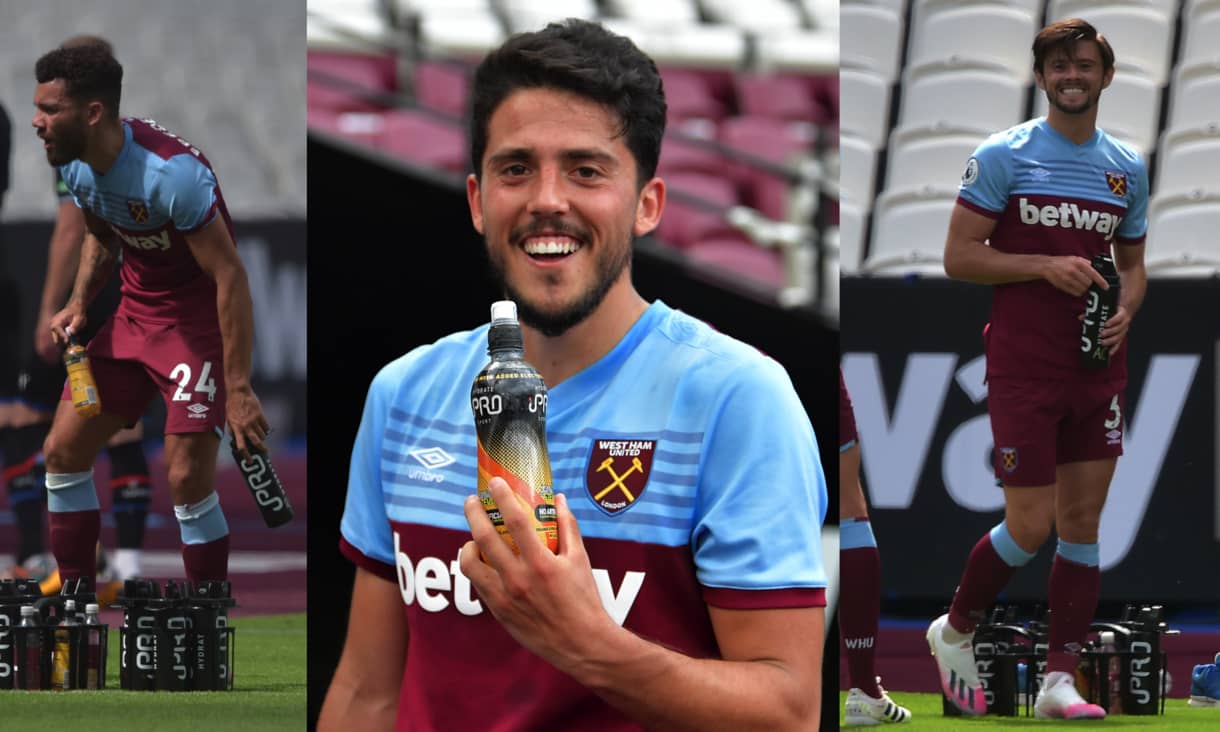 West Ham United is delighted to announce its latest partnership with industry-leading healthy hydration Company iPRO as the Club's Official Sports Hydration Beverage. iPRO will supply their low sugar hydration drinks to the men's first team, women's first team and the academy team until 2022.
iPRO Hydrate is an Informed Sport Approved product and is fast becoming the leading healthy hydration drink for the health, fitness and wellness communities worldwide. This premium range of wellbeing drinks are free from artificial colours and flavours, Halal certified and suitable for vegans, as well as containing added vitamins and electrolytes to rehydrate and aid recovery.
Richard Collinge, West Ham United's Head of Medical Services said: "It is great to be working with a market-leading hydration drinks company like iPRO, so that we can optimise the hydration of our players, helping their levels of performance and recovery times."
Sustainability is a shared focus for both the Club and iPRO and as such, during the term of the partnership, there will be a strong emphasis on driving shared sustainability goals and encouraging the use of reusable products where possible.
iPRO are intensifying their sustainability commitment to ensure all product packaging is fully recyclable within the UK's current recycling infrastructure as they recognise how sustainable packaging plays an integral role in communicating the company's brand values to customers and mitigating the impact on the environment. 
As iPRO continue to develop its product packaging alongside waste management and recycling organisations nationally, the primary focus is to ensure that each bottle has the optimum chance of being recycled.
Karim Virani, Chief Commercial Officer at West Ham United said: "We are delighted to be partnering with iPRO and welcoming them as our sports hydration partner.
"The improved performance of our teams is always the key priority for our football club. The opportunity to partner with a forward-thinking organisation like iPRO brings numerous benefits to our Club, providing our squads with a hydration product that we view as best in class. It is exactly what we have been looking for."
As part of the launch, iPRO will be teaming up with Hammers legend Carlton Cole to donate hundreds of iPRO bottles to charitable good causes. 
On the partnership iPRO Commercial Director, Sophie Christy, said: "iPRO is thrilled to partner with West Ham United, to help hydrate and fuel players to perform at their very best which is top priority whilst they are in a period of intense training ahead of the re-commencement of the 2019-20 Premier League.
"We look forward to a collaborative partnership with West Ham United as we continue to work closely with the club to ensure the iPRO Hydrate product range meets the needs of the players during training and on those all-important game days!
"The iPRO Hydrate range of products will be on sale for fans to buy across all West Ham United retail outlets."
For more information please visit: www.iPROHydrate.com
iPRO Hydrate use only the highest quality ingredients, sourced from countries globally avoiding the use of all artificial sweeteners, colours and flavours. With a committed long-term focus on sustainability, all packaging is 100% recyclable using recycled materials with ambitions to reach 75% recycled materials by 2021.