Foundation
Foundation to host virtual Claret & Blue Sports Day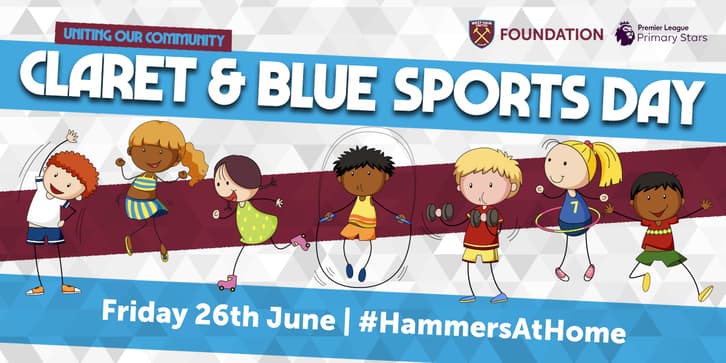 The summer term is usually one of celebrations and sports days up and down the country and as we all know this is a key event in the school calendars.

Due to the Coronavirus pandemic unfortunately most of these events have been postponed, however, do not fear as West Ham United Foundation have you covered!

Following the success of the Virtual Holiday Hammers course, on Friday 26 June as part of National School Sport Week 2020 West Ham's Official Charity will be hosting their very first virtual Claret and Blue Sports Day which aims to engage with school children safely in the environment of their own home or in their schools.

On the day there will be 20 pre-recorded activities hosted via the West Ham United Foundation YouTube channel, all complying with current government guidelines and utilising basic household equipment to get children active; making the day as accessible for all as possible.

The event will focus on self-assessment – a key part of the PLPS curriculum – with children marking their own performance out of five. Participants are able to get a bonus point for each activity if they are able to beat coaches' scores, adding that element of competition that the children will be craving. For the added Claret and Blue experience, first team players will be showing their attempts at some of the challenges and at the end of the activities you can download a certificate of participation.

In the lead up, starting on Tuesday, there will be a range of cross-curricular activities covering numeracy, literacy, PE and PSHE to get children ready for the big day on the 26 June.

To sign up to be a part of this event please click here to register and complete the short registration form which will give you access to the 10-day countdown!
The West Ham United Foundation would like to see as many of you as possible participating, so don't forget to share your pictures and videos on social media by tagging @whufoundation