After home-schooling three children during lockdown and welcoming a fourth into the world last weekend, helping West Ham United finish the Premier League season strongly holds no fears for Michail Antonio!
The No30 and his wife were among the millions of parents who experienced the joys and the frustrations of educating their kids while trying to lead their own lives amid the restrictions of the COVID-19 pandemic.
In Antonio's case, that meant trying to maintain his fitness levels in preparation for the return of football.
If someone is doing something wrong, you should send kids to them and go 'teach these kids!' because, do you know what, it was the hardest thing I've done in my life!

Michail Antonio
"I've got three kids and my wife was pregnant until she had a baby on Sunday, so it was difficult home schooling and getting the time to go for runs and stuff, but knowing that the season was going to get back on, we just needed to get on top of it and ensure we stayed fit because we knew we weren't going to have much time to get back into it," he told West Ham TV.
"Aaaarghhhhh! I feel like home schooling should be a torture! If someone is doing something wrong, you should send kids to them and go 'teach these kids!' because, do you know what, it was the hardest thing I've done in my life and it made me emotional. Teachers, I appreciate you!
"We sat down and they'd be looking at the work and you'd explain the work to them as simple as you can, and they would just sit there, look at the work and ask to go to the toilet. They'd go to the toilet, come back and ask for a drink. You'd go to the fridge, get them a drink, come back, they'd have a drink and they'd say they don't understand. It was literally a circle of toilet, drink and 'I don't understand' and you'd be there for five hours and just want to pull your hair out!
"They liked PE, obviously, and didn't like English because of the comprehension and stuff you have to deal with! It brought be back, it brought me back…"
Taking this home schooling to a new level ??‍? pic.twitter.com/wNMJMQC41B

— Michail Antonio (@Michailantonio) April 29, 2020
Talking of being brought back, West Ham were back at London Stadium for the second of two practice matches on Saturday afternoon, when they faced Crystal Palace.
The two teams played three 30-minute thirds on a hot and sunny day in east London, and Antonio feels the games the Hammers have played against the Eagles and Queens Park Rangers, added to two internal practice matches and intense training sessions, mean they will be ready for the restart when Wolverhampton Wanderers visit on Saturday 20 June.
After that, next up is a trip to Tottenham Hotspur on Tuesday 23 June, conjuring memories of his historic winning goal last season in Antonio's mind.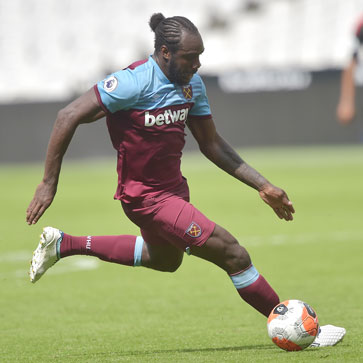 "As it's been such a long break, to get some practice matches in before we go into the season is key, because everything you do in training is not the same as a game, so to be able to have the game scenario gives us that practice before we go back into the season," he confirmed.
"I'm feeling very good, to be fair. I'm raring to go. Now that we know the season is starting, I just want to start now. After all that home schooling, the season should start today! I wish this was the first game!
"To be fair, Wolves have got quality players and they have been a bit of a bogey side for us, but we believe in ourselves and we have got a quality team here as well, so we've just got to go out and do the job.

"I'm looking forward to the Tottenham one. Obviously, it's going to be weird without the atmosphere because every time I've played against Tottenham the atmosphere has been unbelievable, but I'm definitely looking forward to going there. We've done quite well against Tottenham and hopefully we can keep that run going."