Declan Rice says West Ham United are in good shape as the days remaining until the Premier League restart count down into single figures.
The England international featured as the Hammers took on EFL Championship side Queens Park Rangers at London Stadium on Wednesday – their first match action against external opposition since the Premier League fixture at Arsenal on 7 March.
And Rice feels the way the Irons performed against QPR, and the sharpness and intensity of training sessions, mean they will be ready when Wolverhampton Wanderers visit east London for the resumption of their Premier League campaign on Saturday 20 June.
We'll be ready for everything that comes at us and we'll go out there and give it everything we've got

Declan Rice
"It was really good, first of all to get our first game against proper opposition, as we'd played against ourselves twice, so to play against QPR was a really good test and really good for the team," Rice told West Ham TV.
Wednesday's practice match was played in controlled conditions following the Premier League's Return to Training protocol, with just players, backroom staff and other essential workers present at London Stadium.
While he would naturally prefer to be performing in front of a full house, Rice said the surroundings would help the Hammers prepare for their final nine Premier League matches, which will be played without supporters present.
"It was definitely good preparation," he confirmed. "If you look at the stadium we've got, it's unbelievable when we fill it, but now we're going to be playing with no fans because of the circumstances and it's going to be odd.
"That's why these games are put on, to help us get used to it, playing without fans, and we've got to adapt now."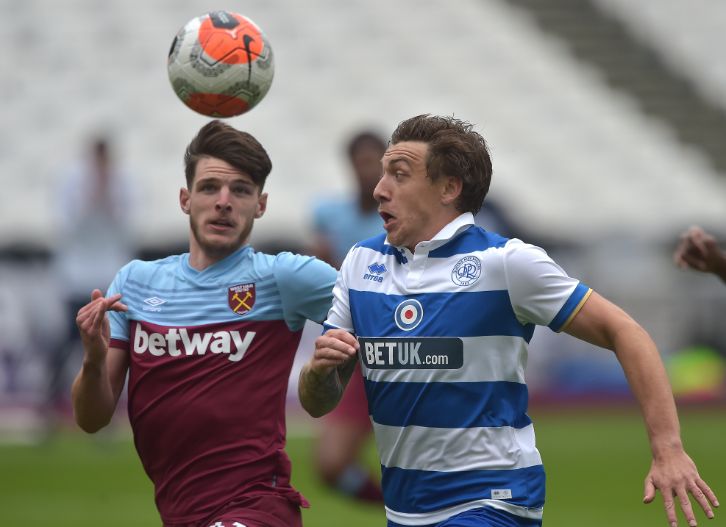 West Ham looked sharp in Wednesday's warm-up match, and manager David Moyes has praised his players for the way they have worked, both during and since returning from lockdown, to be in the best possible physical and mental shape.
Rice echoed those sentiments, saying: "In fairness to the lads, we've all took the time off that we had really seriously and we've all kept really fit.
"The gaffer has had us in doing hard runs and hard stuff with the ball and we're all raring to go now.
"We've got nine tough games and we just want to get back to it and finish the season strongly."
The first three of those nine games will see West Ham take on a trio of opponents all chasing European qualification in Wolves, Tottenham Hotspur and Chelsea.
And the 21-year-old insists that, with the Irons sitting 16th in the table, there can be no easing back into things when the Premier League campaign resumes.
"We can't go easy into the nine games – it has to be full throttle now," he confirmed. "We know the position we're in and it's not good enough, so we have to give 100 per cent to achieve the best outcome.
"We know, me and all the players, that we have to give everything to get the win every time we step on the pitch.
"We'll be ready, no question. Wolves is the first one, then we've got Chelsea and Spurs and we're always up for a derby as it always gives you that extra spurt to go out there and win those games so, when they come, I'm sure we'll go out there and give them tough games.
"We've had some great results in those London games in recent times, so we'll be ready for everything that comes at us and we'll go out there and give it everything we've got."