West Ham United will return to Premier League action when they host Wolverhampton Wanderers at London Stadium on Saturday 20 June.
Almost 14 weeks after the Irons were originally due to welcome Wolves to east London, West Ham manager David Moyes will be looking for his side to kick-start the remainder of their 2019/20 Premier League season in the strongest possible fashion.
With preparations now in full flow at Rush Green, Moyes told West Ham TV of his pride in his players, the Club's preparations, and why they will conquer the challenges ahead.
 
It's great to be back
It's great to have all the players back at Rush Green. A big 'Thank you' to all the staff at West Ham and the way they've gone about it; we're all doing everything correct regarding COVID-19, and I've got to say a big 'Thank you' to the staff for making it all happen.
The Club also did a lot of good things when we were all at home, talking to the supporters and keeping everybody informed. It's been a long time away, but I think the Club have done a really good job – a big thanks to everybody involved.
On the pitch we're close to normal
I've been in regular communication with the owners and Karren Brady, and we've had regular communication with the players because we wanted to keep them up-to-date. 
We worked a lot – every Saturday morning we had a Zoom class together, which was interesting as well, and it was always good to see everybody.
We're beyond that now and we've been back in regular training for a while. We started in ones, eventually got up to fours, and now we're up to full contact and everybody's in, so from that point of view, I wouldn't say it's normal, but it's close to normal on the pitch. 
Off the pitch is not normal and I don't think we're going to have normal for a long time, but I've got to say on the pitch at the moment it feels pretty good.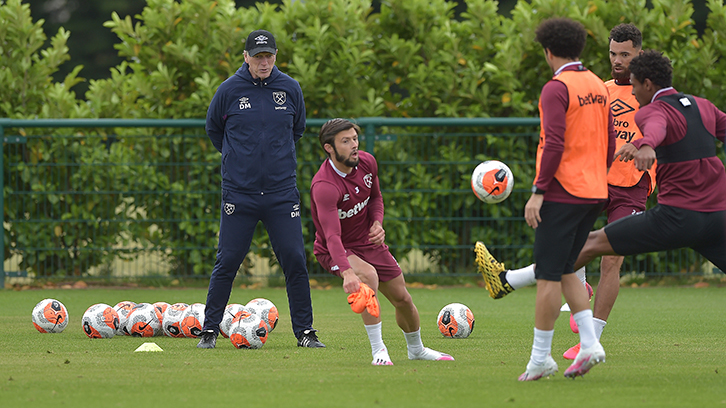 The players have come back in great condition
The players have been excellent. I've got to say they have been really good and I have to give them a lot of praise for the condition they've come back in. They're all in good shape. 
More importantly, I hope that this time will give us that benefit of having a bit of a pre-season, and since we've all been back in, we've made sure they've all been tested fitness-wise. 
We've done everything we can to get them in a good condition and I think they're ready to play. We need some practice, but overall, I think we're in a good position at this moment in time.
It's allowed us to get some injured players back in as well. We've got Ryan Fredericks and Andriy Yarmolenko back, who were missing, and Jack Wilshere is back in full training.
It'll be the same for most clubs, but most clubs will also pick up some injuries when you're training during pre-season. We're in a sort of pre-season type feel and mode, and we've had a couple of small injuries, but hopefully we'll all be okay for the restart.
We've now got a schedule we know we're heading towards. There were periods when we didn't and, while it wasn't difficult motivating the players, I think they were looking for something where they could see what was going to happen.
We've certainly now got that. We're ready to go for the return.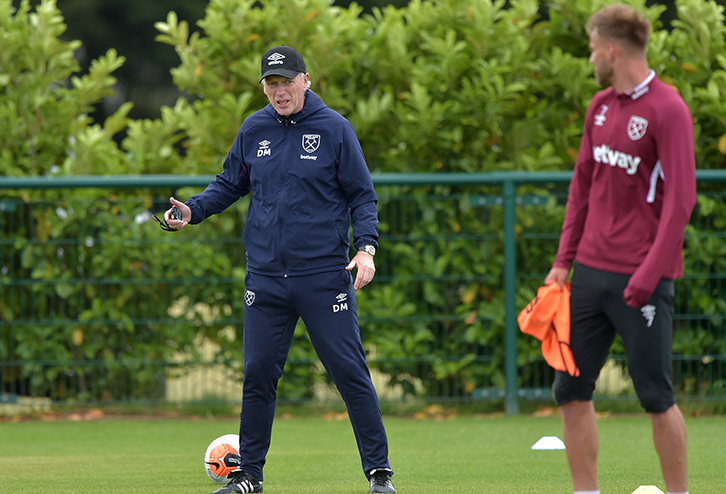 We're ready to go and win games
I'd like to think that we've been quite advanced in everything we've done. 
We understand the position we're in, and I've continually let the players know exactly what we need to do and why we need to be ready to go. We're trying to give ourselves every advantage we possibly can. 
We want the players to feel match-fit and sharp when it comes to the games. We're not now training to keep fit, we're training to go and win Premier League games – that's the difference. Maybe five or six weeks ago we were training to keep our fitness up, but that's completely changed now.
Our game against Wolverhampton Wanderers is the goal, but then obviously shortly after that we've got Tottenham Hotspur. We're going to need all the squad, we're going to have to be fit and well, and we want to try and get off to a good start in those games.
 
We'll be doing it for the supporters
The supporters will be massively missed. I was looking forward to the run-in because, in my last stint here, we were in a pretty similar position, and I thought the supporters made a massive difference. 
We went and won at Leicester, we came back and drew with Manchester United in the midweek game, and then we beat Everton on the Saturday. I'm really hoping for a good run-in which gets us the points, similar to what we had before.
We'll be doing it for the supporters. That's what football is about – you do it for the supporters. I don't like football without the supporters – I think we're used to people being there – but this is the way it's going to be for the moment.
We look forward to having you back at London Stadium, and we want to make sure we're a Premier League team when we get you back.