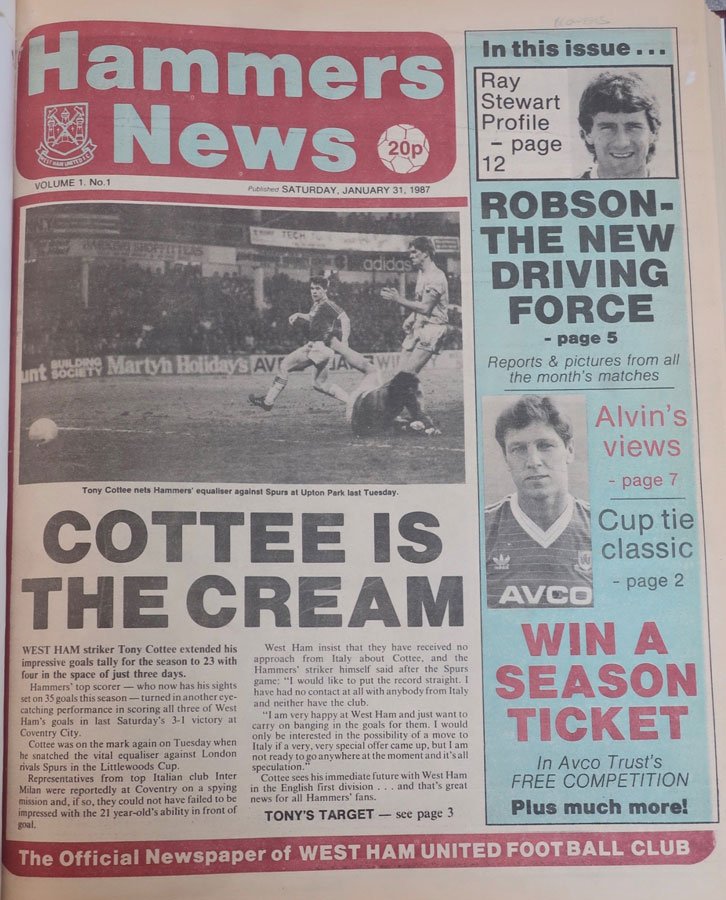 Official Programme contributor Steve Blowers reveals the story behind the secretive launch of Hammers News - the Club's monthly newspaper – over 30 years ago.
Even in January 1987, you could not get much for 20 pence.
But down West Ham way, the newly-launched Hammers News hit Green Street as the Club unveiled its first-ever official newspaper.
Riding in the slipstream of the previous season's record-breaking third-place finish, the 28 black and white pages covering all things Claret and Blue were the brainchild of lifelong fan Tony McDonald.
Where others had tried and failed down the years, the Club's visionary commercial team now supported the concept of a new, monthly publication but one key-man still needed to give the green light - John Lyall.
Surely, the acquisition of trusted local scribe Ken Dyer, plus programme editor Colin Benson, would help convince the Hammers boss that the presses should roll?
McDonald's dad, Terry, had played alongside Lyall in the 1957 FA Youth Cup final, too.
But those close to the Boleyn Ground boot-room counselled against seeking the initial buy-in of the paternal and protective boss, who oversaw all things West Ham United from top-to-bottom.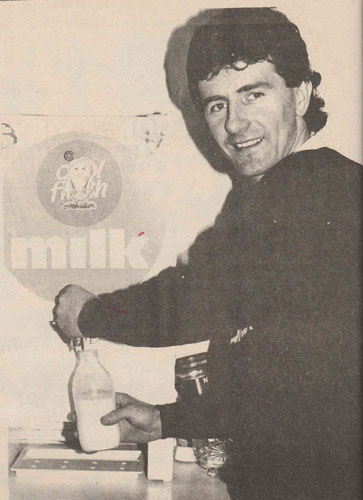 "Just print the first copy and put it on John's desk!" declared the Club's confident commercial manager. "Let him see the printed pages and he'll then realise just how good this can be for the supporters."
And so began a covert, six-week undercover operation to produce that very first monthly edition out of sight and earshot of the all-seeing, all-knowing Lyall.
Up until now, my only involvement in 'journalism' had been the filing of weekly match reports with the Romford Recorder Sports Desk detailing the trials and tribulations of Harbon FC Reserves' seasonal battle against relegation from Barking & District Sunday League Division Three.
"Were you up there yesterday?" 'Macca' asked as we prepared to run-off of our Christmas excesses and face an inevitable early New Year loss on the frosty pitches of Hainault Forest. "Yep - we were robbed," I nodded, still coming to terms with Liverpool's 84th-minute winner against the Hammers. "Fancy writing a match report for me on that one, too?" he replied. Racing home from yet another Harbon FC Reserves defeat, I simply could not wait to recall just how close West Ham had come to claiming their first point at Anfield in a decade.
A few historical features also found their way into the can and, now, all that was needed was some current player content. Thankfully, the ever-willing Ray Stewart – pint of milk in hand – unwittingly became the first-ever interviewee following a chance encounter in the Upton Park pantry. It was the start of a friendship with the likeable Scot that – more than 30 years on – still continues to flourish with the entire editorial team.
With the ink still drying on that inaugural copy of Hammers News, Lyall plucked it from his in-tray and, to everyone's delight, nodded in approval as he turned the pages.
"You're starting off with my trust," the West Ham manager assured the relieved publisher. "So now only you can lose it!"
It was the start of a wonderful, unforgettable adventure as we travelled the length and breadth of the country covering our beloved Hammers with Macca taking the action photographs and myself now compiling the top-flight match reports as well as those for the hapless Harbon FC Reserves.
Alongside Messrs. Dyer and Benson, we built relationships with the players, management and backroom staff that endure to this day and, as that trust evolved, we were invited into the inner sanctum of their homes as well as testimonial events and other social gatherings.
Following Lyall's departure in 1989, the arrival of Lou Macari opened yet more doors with a coveted invitation to travel on the team coach.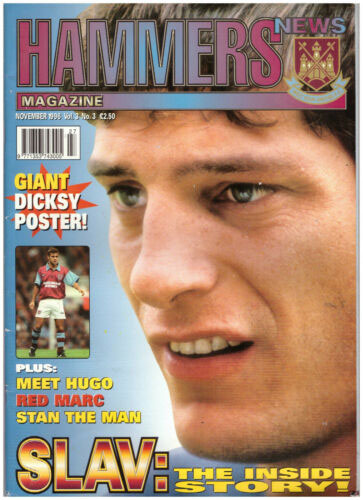 Sitting at breakfast in our Blackburn hotel one late-November morning ahead of our game at Ewood Park, Macari even sought our views on what team he should field against Rovers? Having urged him to give Alan Devonshire his first start of the 1988/89 campaign, it looked like we would be hitch-hiking home after the Hammers went 1-5 down before running out of time in what turned out to be a narrow 4-5 defeat!
Dev, though, did also start our next two matches at Upton Park, where Lou would conduct inquests with his inner circle of the local press pack, deep in the bowels of the Boleyn Ground, long after the final whistle had blown, often prompting an exasperated groundsman to leave the Scot with the keys to the stadium.
Both Billy Bonds and Harry Redknapp were typically accommodating as they then took charge and, as the circulation grew, a change of strategy saw that dog-eared black and white newspaper evolve into a weighty 68-page glossy magazine, with added contributions from West Ham's journalistic community.
In an age when the embryonic world-wide web was still in its formative years and, with player turnover increasing, thanks to the continued support of Lyall's successors the Claret and Blue readership was treated to exclusive full-colour interviews and stories, introductions to our new signings from around the globe plus coverage of the Club's Centenary Tour to Australia and the Hammers' occasional forays into Europe.
A young Danny Francis, now the Club's Communications Manager,  arrived on work experience from school and was barely seen back in the classroom again as – notebook in hand – he ventured into the Academy and built an enviable rapport with the Golden Generation of the future, while the stars of the present – international cap or no international cap – continued to enthusiastically take part in both cutting-edge and off-beat features with honesty and humour in equal measure.
Still the publication went from strength-to-strength with monthly sales rising into five-figures before the inevitable digital revolution, ultimately, resulted in football fans developing an insatiable hunger for instant, wall-to-wall website coverage of their favourite team.
Sadly, after 22 eventful seasons, those presses finally stopped rolling, bringing an amazing journey to an end, albeit had Mr Lyall got the faintest whiff of that original idea, then not a single page would ever have been printed!