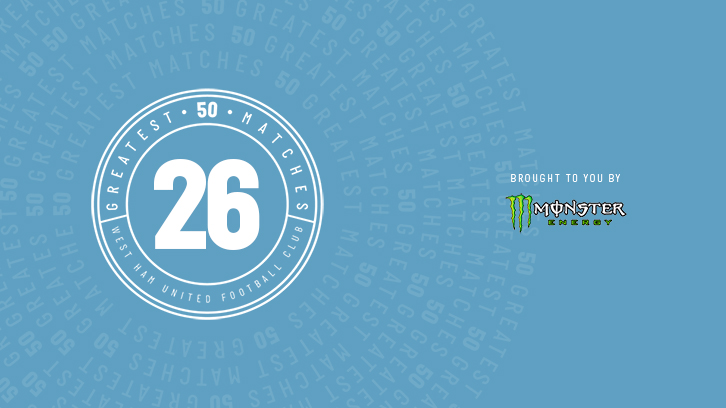 West Ham United celebrates its 125th anniversary on 29 June – and as part of our celebrations we're counting down to the date with the Club's #50GreatestMatches – brought to you by Monster Energy!
Since the Hammers were formed as Thames Ironworks FC in 1895, we have played in excess of 5,500 matches – reaching five FA Cup finals - and one women's FA Cup final, lifting European silverware and competing across the globe and enjoying thousands of memorable moments.
With your help and recommendations, we've whittled down that list of 5,500 matches to a top 50, featuring landmark goals, trophies held aloft, heroic individual performances and remarkable collective efforts.
We continue the #50GreatestMatches countdown with the night a 17-year-old Bobby Moore made his Claret and Blue bow...
It is nearly 62 years since West Ham United supporters were handed their first glimpse of a handsome, immaculately turned out blond-haired teenager named Bobby Moore.
Drafted into the team at the urging of captain Noel Cantwell after his mentor and regular half-back Malcolm Allison was struck down with tuberculosis, Moore's debut came at the age of 17 years and four months.
It was Monday 8 August 1958 and West Ham were just six games into their return to the First Division after a 26-year absence, having won promotion as Second Division champions three months previously.
The newly-promoted Hammers had started brightly under manager Ted Fenton, whose own enthusiasm for developing young players had played a big part in the advent of the Academy of Football in the 1950s.
West Ham had won their opening three matches, defeating champions Wolverhampton Wanderers and thrashing Aston Villa 7-2, before drawing 1-1 at Molineux in their fourth fixture, but a 4-1 defeat at Luton Town had seen them drop to seventh in the table.
Manchester United were the visitors. Matt Busby's club was still recovering from the tragedy of the Munich Air Disaster, which had occurred following the Red Devils' European Cup quarter-final second leg tie at Red Star Belgrade that February, but had also won three and drawn one of their opening five league matches, thumping Chelsea 5-2, Nottingham Forest 3-0 and Blackburn Rovers 6-1.
Bobby Charlton had scored eight goals in those five games, while fellow Munich survivors Dennis Viollet and Albert Scanlon had also hit the net.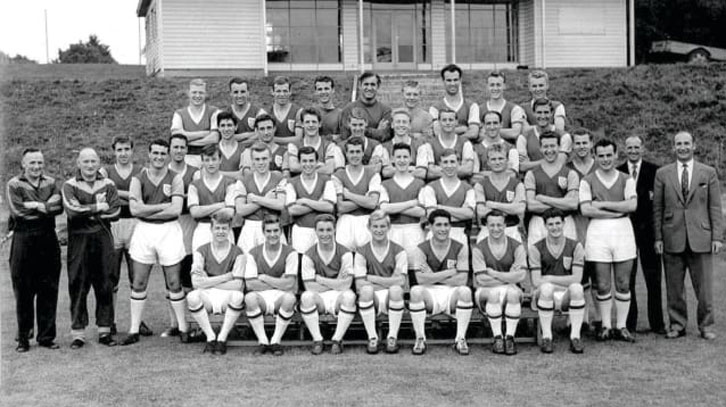 The young debutant, preferred to the more experienced Bill Lansdowne and Allison, who had returned to training but would never play for West Ham again, would need to be at the top of his game, but at the same time he was being drafted into a confident, winning team
Dating back seven months, West Ham had lost just three out of their previous 18 league matches.
Moore's defensive colleagues were both experienced professionals, too.
At full-back were Cantwell, the calm, assured Irishman who had become a favourite since arriving from Cork Celtic in 1952, and John Bond, the versatile Essex man whose Claret and Blue career would span 14 seasons.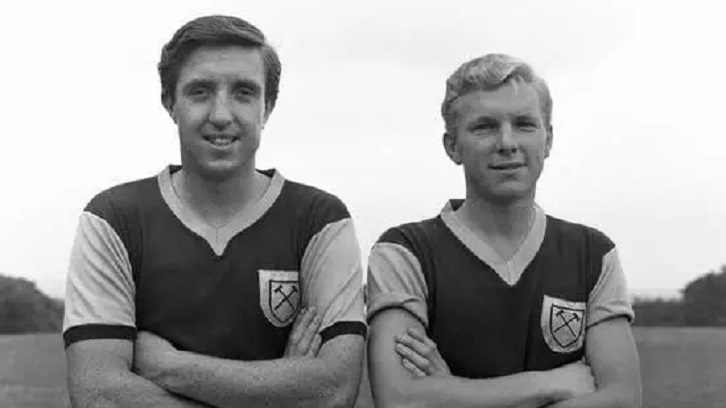 Alongside him at half-back were two fellow East Enders, both of whom had debuted in 1953 and went on be voted the first two winners of the Hammer of the Year award, Upton Park-born Andy Malcolm and Forest Gate native Ken Brown.
Further forward, there was plenty of attacking talent to relieve the pressure on the back five.
"Bobby came into a very good team and he was training and learning from some of the great players and characters at the club; John Bond, Noel Cantwell and Ernie Gregory would have looked after him," Malcolm confirmed, when speaking to author Tim Crane in the book They Played With Bobby Moore. "John Dick and Vic Keeble were a really good pairing up front, so he would have always had something to defend."
Fellow half-back Brown was nine years Moore's senior, but developed huge respect and admiration for his junior defensive partner, who he played alongside a record 275 times.
"I was just a defender, a safety-first type player, but Mooro liked to bring it down and play," said Brown, who was recognised with the club's Lifetime Achievement Award in May this year. "He would never just wallop it away. So many times I would run around the back and cover him just in case he didn't control the ball but he never missed it!"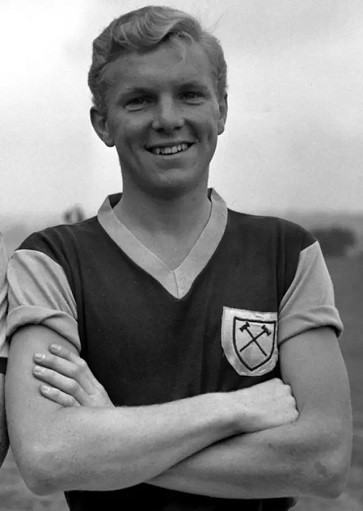 Prolific centre forward Keeble, who passed away in January 2018, recalled to Crane that there was some controversy over the decision to pick Moore over an influential figure like Allison.
"There was a big question surrounding Bobby's debut and who was going to play – either Allison or Moore?
"Malcolm had recovered from a big operation and was back in training. I hadn't seen a lot of Bob because I was quite a bit older and he was playing in the reserves.
"But Malcolm was pretty much running the club at the time, along with Noel Cantwell and John Bond, so it was a big thing when his pal Noel suggested to Ted Fenton that Bob play instead of Malcolm.
"Anyway, it was a good decision because we won the game."
Over 35,500 supporters were packed into the Boleyn Ground for what turned out to be a momentous evening.
As well as being Moore's debut, it was also some game, with West Ham edging out their illustrious opponents by the odd goal in five. John Smith, John Dick, and Malcolm Musgrove were on target for the home side, while Wilf McGuinness and Colin Webster hit the net for the visitors.
West Ham's win saw them go top of the First Division table, while the career of the Club's greatest-ever player had begun.