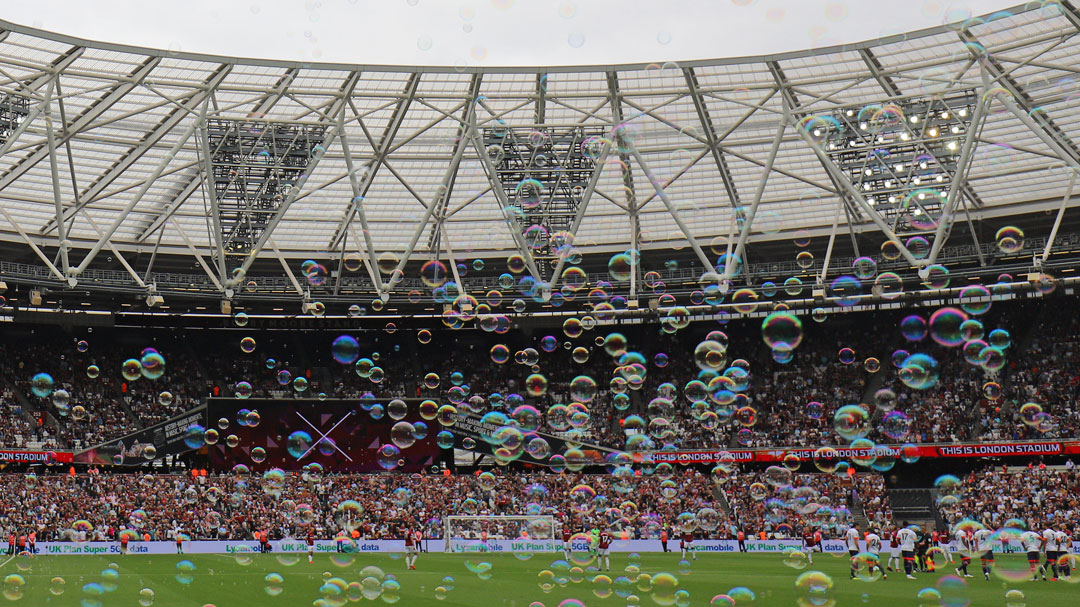 Club captain Mark Noble has issued a message to all Hammers fans following the news that the 2019/20 Premier League season is set to resume in mid-June.
The Premier League announced on Thursday in a statement that the remaining 92 matches will be played without supporters present, in line with Government guidelines and social distancing measures still in place as a result of the COVID-19 pandemic.
All Season Ticket Holders, Club London Members and those who have purchased match tickets were personally contacted by email recently to explain the options that would be available to each individual, and have today been advised on the next step of the process.
Your support and solidarity right now is more important than ever, and I thank you on behalf of all the players, staff and everyone at the Club for sticking with us when we need it most

Mark Noble
Noble said: "We're really excited by the prospect of getting the season going again, and we're itching to get back out on the pitch – even though it won't be the same without you, our fantastic supporters – for now, but the most important priority always has to continue to be the health and safety of everyone involved. 
"I would like to thank all of our fans for their patience, continued loyalty and backing during this time. When we do kick-off again, the players know that you will be with us in spirit, willing us to succeed, and that will be our inspiration to give everything we possibly can.
"Many people have worked tirelessly behind the scenes, to help support the return of Premier League football in line with the Government guidelines around social distancing, and every step we are taking is with two key factors in mind – firstly people's safety and wellbeing, and secondly the future stability of the game that we all love.
"This has been a difficult and challenging time for everyone at the Club but I have no doubt that the West Ham United family will continue to pull together and come through it stronger than ever. We have always shown our strength and togetherness in times of adversity, and that is what gives me the belief that things will be fine.
"We know the importance of these games and each and every once one of us is ready to fight to climb the table for each other, for everyone at the Club and for you.
"Your support and solidarity right now is more important than ever, and I thank you on behalf of all the players, staff and everyone at the Club for sticking with us when we need it most."
As previously stated, we understand that each supporter will have different circumstances and factors to consider and the Club is committed to ensuring that their personal situation and requirements are treated with the utmost care and attention. We will work with each and every supporter to find a solution for them to continue following the Club in the way they wish. 
The Club would like to take this opportunity to thank all of our loyal supporters for their patience and understanding throughout this period.
Everyone in the West Ham United family shares the huge disappointment that our fans will not be able to give their passionate backing to the team in person at London Stadium and on our travels, but they will be right at the heart of our thinking when the remaining matches are played to ensure they can get the most from the experience of watching the team again even though it is not in person.
SEASON TICKETS 2019/20 
Now that it has been confirmed that our final five home fixtures of the 2019/20 campaign will be played without supporters present, the Club can confirm that our valued Season Ticket Holders and Club London Members have been credited the pro-rata value of the remaining five home matches, which can be used to reduce the cost of their 2020/21 Season Ticket, or receive a refund. The same applies for Women's Super League Season Ticket Holders.
Opting to take a credit is an easy and convenient way for Season Ticket Holders and Club London members to instantly guarantee their seat for next season without having to wait for the renewal period, with all supporters benefiting from the price freeze that has been confirmed for 2020/21 Season Tickets*, as well as, of course, helping to support the Club through these testing times.
Additionally, Club Cash balances have been extended to 31 July 2021, so supporters can credit this against their 2020/21 renewal safe in the knowledge that funds will be held securely and will be used only upon their confirmation when the 2020/21 renewal process is opened.
MATCH TICKETS 2019/20
West Ham United can confirm that a credit has been issued to the value of each General Admission and Club London match ticket purchased for any outstanding Premier League home fixture in the 2019/20 campaign, with the option to use that credit for any future match including the equivalent seat for the most sought after fixtures or the corresponding fixture in the 2020-21 season if played in front of fans, or receive a refund.
The same applies for any away tickets purchased for Premier League fixtures or any outstanding home Women's Super League fixtures.
SEASON TICKETS 2020/21
The Club will work with our fans in these times to support any Season Ticket Holders and Club London Members who wish to retain their seats in the event of a change of circumstances. 
We are unable to make any further comment on plans for the 2020/21 campaign at this point but would like to reassure supporters that we will personally contact all Season Ticket Holders and Club London Members at the appropriate time with further information.
FURTHER UPDATES
The Club has directly notified every supporter of their options and the process for credits and refunds to be administered. Our Ticket Office and Club London account teams are on hand to personally answer any questions supporters wish to ask following the receipt of their communications. We'll continue to keep Season Ticket Holders and Club London Members up to date directly with information, including about your 2020/21 renewal at the appropriate time.
IF YOU ARE A SEASON TICKET HOLDER, CLUB LONDON MEMBER OR MATCH TICKET HOLDER AND HAVE NOT RECEIVED AN EMAIL REGARDING YOUR TICKET, PLEASE EMAIL SUPPORTER SERVICES AT [email protected]
 
We would like to reiterate our sincere thanks to the selfless NHS staff for their tireless devotion and key workers around the country who have provided vital services during this time.
The thoughts of everyone at the Club continue to be with those affected by the COVID-19 virus, particularly the older and more vulnerable members of our community. Please continue to look after yourselves and each other.
*Season Ticket price freeze applies to all Season Ticket Holders renewing for 2020/21 and is based on the Club retaining its Premier League status for the 2020/21 campaign. Season Ticket prices for 2020/21 will be announced at the appropriate time, with prices adjusted accordingly should any fixtures be played without supporters present.