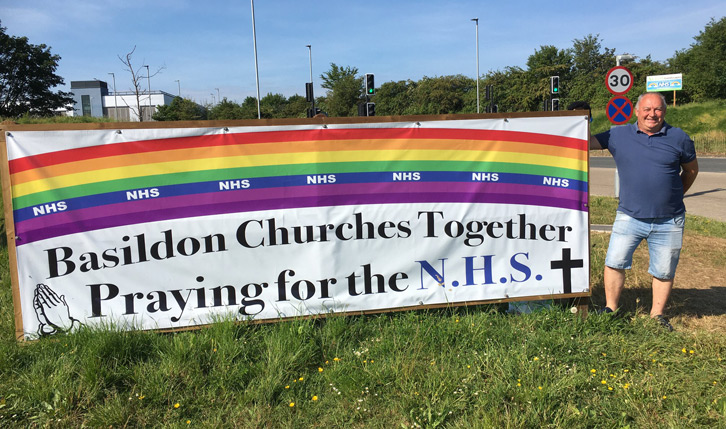 Over the past few months, West Ham United has been overwhelmed with remarkable stories of NHS staff, other key workers and members of the public making vast sacrifices to keep the country safe and operational during the coronavirus (COVID-19) pandemic.
It is with immense pride, therefore, that West Ham United - in association with Club partner Heineken - continue to celebrate these #HammersHeroes
This week, West Ham United are proud to introduce you to Colin Wilkinson. On Wednesday, Colin will reach his 40th day of showing his personal support to the doctors, nurses and keyworkers at Basildon University Hospital.
 
Since late April, Colin has spent every morning clapping the hundreds of workers heading into Basildon University Hospital as they begin another day of battling to ensure their patients' well-being and safety against coronavirus (COVID-19).
 
Alongside a specially created banner, Colin – a lifelong Hammer and Season Ticket Holder - has become a become a beacon of positivity and support for the local keyworkers during these difficult and trying times.
 
His desire to show his support for the keyworkers in his area comes from a snapshot image just a few weeks ago.
 
"I'm a born-again Christian and God gave me a picture of a banner," Colin, from Lee Chapel South in Basildon, explained to whufc.com. "About six or seven weeks ago, I got to the bottom of my stairs and I just had this picture – like a snapshot – in my mind. I prayed into it and I saw the writing on the banner too. I saw a big rainbow over the top of it as well. That was what I had to do and everything else fell into place, like a glove.
 
"A guy around the corner from me had done a banner for me to take out to the World Cup, so I contacted him. We couldn't get the colours for the rainbow, but we got them eventually from another firm. I just felt that if it's from God, it will happen.
 
"We ordered it on the Monday, we got it on the Wednesday, and it went up on the Thursday, which was St George's Day, which I was very happy about because I'm very patriotic. That was another big sign for me."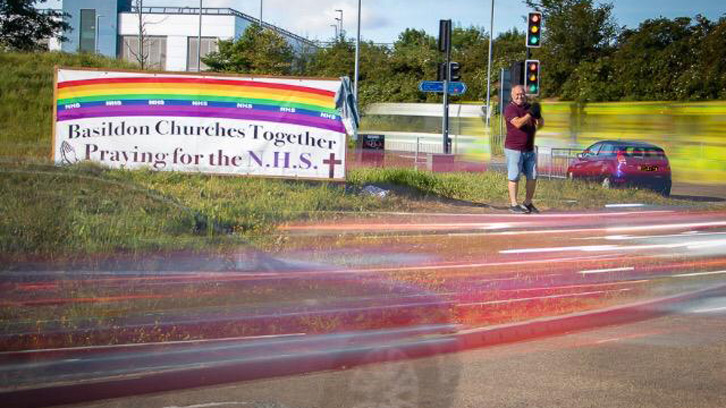 With his banner of support in place, Colin admitted he never expected to spend every day showing his backing in person too, but ever since the day after it was put in place, he has clapped those keyworkers into work.
 
He continued: "On the Saturday, I woke up at 5am and I couldn't get back to sleep. So I got up and, I don't know what made me think it, but I decided to go for a walk to the banner, and I had the pure intention of praying for the protection of the people in the NHS and to pray for people who are battling COVID-19.
 
"I started doing that, and a car drove past, and obviously we clap for the NHS so I just found myself automatically clapping. I started praying again, and another car went past and I clapped then, and it didn't stop. It was prayer and clapping to show them some appreciation.
 
"I did it for a few days and, on day 20 of it, God told me through a bible verse that I had another 20 to do, which would take me up to 40. I believe God has a real sense of humour too, with us in 2020 as well. And 40 days finishes on Wednesday.
 
"I've had people with me on this journey. A guy called Andy Clarke, a fellow West Ham supporter, has been there with me for quite a number of days. I've had others come over to say hello while I've been there."
 
Stories of the man clapping outside the hospital have spread across Basildon in the last few weeks and, while Colin isn't an active user of social media, his family and friends have kept him in the loop on the positive reactions his actions are gathering.
 
"People have been fantastic," the 65-year-old said. "I don't do social media but my daughter has been keeping track of it and told me how mad it was going. People have told me about getting so many likes and views on different things.
It's been an unbelievable journey. The people I've met have been amazing. They are honestly the loveliest people.

Colin Wilkinson
 
"The first one someone showed me made me laugh. A nurse put on a local website: 'who is that man clapping? Please someone find out,' and the website was the Basildon Crime Watch!
 
"A lady I used to work with has made me a booklet up of loads of posts that people have put up. A nurse took loads of photos of me and has just given me a framed one. People are just amazing.
 
"I had an invite from the MD of the hospital to visit and have a coffee with him. But when I got there, that hadn't quite been an accurate invitation. When I walked in, it was all the top managers of the hospital in this boardroom. We stood, socially distancing, having coffee and cake. It was nuts but all of this started with that image of a banner."
 
As Colin prepares to take what has been his daily position for the 40th – and final – time on Wednesday morning, his efforts in recognising the hard-work of NHS keyworkers can surely be considered heroic.
Not that Colin sees himself in that way. The reciprocated appreciation on his journey has been the truly special outcome.
 
He added: "It's been an unbelievable journey. The people I've met have been amazing. They are honestly the loveliest people. They have given me food, given me drink, given me appreciation and clapped me back.
 
"People have told me what I've been doing is helping them through this time period but, to be honest, it's helped me too. It's given me a focus and I feel like I'm doing something.
 
"For me, this has been about two things. It's been about pointing people to the NHS, to make sure we do appreciate their hard work, and I think we've finally got that. And for me, as a Christian, it's about pointing people towards God and Jesus. Those are the two things for me that it's been about.
 
"There is a lot more to come from this. Stage one was the banner, and stage two was the 40 days of clapping. God has told me there is a stage three, although I don't know what that stage three is yet. There's something going on here and I'm part of it. I'm just an ordinary guy – I'm no one special. I'm just me."