Women
Kate Longhurst: Pre-season fitness, new signing initiations and being named Hammer of the Year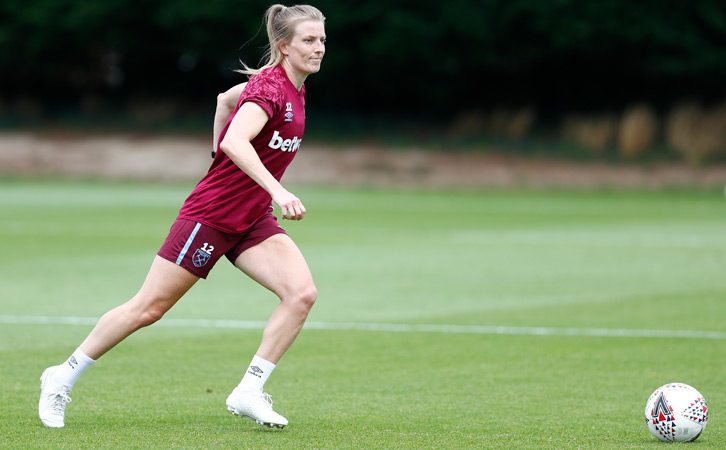 Kate Longhurst is relishing just being back to work with West Ham United women's team as the squad continues preparations ahead of the 2020/21 Barclays FA Women's Super League campaign. 
The midfielder and her teammates have been working intensely at their new training facility at Chadwell Heath for the past three weeks, having returned following the lockdown period that saw the curtailment of the 2019/20 season. 
 
Having not seen any of her teammates in person for a number of months, Longhurst is still just enjoying being in their company again and having a football at her feet, although the pre-season schedule is working the Hammers' No12 harder than ever before.
"I'm feeling tired to be honest!" Longhurst told whufc.com. "But it's been great to be back around the girls, meeting the new players and just getting back into the team environment and having the ball at my feet again.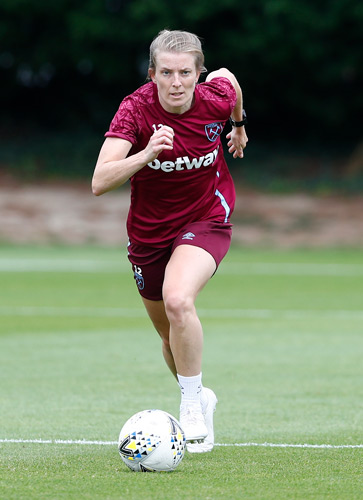 "It feels like the fitness is slowly coming back, although we had our first mini-game on Wednesday and that was hard work! But then you think I haven't played since the Reading game in mid-February, so it's the way it's going to be. But it's nice to be back to some realm of normality.
"Obviously, outside of football, what everyone can do is still very limited, and rightly so because we need to keep everyone safe. But we're really lucky and privileged that we can come into work every day, see each other, train and have some sort of normality in our schedule."
Five new faces have made West Ham United their new home since the start of pre-season, with Australian international goalkeeper Mackenzie Arnold, France defender Hawa Cissoko, Czech international playmaker Katerina Svitkova, left-back Maz Pacheco and striker Nor Mustafa all signing for Matt Beard's Irons. 
Longhurst has enjoyed getting to know her new teammates and helping them settle into life in east London, with each diving into the West Ham squad's humour immediately.
She continued: "I think they've all come in with a lot of character. All of them have settled in really nicely and it's really good to have fresh faces in the team that can improve us in the new season. 
"Hawa is very funny. She loves to sing and dance and has just got so much character. Katerina has also really put herself out there and gotten involved with all the singing and dancing and the initiations. 
"I knew Maz previously and I knew what we were going to get with her in terms of a player and a person, and she's great. I'm still getting to know Mackenzie but the more time I spend with her, it's clear she has a lot of character too and she is also looking a really good goalkeeper. 
"Nor is a good young player for the team too. I think she will keep learning and picking things up, because she's young, but you can see she already has so much talent and potential."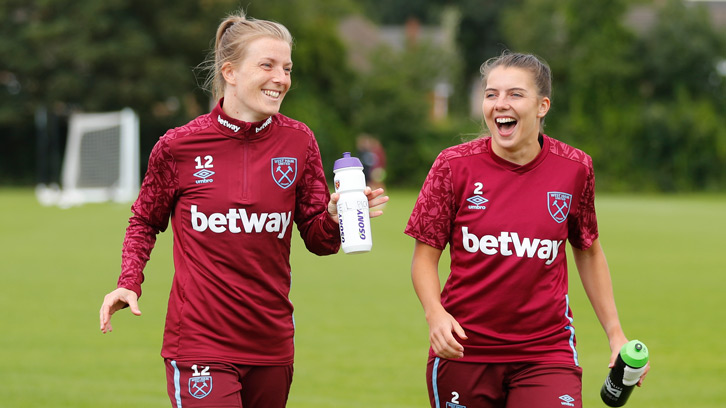 With the early end of the 2019/20 Barclays FA WSL campaign, Longhurst won not one but two awards in the West Ham United women's end of season honours. The midfielder was not only named the Players' Player of the Season but was also voted the Hammer of the Year by West Ham supporters. 
"It was so nice to win the fans' Hammer of the Year award," she reflected. "It always means a lot when the supporters select you to win any honour, so it's really nice to win that and I want to thank them so much for their votes.
"With the Players' Player of the Year award, that's always a special award to win as well, because that is your peers and colleagues recognising your effort and voting for you. It's not something I have ever won before as a professional footballer. It's nice to get that off the players. 
"Obviously I would always rather the team win things or pick up more points, but it's a real honour to win both of these awards. I think, for me, I did okay last season, but I want to keep improving this season and trying to get better."  
It felt like West Ham were turning a corner in what transpired to be the final game of last season, beating Liverpool 4-2 after three successive defeats, and Longhurst says the importance of taking consistency into the new campaign cannot be overstated. 
It always means a lot when the supporters select you to win any honour, so it's really nice to win that and I want to thank them so much for their votes.

Kate Longhurst
Heading into her third season with her childhood club, Longhurst wants to see the Irons climb even further up the table in the new campaign.
"The big thing for me is consistency," Longhurst added. "I think that's something we've lacked in the past. We've had good performances where we haven't won and bad performances when we have, but we can't seem to find that consistency. 
"To be frank, there have been times when we've had a couple of embarrassing results, and that's something that we never want to experience again. It's down to the experienced players, me included, to take responsibility to ensure that doesn't happen again this season and we do have that consistency and making sure the new players do have what it takes to play well and win games. 
"We have to be better than last season and finish higher than we did last season. I think pre-season has been spot on, in terms of the work ethic and what the coaches are demanding from us, and it's down to us to carry that into the matches when the league starts."