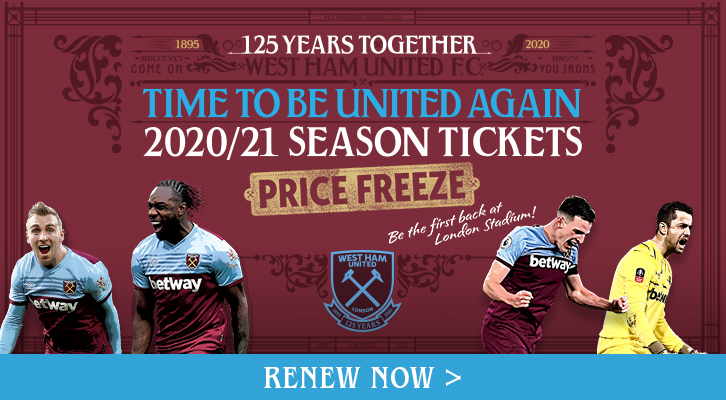 West Ham United has reviewed its 2020/21 Season Ticket renewal process and is pleased to confirm a further option has been provided for supporters ahead of welcoming them back to London Stadium.
The Club stated it will continue to closely monitor Government and Premier League guidance around the return of supporters to matches and remain flexible to what is an ever-changing situation, while we have been continually reviewing feedback following constructive initial discussions with representatives from a variety of supporter groups and the FSA.
We have listened to that feedback and are committed to continued dialogue on matters that are important to fans, particularly around those who have been required to shield, as well as further meetings as and when more detail is known regarding supporters returning to London Stadium. We will keep our Season Ticket Holders fully updated of developments.
At this moment, we anticipate there may be a gradual or staggered approach enforced when allowing supporters to attend home matches at London Stadium during the 2020/21 season, which is due to start on Saturday 12 September. 
In line with our approach to make our Season Ticket renewals as flexible as possible for supporters, we are pleased to confirm the addition of a third option, which is for those supporters who might be hesitant about returning to matches at this uncertain time. Therefore, the following options are now available:
Option 1 – Renew now to enter an automatic ballot for matches with social distancing in place
In the event of matches with social distancing in place and a restricted number of supporters present, we will adopt an automatic ballot system. 
We will communicate further details regarding how the ballot system will work once more details are known. However, an automatic ballot system will ensure Season Ticket Holders can attend an equal number of matches. And if you are not selected in the ballot, you will be automatically refunded. If you missed out in the previous ballot, you will be prioritised for an upcoming match.
We will also work to ensure that families and groups of supporters who attend together can do so through the ballot process, in line with social distancing, and more information on this will be shared in due course.
For every match we are unable to welcome you to London Stadium in the 2020/21 season, due to COVID-19 social distancing measures, we will automatically refund the pro-rata value of the match to the pay holder's card or account within 30 days of the fixture taking place. 
This will give Season Ticket Holders the best chance to be one of the first fans to cheer on the team at London Stadium again, when supporters are permitted to attend.
Supporters who are shielding or are personal assistants can purchase their seat and complete a medical exemption form for games on a match-by-match basis.
 
Option 2 - Renew now and transfer your Season Ticket to a friend or family member for either part of or the full 2020/21 season
We fully understand that some supporters may be hesitant about returning to matches due to COVID-19 and we want to support you during this uncertain time.
Your safety and wellbeing is our first priority when attending matches at London Stadium and we can assure you that we are already working with our stadium partners on plans for when supporters can return to matches. We recognise that there may be additional questions around attending fixtures and we will be happy to discuss any concerns you may have personally, through our Ticketing or Supporter Services teams.
If supporters have concerns about attending but wish to renew in full as per Option 1 in order to retain the option to return as soon as you are ready to, you can also transfer your seat to a friend or family member for either the full or part of the 2020/21 season. Requests to do this must be placed in writing to the Ticket Office by the named Season Ticket Holder, in line with current social distancing guidelines. This offer applies for one season only, with the Season Ticket to be transferred back to the existing holder for the 2021/22 season.
 
Option 3 – Secure your seat for larger home crowds 
Alternatively, Season Ticket Holders who are hesitant about returning to matches during this time can opt to secure their seat by making a part-payment of 30% of their Season Ticket cost. Once a 70% capacity or upwards is permitted for Premier League matches at London Stadium, you will have the right to purchase the remaining pro-rata value of your Season Ticket in a sales window.
This option will ensure you retain your Season Ticket. However, this will not permit you to enter the automatic ballot for matches before capacity reaches 70% or upwards.
In the event that a capacity of 70% or greater is not permitted at London Stadium during the 2020/21 season, your 30% part-payment will be offset against your Season Ticket for the 2021/22 season.
To secure this offer, please contact the Ticket Office.
The renewal deadline is 5pm on Friday 28 August ahead of the relocation process commencing on Tuesday 1 September 2020.
Should supporters who have already renewed via Option 1 or 2 wish to change to Option 3, please contact the Ticket Office.
Our loyal and passionate supporters are the lifeblood of our football club and have been greatly missed since the 2019/20 Premier League campaign restarted in June. 
While we have done as much as we can to bring the matchday experience to fans in recent weeks through the broadcast of fixtures and on our digital channels, nothing can replace the inspirational sight and sound of the Claret and Blue army roaring the team on at London Stadium, and we cannot wait until we are all back together again.
We understand there are still uncertainties around next season, including when supporters will return, but we want to reassure Season Ticket Holders who are looking to renew that we will provide as much assistance as we possibly can.
Our staff have worked tirelessly to ensure that all eventualities are covered, with a fair and transparent process in place to make renewing your Season Ticket as simple and straight-forward as it can be. 
Season Ticket prices have been frozen for the 2020/21 campaign, reaffirming the Club's proud position as the home of affordable family football in London, while those who renew will also enjoy huge savings against match-by-match ticket purchases and there are many options for supporters to use their Club Cash credit.
We are pleased to be able to offer one of the cheapest Adult Season Tickets in the Premier League and we welcome thousands of Under-16s to London Stadium every week for just £5.21 per game on average, with the £99 Season Ticket.
There have been positive announcements in recent weeks about the return of fans to stadia during the 2020/21 campaign and our priority will, of course, be to our Season Ticket Holders. The Club is looking forward to welcoming our fans back to London Stadium at the appropriate time, and renewing your Season Ticket will ensure you are the first back to see the Hammers in person, as well as guarantee your chance to attend the most games possible next season.
We felt it was important to communicate this information as soon as possible, with the proposed start of the 2020/21 campaign only a matter of weeks away, to give our Season Ticket Holders sufficient time and opportunity to digest the information.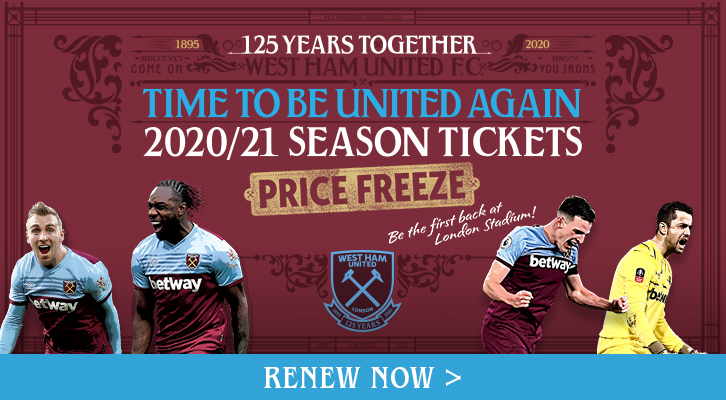 2020/21 Season Ticket prices
We have previously confirmed that prices for Premier League fixtures will be frozen for next season and, on that basis, the 2020/21 pricing can be found here.
We can also confirm that the popular two-year Band 5 Season Ticket will be available again next season, thanking our fans for their ongoing loyalty to the Hammers. 
The women's team renewal process will follow the same policies, with more information to follow in due course.
Season Ticket Finance options
We are pleased to be able to offer new finance options for supporters to allow you to pay for your renewal in installments, as we understand that there will be many fans who have faced financial challenges over the course of this year.
Supporters renewing for next season can apply to pay by monthly instalments* via one of two simple payment plans delivered with the Club's partner V12 Season Ticket Finance.
The following options are available:
Four-month plan – This plan offers 0% interest subject to a £30 admin fee added to the first instalment. 
Ten-month plan – Season Ticket renewal price will be divided into 10 equal payments, with a 6% interest rate that will be added to the first instalment.
The first instalment will be due on each option 30 days after acceptance.
Benefits that come with a Season Ticket
First supporters back in London Stadium when it's deemed safe to return and, due to social distancing measures, possibly the only way to watch the Hammers in person in 2020/21
Flexible payment terms
Option to relocate Season Ticket seat for 2020/21 season, based on early renewal 
Invitations to exclusive West Ham United events*
10% discount on official Umbro replica kit and training range
Priority on home cup and away fixtures*
Discounted Season Ticket price to support the women's team 
Access to the Ticket Exchange* 
Our fans have shown superb support to West Ham United and the Club thanks them for doing so, with almost 90% opting to keep their credit from the 2019/20 season. Those supporters can now use their credit to offset against their Season Ticket.

*Subject to availability and safety measures.

Seat Relocations
Relocation priority is based on how early Season Ticket Holders renew.
Supporters who renew will receive a Relocation window by email, advising when they can call the Ticket Office to review their options. 
More information on Relocations will be provided in due course.
Digital Season Tickets
The 2020/21 season will see Season Ticket Holders receiving an electronic or digital ticket on their mobile device, rather than the usual Season Card. This will avoid personal contact and visits to the Ticket Office. 
Supporters will receive further information in due course on how mobile ticketing will work so that all fans attending London Stadium feel they have all the details they need so that they can get into the stadium safely and smoothly.
Supporters can renew their Season Ticket online here by signing in with their West Ham United Club account or by calling the Ticket Office on 0333 030 1966. Ticket Office phone lines are open Monday to Friday, 9am to 5pm.
When renewing your Season Ticket online, you will be asked to log in to your West Ham United Club Account. If you do not have one yet, simply follow the instructions when you log in to create your account and enter your details. This should only take two minutes. Click here for more West Ham Account information.
Season Ticket Holders will receive an email from the Club with their renewal price.
We thank you again for your ongoing and loyal support, and look forward to welcoming you back to London Stadium.