West Ham Tv
Declan Rice: I've got to thank the fans for making me their Hammer of the Year
Declan Rice has expressed his pride and delight after being voted Hammer of the Year for the first time by West Ham United supporters.
The outstanding 21-year-old was presented with the trophy by five-time winner Sir Trevor Brooking at London Stadium following Sunday's 1-1 Premier League draw with Aston Villa – a game which saw Rice complete his ever-present top-flight record.
Speaking to West Ham TV after receiving his award, Rice, who said his vote would have gone to centre-back Angelo Ogbonna, said being named Hammer of the Year was proof that hard work and positivity can lead to great things.
The fans have been unbelievable. They support me every week, they cheer me on, they support me on social media and I've got to thank them because 50% of the vote is special

Declan Rice
"I'm delighted!" beamed the No41, who had finished as runner-up in each of the previous two seasons. "It's obviously been a very long season, full of mixed emotions, stressful in a way because of what we've been through as a team and as a Club, but on the other hand you get positive moments and individual trophies like this and those are moments you've got to cherish because they don't come around that often. As you can see, I'm absolutely delighted.
"I think I've performed consistently well over the last three seasons but for me, this year, I think it would have been Ogbonna! He's been a rock, solid, he has taken his game to another level and is getting better with age and he's a leader around the team. The lads love him so, for me, it would have gone to him.
"For me to win it for the first time, it's one of those things you look at and it'll go up on the wall alongside the Young Hammer trophies and bring a massive smile to my family's faces and to the fans' faces as well, and I've got to thank the fans for voting for me."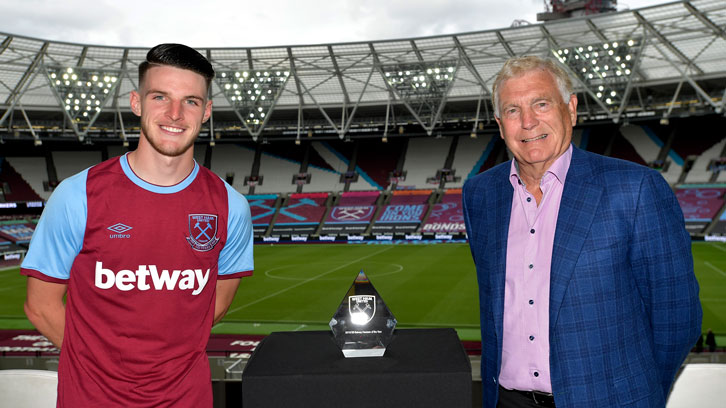 Rice won nearly 50% of the thousands of votes cast, illustrating the admiration the Claret and Blue Army have for him and his game.
"They're unbelievable to me," he confirmed. "Anyone I speak to, I could never speak highly enough about them, to be honest, and the love and support they give you. It's just a shame they're not here, to be honest, for me to be able to speak out loud to say thank you.
"The fans have been unbelievable. They support me every week, they cheer me on, they support me on social media and I've got to thank them because 50% of the vote is special. All I can do is keep coming out onto the pitch and giving my all. That's all I do every week and all I can continue to do to make them happy."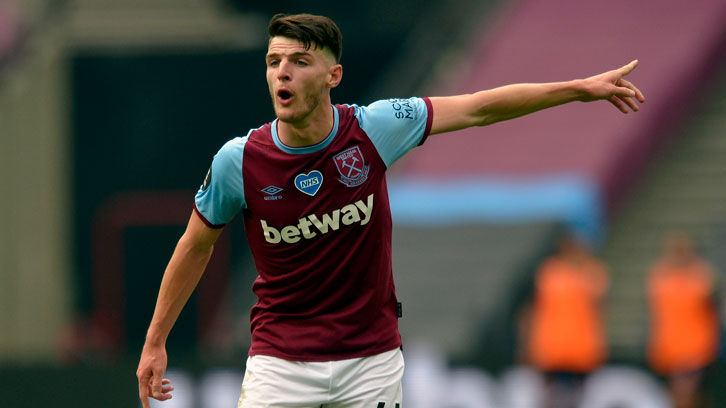 The youngster has performed at a consistently high level during the COVID-affected 2019/20 campaign, ranking in the Premier League's top five in both tackles and interceptions and leading West Ham in passing.
So, what has been the secret to that consistency?
"Do you know what? I just take every game as it comes, to be honest with you," he explained. "I don't ever think too much about the game, I don't ever think too much about the opposition. I kind of just wake up and just think 'I've got a game today' and treat it like I'm going to play a game of football with my mates! Honestly, that's how I look at it. If I play well, I play well, but if I don't, that's life.
"I know that I'm good enough and strong enough to play against any opposition. I'm just happy to first of all have played 38 out of 38 games, as that's some going, and that I've kept fit.
"I've got to give a shout out to Manuel Pellegrini for giving me my chance at the start of the season and David Moyes, who has been unbelievable since he came back in."
For Rice, winning Hammer of the Year comes after he was released by Chelsea at the age of 14.
And the England international said self-belief, coupled with the backing of his family, his West Ham teammates and staff, had helped him achieve something that was almost unthinkable just seven years ago.
"I don't think you ever know what's coming in life, to be honest with you," he said. "Who would have thought at 14 that today would have been my 99th Premier League game?
"I wouldn't have thought that I'd be standing here having won Player of the Year for a first team in the Premier League. It just shows that if you work hard, keep your head down, have a good support network around you that care and good people around the Club that look after you, anything's possible.
"That's what I've done and I'm only 21, so there is so much more to be excited about."