David Moyes is hoping West Ham United can take the momentum of a strong finish to the 2019/20 season into the rapidly approaching 2020/21 Premier League campaign.
The Hammers completed a uniquely challenging, year-long, COVID-affected season with a 1-1 draw with Aston Villa at London Stadium, meaning Moyes' side lost just one of their closing seven top-flight fixtures.
While Sunday's game was something of an anti-climax, with Andriy Yarmolenko's deflected strike earning his side a point just 100 seconds after Jack Grealish had put Villa in front. But that was only because, unlike their opponents, West Ham had done the hard work of securing Premier League safety ahead of their final-day fixture.
Speaking to West Ham TV after the game, the manager reflected on a job done before looking ahead to the new season, which kicks-off in just 48 days' time.
A draw to finish, then… Was that a fair result?
"It was a fair result in this game, but our work was done in the last few weeks, so we have to put it in perspective. We didn't play as well as we have in the last few weeks and I think we lost wee a bit of focus with us getting safe in midweek, but I would have taken that any day because we didn't want to go into this game with it being the be-all and end-all, so the players deserve a lot of praise for getting the job done early.
"We only lost one in seven to finish the season and that's not bad considering we lost a couple of games when we came back from lockdown. You have to say we've been in really good form since then and I can't praise the players enough for how well they've done, because their attitude has been great and every day they've been at it, and even the boys who've not been in the team have been excellent.
"We needed the group, we needed the team spirit behind the scenes as well, and we needed them all to pull together and make sure we got to the right position in the league and make sure we weren't relegated."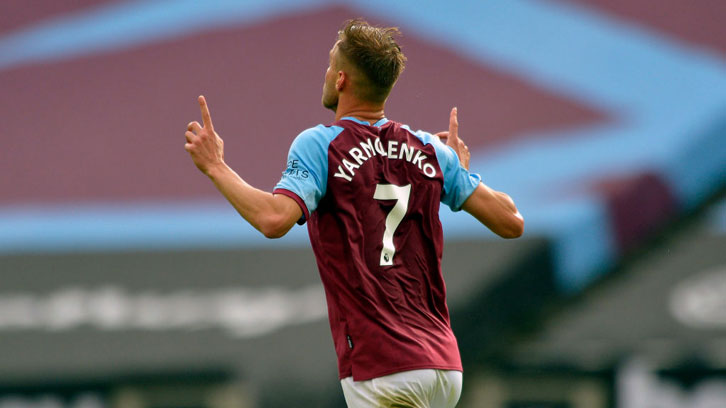 Andriy Yarmolenko climbed off the substitutes' bench to score, having previously done so to win the game against Chelsea…
"You always want people to come off the bench and make a difference and he's done it with two really big goals for us. Today's wasn't as important as the Chelsea one as the Chelsea win was monumental for us.
"That was the thing about the players – to beat Chelsea, to beat Norwich when we had to and to go to Manchester United and get a draw, to pick up the points when we needed to, the players deserve a lot of credit for that."
Declan Rice has been crowned Hammer of the Year, having played every minute of Premier League football this season. What can you say about him?
"Everybody talks about Declan and he's played all the games, all the minutes and he's done incredibly well. He's improving, he really is, he's getting better as a young player and we want to make sure we keep making him better because I want us to have a good young team.
"The likes of Declan have been so good, Tomas has joined him, Issa at the back, Jarrod Bowen and young Ben Johnson has come back into it the last few weeks – I've got to say the signs are there are five or six good young boys and we can use that as a framework to build on, coupled with two or three good experienced players we've got, hopefully we can start to see a side for the future."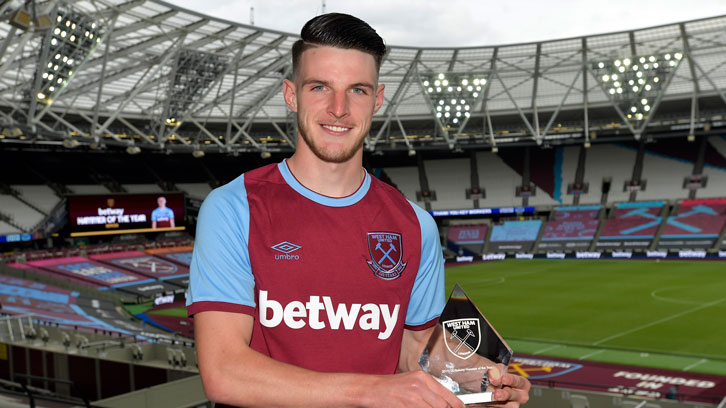 We now have less than seven weeks until the new season starts, and the players and staff will have just three weeks off. Is that a positive, as it means we can take this late-season momentum into the new campaign?
"You have to remember the players have been here for over a year, they've not been away or had any time off, and now they'll have a very short break, so it'll be very strange when we come back so quickly again and we need to try and get them back up.
"We've had good momentum. I thought we had good momentum before lockdown, even though we didn't get the points we played really well at Anfield and probably should have won at Anfield, then we went to Arsenal and made more chances and should have won the game at Arsenal, but didn't quite.
"So, I felt as if there was good momentum so I'm hoping the players will come back ready to pick it up again. They're physically in a really good condition, a little bit fatigued in today's game, but overall they've been so good."
And finally, do you have a message for the supporters, who we will hopefully be able to welcome back to games next season?
"We're missing you all and we wish you had been here because there have been some great games and great performances. In 2020, we've scored a lot of goals here and we've missed them seeing it, but hopefully we can keep it going and improve on it as well."