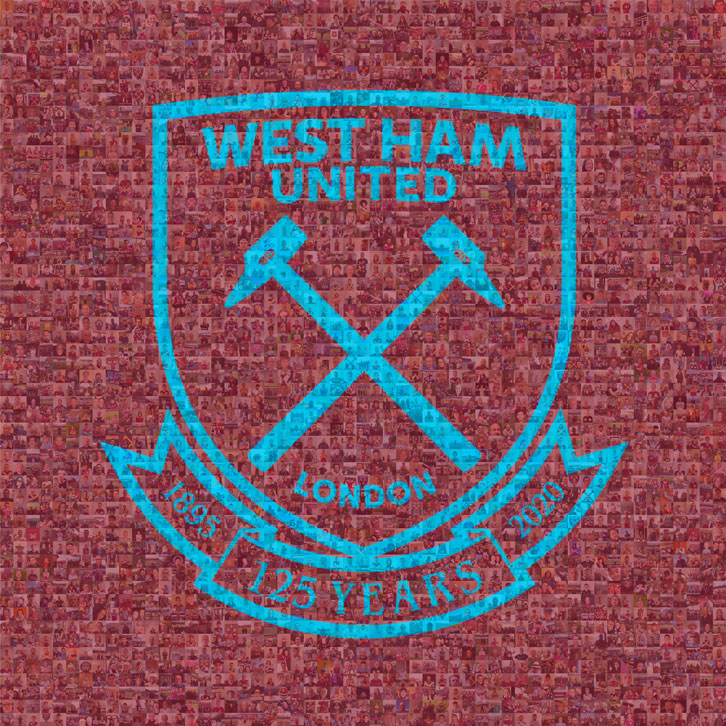 Ahead of Sunday's final game of the 2019/20 season against Aston Villa, the Club is pleased to reveal a new digital fan mosaic, made up of fan images sent in throughout the lockdown period.
The mosaic comes together to feature the Club's 125 anniversary crest which will feature on the Club's commemorative kits across the men's and women's teams.
Prior to the Premier League's return, which has seen supporters not being able to visit London Stadium in person, the Club asked for fan photos to contribute to two huge mosaics placed in the Billy Bonds stand, as a way for proud Hammers to be at games in spirit.
The Club was inundated with thousands of photos from fans across the globe, with far more images than could ever be captured in the mosaics, but this has allowed the Club to include images in programme content, including the cover of the Wolves game, which is available to view here.
As manager David Moyes has said, it is the fans who continue to be the inspiration for the players, as they aim to round-off their strong finish to the Premier League campaign on Saturday.
As a thank you for the unwavering support this season, the Club has now created this additional 125 anniversary digital mosaic which is available to download below. Over 3,000 supporters feature on the new mosaic which has meant each fan who sent in an image will feature on at least one mosaic.  
You can find your picture by following the link below. To view in full size, click on the link to open, where you can save to your desktop or phone camera roll.
If you have any questions on the mosaic, please contact our Supporter Services team on [email protected].