When Tomáš Souček plays football, he does so with infectious enthusiasm; when he speaks about West Ham United, he does so similarly.
After all, there is much for Souček to smile about, having completed his permanent transfer to the Irons on Friday.
His first six months in east London have yielded some outstanding, energetic performances, three goals in his last six Premier League games from midfield - and nothing short of adoration from the Claret and Blue faithful.
"[Before the season suspension] I enjoyed two matches at home with fans present," Souček reflected, speaking to West Ham TV.
"It was incredible for me because, it is a cliché, but they were really our twelfth player on the pitch. They supported us in every moment that they could, and hopefully they will be back at the stadium very quickly.
"I am very happy that they like me and I will do everything that I can for them to continue to do so, because I want to do the maximum for my team with maximum intensity. It is my style - and I want to do it the same next year."
The 'maximum for his team with maximum intensity' is a perfect way to succinctly sum up what Souček has offered the side, having arrived from Slavia Prague, initially on loan, in January.
 
My teammates took me in well and I immediately felt very good on the pitch. I knew I could play in my style and I felt that they believed in me

Tomáš Souček

Since then, the Czech Footballer of the Year has gone some way to proving why he was so widely coveted in the European game, playing his way into the hearts of every West Ham United supporter with a series of conscientious displays to secure their Premier League status.
Doing so in England's top-flight has realised one of Souček's lifelong ambitions, and he humbly credits his teammates for such a successful transition to his new Club, league, country - and home.
"I am really happy because in my childhood, I loved football and I watched only two competitions: the Champions League and the Premier League," he recalled. "Now I am a player in the Premier League. I feel very good and I am very happy.
"When I came, everyone – like the players, staff at the Club, or all the figures at the training ground or at the stadium – was helpful. They have helped me with everything that I have needed. When I felt their support, I immediately felt very good on the pitch and in the changing room.
"I got to know the guys at the training ground through many training sessions and they have been really helpful to me. They took me in well and I immediately felt very good on the pitch. I knew I could play in my style and I felt that they believed in me. It was a great situation for me and I trusted myself.
"My family is very important to me. They are very important in my life and my football too, because when they are happy, I am so much stronger on the pitch, and they give me lots of strength to play football. They've settled in very well, 
"This six months was very challenging for me mentally, because it was my first transfer to a foreign country, but I've enjoyed this time."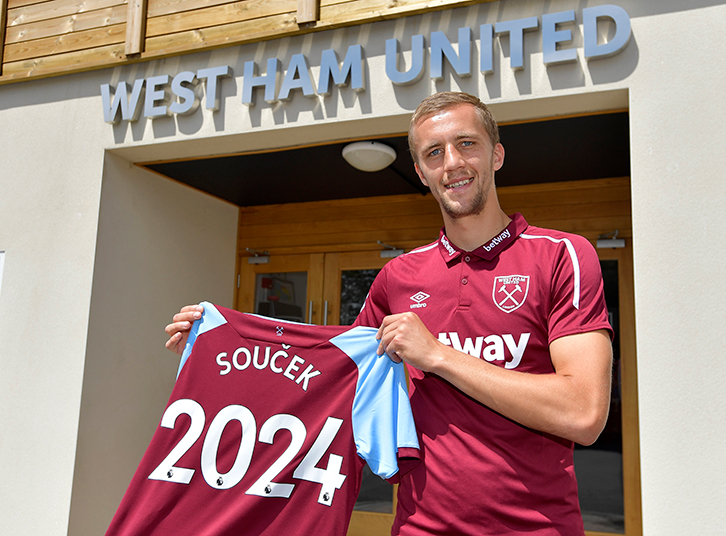 As for his imperious form since the season restart, Souček is pleased that his hard work away from the training ground has paid such dividends on the pitch, with West Ham enjoying an upsurge in form in recent weeks.
"I trained very hard with my family in lockdown," he explained. "I felt that we would restart, so I prepared very well I think, and I am very happy that I could show this on the pitch with the guys.
"I think that in only our first two games [since the restart] we didn't play well, but from the match against Chelsea we began playing very well. We've played like one team, and we deserve to stay up."
With the Club currently celebrating its 125th anniversary year since its foundation, Souček - who also represented Slavia Prague during their equivalent milestone three years ago - is hoping that the Hammers will have plenty to celebrate moving forwards.
Following West Ham's final game of the season at home to Aston Villa on Sunday, the Czech Republic international will enjoy some well-earned recovery time - before once again applying that maximum intensity to the Irons' next campaign.
"I am proud of this year because I like historic teams," he reflected. "I came from Slavia Prague and they celebrated the same milestone three years ago.
"I know it is a very big year so I appreciate it and I hope that we can, for our fans and for the team, go higher in the table, especially this year because it is a big and important year for the Club.
"Now we will have maybe two or three weeks of recovery days, but I look forward to next season because I trust that my team will play similar to how we have in the last five or six games, and we have to go higher and higher in the table.
"I want the team to be very strong and get higher in the table, and to play very well for the fans, for the team - for everyone."