First Team
Ben Johnson: We've shown we can go up a notch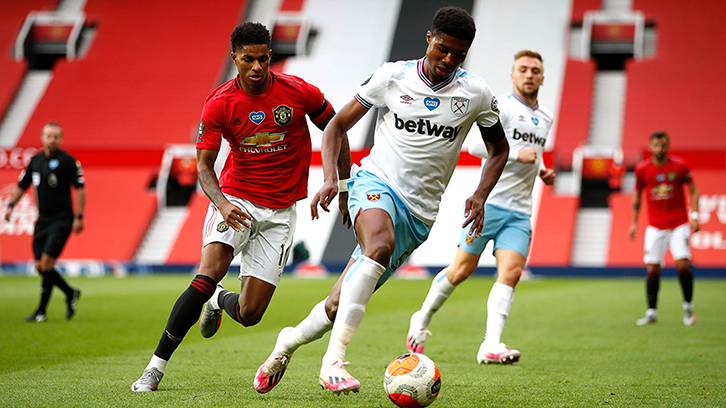 When Academy of Football graduate Ben Johnson last stepped out of the Old Trafford tunnel, it was for West Ham United Under-23s in a Premier League 2 clash last August.
His fine performance that night culminated in an exquisite late assist from right-back, teeing up Anthony Scully with a late first-time volleyed cross to earn a 2-2 draw.
When Johnson returned to the scene on Wednesday evening, it was as West Ham United's first-team right-back, facing Manchester United after putting in an assured display in the crucial win over Watford the prior week.
Once again, the 20-year-old emanated confidence, intent and, above all, quality, keeping in-form forward Marcus Rashford quiet for large spells of the game as the Hammers were unlucky to emerge with only a point in their 1-1 draw against the Red Devils.
 
Attacking-wise we're dangerous, and defensively we're strong, so hopefully we'll just bring that into next season

Ben Johnson

That he and his teammates were ultimately disappointed they did not claim all three is testament to their belief, proven by recent results, that they can take their game to the next level moving forwards.
"We started [the season] off well, and beat Manchester United [2-0] at our place, but then faltered a bit," Johnson admitted. "We've come back and learned from our manager [David Moyes]. He's given us results and we're just delighted to mathematically be safe.
"Looking at the first couple of fixtures [after the restart], it was looking tough. Having so long a break, there was uncertainty in the squad, but I think we've dug deep, we've played football like we can – we can go to another level as well – and just getting results is what we want and what we can do. 
"We've had a difficult season, and not the season we expected, but in the last couple of games we've shown what we can do and that we can go up a notch, so it's just delightful to see us playing with freedom and together as a team. 
"Attacking-wise we're dangerous, and defensively we're strong, so hopefully we'll just bring that into next season."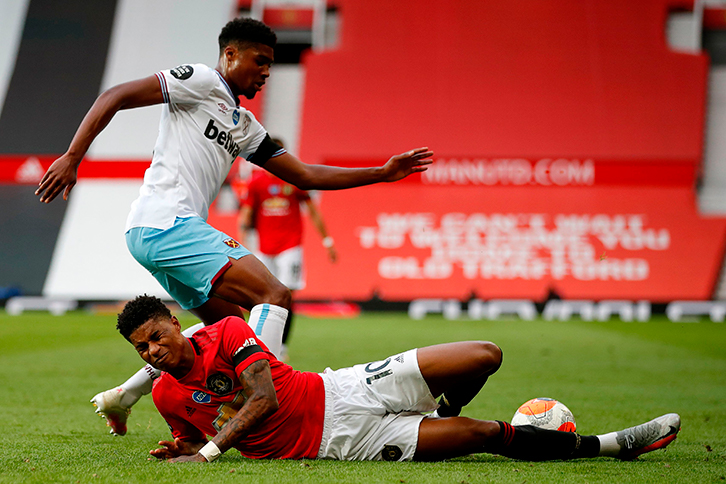 Two impressive performances at Old Trafford in the space of a year will have also made the wider Johnson family proud, with the West Ham defender nephew to long-serving Manchester United and England full-back Paul Parker.
"I think you've just got to stay switched on!" Johnson revealed, when asked about the advice Parker had given him.
"My Uncle, since I really broke into the U23s, has been talking to me and giving my advice for when this opportunity comes and now it's the time, I'm ready.
"He was just telling me to be ready, keep on top and look at all the right-backs who are playing and try to emulate them, and just be able to defend well like he did. 
"He was known for his defending, had so many caps for England and was successful at Manchester United, so it's just wonderful to have him as a friend and Uncle."
As for Sunday's final game of the season against Premier League strugglers Aston Villa, Johnson believes it marks an important opportunity to lay down a statement of intent for their next campaign.
"I think it's about looking at next season," he explained. "We've got to enjoy the draw today. We probably could have won with the chances we had.
"I think just play with freedom on Sunday and just continue it to next season and build on that, because I think we'll only have three weeks off and then we'll be back in pre-season, so it's not really a long break. We can build momentum from Sunday.
"You see the Sheffield Uniteds of the world having a wonderful season, so why can't we do that? With our keeper Lukasz Fabianski and the back four, the foundation we have allows us to build, and the front three have shown we can score goals from the restart – so who knows?"