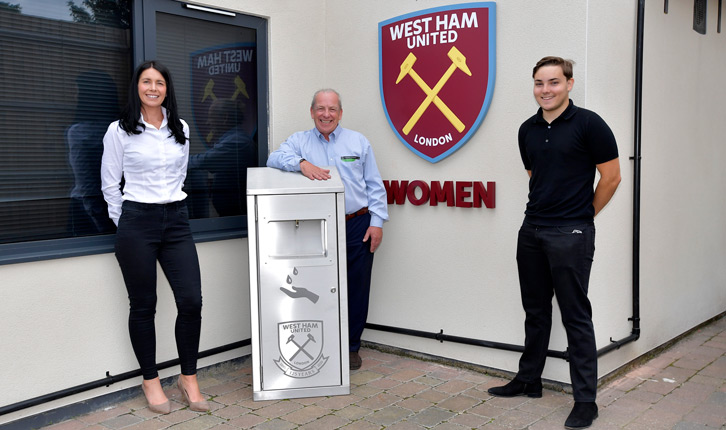 West Ham United women's team are the proud recipients of the first non-touch sanitising station created by NicheSolutions, suitable for KeyKeg.
 
The women's team partner has provided the newly designed touch-free hand sanitisation system for use at the Barclays FA Women's Super League side's new training facilities at Chadwell Heath.
 
Safety, sanitisation and hygiene continue to be of the utmost importance to all at West Ham United, particularly during the ongoing global effort to defeat COVID-19 (coronavirus).
 
The unit which eliminates the need for individual sanitisation products, is built of food-grade stainless steel and can hold up to the equivalent of 400 regular bottles. The front has been engraved with the Hammers' crest, which celebrates the Club's 125 years.
 
Managing Director Jack Sullivan has thanked NicheSolutions Managing Director Paul Calcott for his donation and says cleanliness and sanitisation remain a priority for the team as the world still battles against COVID-19.
 
He said: "I would like to thank Paul at NicheSolutions for his generous donation of this first sanitisation stand.
 
"The most important thing is that we want to make sure everyone feels safe when they come to our training ground or our matches. That goes for players, staff, coaches, and supporters alike.
 
"Hand cleaning and sanitisation is so important, even more so right now, and having this product around our facilities means we can be certain that anyone who attends our training facility or our stadium can keep themselves safe.
The most important thing is that we want to make sure everyone feels safe when they come to our training ground or our matches. That goes for players, staff, coaches, and supporters alike.

Jack Sullivan

"Just as important is how this equipment removes the need for individual sanitisation bottles, which are often not recyclable. This stand removes the need for small individual packaging, keeping everyone safe and sanitised in an environmentally friendly manner."
 
Having provided West Ham United with smaller sanitisation units for use across the Club's training ground and stadiums earlier this year, Paul Calcott was delighted to launch the new stand with the women's team at Chadwell Heath.
 
"We are delighted to launch our non-touch sanitisation station here at the West Ham United women's team's training ground," he said.
 
"Previously, we had an alcohol sanitisation stand that we launched at the beginning of the global coronavirus pandemic, which utilised a 750ml tank, but was only really viable for use by between 20-30 people before running out of sanitisation gel.
 
"In this new stand, we have a station that can produce up to 8,000 shots of alcohol gel, eliminating the need for regular product replacement within the unit itself.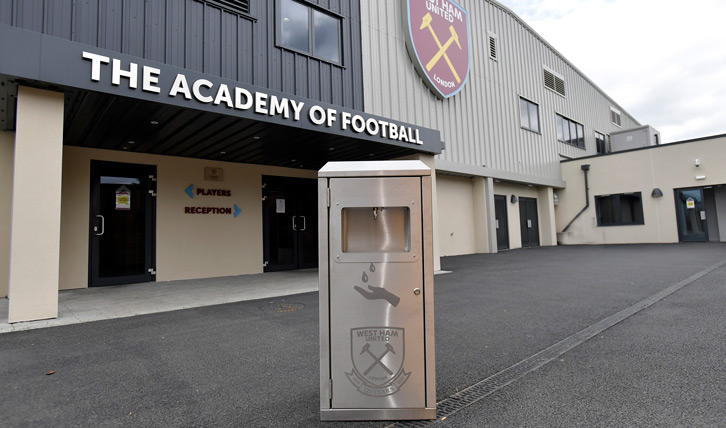 "We have two units that will also be put into Silverstone for the F1 British Grand Prix too, showing the growing need for sanitisation products."
 
OneCircle's (the producer of KeyKeg and UniKeg) Natalie Maestri believes the environmentally friendly aspect of the unit is an added incentive.
 
Maestri, Senior Business Creator for KeyKeg, said: "It's great to see a more streamlined version of hand sanitiser available in this stand. Replacing with circular bulk packaging is so crucially important because, with more and more people rightly conscious of their hygiene, we're seeing this packaging disposed of in the wrong manner.
 
"One of our 20 litre KeyKegs can hold the equivalent of 10,000 mini bottles, and our kegs are also created out of already 30% of recycled materials.
 
"Machines likes this are so important right now. With this product, there is a solution which is perfect for the ongoing battle against coronavirus and is also environmentally friendly."
 
For more information on this product, visit NicheSolutions' website here, or the OneCircle/KeyKeg website here.