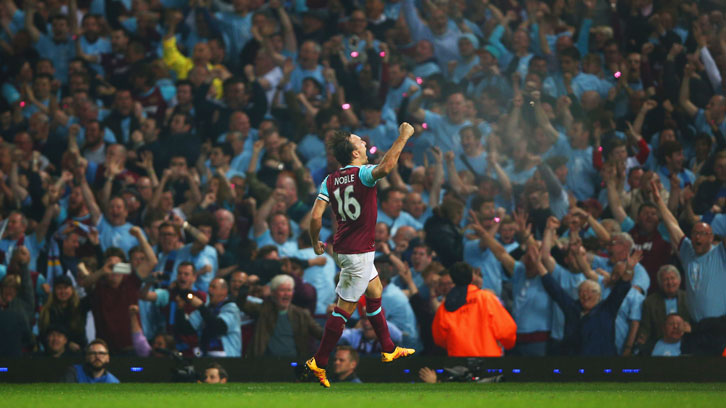 Mark Noble became just the tenth West Ham United player to reach 500 first-team appearances when he led the Irons in Friday's Premier League fixture with Watford.
Noble joins Billy Bonds (799), Frank Lampard Senior (670), Bobby Moore (647), Sir Trevor Brooking (643), Alvin Martin (596), Jimmy Ruffell (548), Steve Potts (506), Vic Watson (505) and Sir Geoff Hurst (503) in reaching the landmark, becoming the sixth Academy graduate to do so.
Of Noble's 500, 460 have been starts, with the other 40 coming from the substitutes' bench.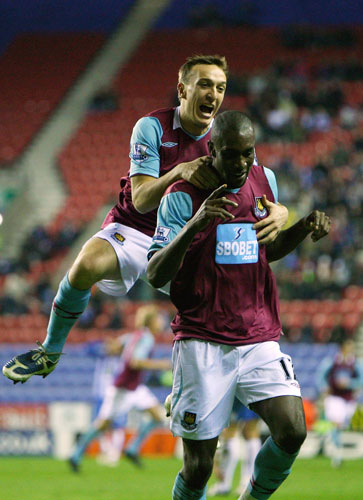 Some 380 have come in the Premier League, making him the Club's record appearance-maker in that competition, some 164 ahead of Carlton Cole in second place on 216.
Overall, he ranks ninth in games played for a single club in the Premier League, behind only Ryan Giggs (632 for Manchester United), Jamie Carragher (508 for Liverpool), Steven Gerrard (504 for Liverpool), Paul Scholes (499 for Manchester United) and John Terry (492 for Chelsea), Frank Lampard (429 for Chelsea), Gary Neville (400 for Manchester United) and Wayne Rooney (393 for Manchester United).
When you add Noble's 64 Championship appearances, including six in the Play-Offs in 2005 and 2012, his total of 444 League games overall ranks him eighth overall, behind Bonds (663), Lampard (551), Moore (544), Brooking (528), Ruffell (505), Martin (469) and Watson (462), and ahead of Jim Barrett (442) and Hurst (411).
Elsewhere, the midfielder has played in 28 FA Cup ties, 24 EFL Cup ties and six games in the UEFA Europa League qualifiers in 2015/16 and 2016/17, taking his total up to 500.
Those 500 appearances have come against no fewer than 60 different opponents, with the first being Southend United on his debut in an EFL Cup second-round tie on 24 August 2004, and the most-recent being AFC Wimbledon in an FA Cup fourth-round tie on 26 January 2019.
Noble's most-frequent opponent down the years have been Chelsea and Tottenham Hotspur, each of whom the midfielder has faced on 22 occasions, ahead of Arsenal, Liverpool and Manchester United (21), Everton (19) and Manchester City (18).
Incidentally, Southend and AFC Wimbledon are two of the seven opponents the Canning Town-born player has faced on just one occasion, with Bristol Rovers, Cheltenham Town, Colchester United, Hartlepool United, and Shrewbury Town being the other five.
Noble's most-common teammate in those 500 games was Carlton Cole, who he shared a pitch with on no fewer than 217 occasions, followed by James Tomkins (201), Winston Reid (183), Robert Green (182), Aaron Cresswell (167) and James Collins (151).
It is Tomkins, though, who he has played the most minutes alongside, with 15,531, ahead of Green (14,863) and Reid (14,073).
His most-common opponent has been Gary Cahill, with 20, followed by Ryan Shawcross, Robert Huth and Aaron Lennon (all 17), Phil Jagielka, Gareth Barry and Glenn Whelan (all 16).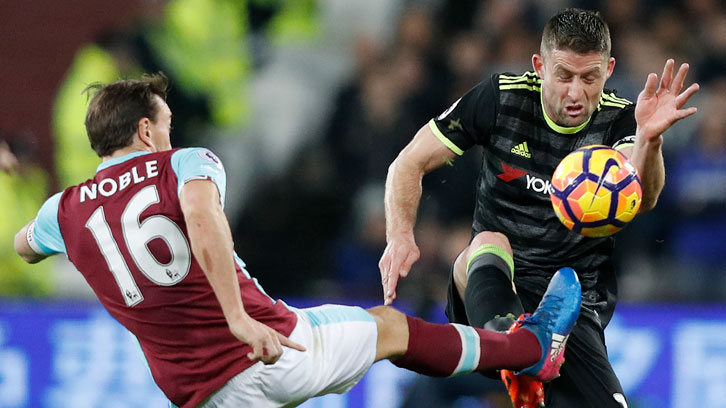 Wins-wise, the 33-year-old's favourite opponents down the years have been Southampton, with ten, followed by Sunderland (nine) and Fulham (eight).
The biggest victory Noble has enjoyed as a player came on 14 April 2012, when he started the 6-0 Championship win over Brighton & Hove Albion at the Boleyn Ground.
Premier League-wise, his two biggest wins have both come this year – 4-0 at home to AFC Bournemouth on New Year's Day, when he scored twice, and away at Norwich City on 11 July, when he registered two assists.
In the FA Cup, he has been part of two 5-1 wins, setting up two goals in a home fifth-round win over Burnley on 21 February 2011, and starting the fifth-round victory at Blackburn Rovers exactly five years later.
Noble's also ranks second in the Club's all-time Premier League goalscorer list with 46, just one behind Paolo Di Canio. Of those 46, 27 have come the penalty spot, placing him third in the all-time Premier League successful spot-kick rankings behind Frank Lampard Jr (32) and Steven Gerrard (29).
All in, Noble has scored 60 goals in Claret and Blue, including 38 penalties, and five goals each against Southampton and Watford, making those two his favourite opponents.