Towards the end of West Ham United defender Ben Johnson's post-match interview with West Ham TV, Mark Noble jumped in to interrupt – and summed things up succinctly.
"What have you played, Man City and a game to stay in the league?" the captain joked. "Nice, though, another boy from the Academy coming in, playing, brilliant – well done!"
After a full Premier League and professional debut away at Manchester City last season – during which he largely kept the likes of Riyad Mahrez and Leroy Sane quiet – Johnson's first appearance since then was in the crucial 3-1 victory over Watford on Friday evening.
A young man for the big occasion, then.
"I think obviously it was a massive game for the Club's future," Johnson smiled. "Just staying in the league is so important. Obviously mathematically we're not safe, but it's another big step in the right direction. 
"Being put into a game like this, you've got to be able to handle it and of course I was nervous coming into the game, but they were good nerves. 
"I'm ready to play. I played last year, and I think this is my time now hopefully to establish myself and get some more games under my belt at the end of this season and next season, so it's just about enjoying my football as well. That's what I want to do.
"This is the top level and this is where you've got to show you can defend well and play against these guys because, like you, they had to come through struggles and they've got to the Premier League and they're established players. 
"Playing against men, I'm maturing in myself and I'm going to play against many more top players, so I've just got to keep my head screwed on for 90 minutes against them and not feel inferior."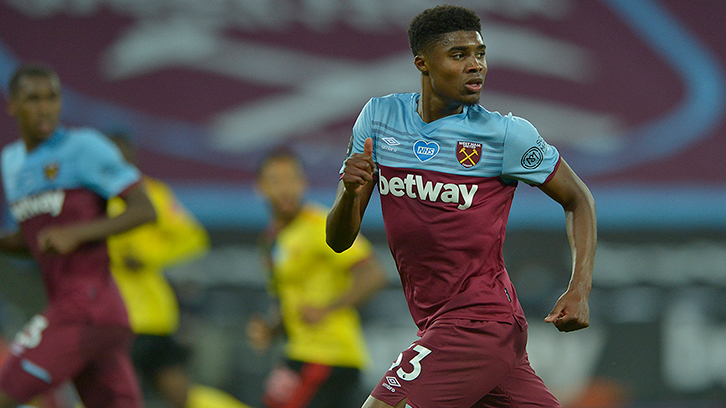 After such a promising debut appearance last season, Johnson's 2019/20 so far has been disrupted by frustrating circumstances, with injuries and strong competition in the full-back areas preventing him from having another such opening.
Yet the 20-year-old has continued to impress at every turn, combining committed defending with a mature disposition – plus the occasional bombing run down the flank to boot.
 
We were trying before, but he [David Moyes] has installed in us that never-say-die attitude and just defending the goal with our lives really

Ben Johnson

Such maturity was on show again on Friday evening as the Hammers – who had raced into an early three-goal lead against the Hornets – were forced to dig in to preserve that in the second half.
"What I've learnt so far in my short career is that an opportunity always recycles around," he continued. "You'll get that opportunity again and you've just got to be ready for it at the time they call upon you. 
"The gaffer's put me in and showed trust and faith in me, to show him that I'm good enough to play, and hopefully I've warranted it. To be in his plans for next season is a big boost for me."
That next season looks increasingly likely to be in the Premier League, following the important, convincing win.
"We shouldn't be in this position but that's where we are, and we've got to get ourselves out of it," Johnson explained. 
"Of course, we've not had the best season. We started off well and then dropped down, and we've come back, got David Moyes and his staff in, and they've been tremendous. They just want us to defend properly. 
"We were trying before, but he's installed in us that never-say-die attitude and just defending the goal with our lives really. He also wants us to play, but in the position we're in, you can win well and play champagne football, or you can play ugly, and we played ugly tonight. 
"Our goals were brilliant but some of our play was ugly, but we got the win and that's the most important thing."