Selfless, humble, and unwaveringly focused, Mark Noble stands on the cusp of a landmark achievement in Claret and Blue – but refuses to allow that to serve as a distraction in the pursuit of Premier League safety.
Should the West Ham United captain feature against Watford at London Stadium on Friday night, it would be the Canning Town-born midfielder's 500th appearance in a professional career which has spanned two decades at his boyhood club.
Of even more importance to Noble than the occasion, however, is the need to claim three points, with West Ham ahead of Watford solely on goal difference – both sides situated three points clear of the sides in the Premier League relegation zone.
With three games to go, therefore, Noble is aware that victory would put his Club in the strongest possible position to secure safety, albeit not mathematically confirmed.
"Tonight could be my 500th first-team competitive game for the club, so I must be doing something right," Noble told the Evening Standard.
"It's a special milestone but I don't want to tempt fate by talking about it before it happens and, more than anything, I don't want any distractions before this particular game.
"I don't yet know if I'm in the team. Yes, I want to play but, above everything, I just want West Ham to win. The last time we were in this position was the season before last. We were 15th with three games to go and by no means certain to avoid relegation.
"I scored in a 2-0 win at Leicester and we followed that with a goalless home draw with Manchester United and a 3-1 win over Everton, also at home. This is similar — all we need to do is win as many of our last three games, starting tonight and then followed by Manchester United away and at home to Aston Villa on Sunday week."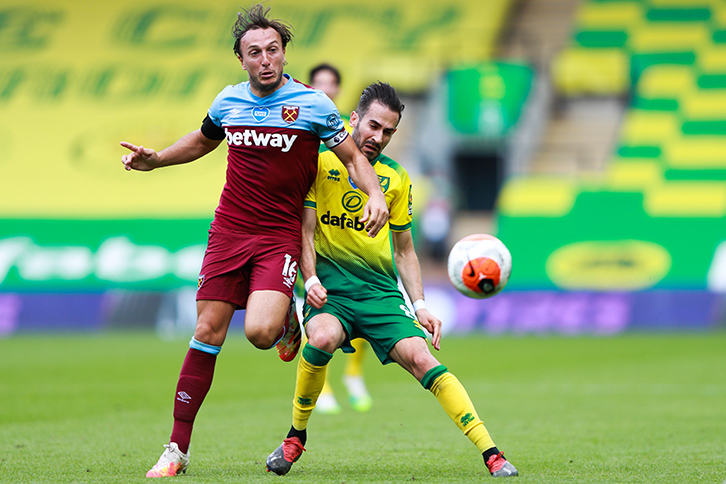 Following the Hammers' 4-0 win over Norwich City at Carrow Road last weekend – in which Noble produced an influential performance, with eight key passes and an assist from an advanced midfield role – West Ham temporarily pulled six points clear of the drop zone.
 
As far as tonight is concerned, I expect a tough game. I like Watford and they have some good, strong players, but what a massive incentive we have to win

Mark Noble

Victories the following day for Aston Villa and Bournemouth, however, halved that advantage – and while West Ham remain in a strong position ahead of welcoming Watford, Noble has warned how quickly things can change in top-flight football.
"Of the teams down there, we remain in the best position," he declared. "We also have a far superior goal difference, which is worth another point. 
"We're at home [against Watford], not that it makes a lot of difference with no fans in, but the most important thing is the players understand how vital this game is — and that they give everything in search of that victory.
"That was certainly the case against Norwich and our performance against them looked even more impressive after watching them run Chelsea close at Stamford Bridge on Tuesday night.
"Everything clicked on the day at Carrow Road and we're going to need a similar performance tonight. I felt good in the game but I'll leave it to others to decide whether that was because I had sat out the previous couple of matches. All that concerns me is winning matches, full stop.
"As far as tonight is concerned, I expect a tough game. I like Watford and they have some good, strong players, but what a massive incentive we have to win."