West Ham Tv
David Moyes: Three brilliant goals gave us massive boost
West Ham United manager David Moyes was delighted to see his side make a blistering start against Watford on Friday evening – but was equally pleased to see the recent development in their game.
Aware of the need for three points against their relegation-threatened opponents, Moyes' came out full of positive intent, netting twice inside the opening ten minutes through powerful Michail Antonio and Tomas Soucek finishes.
Declan Rice added a touch of class shortly before the interval with a sweet curling strike from 25 yards and, while Watford hit back early on in the second half through Troy Deeney, the Irons' resolute defending under pressure was enough to secure a vital victory.
"I thought we started the game brilliantly well," Moyes told West Ham TV. "We got three great goals.
"We'd have liked to have managed it in the second half a bit better than we did, but I don't know what else anybody would have expected than Watford having a right good go at it, and they did. Thankfully, for the majority of it, we stood firm. 
"I didn't enjoy it as much in the second half because I wanted us to play better, but we did the work in the first half, and it was always going to be a really tight game. I thought the game would be a goal either way, and when we got three, it was a real boost to us.
"They were three great goals, they really were: Michy getting another goal, showing his ability to play up there and the threat that he's become. I think the cross from Jarrod [Bowen] and the header by Tomas [Soucek] was a bit like the old days – a great ball in and it looked like that old-fashioned centre forward play, David Cross-type! 
"Declan has got some ability to shoot – with great power, he's a really clean striker of the ball. Partly because we've got him in a role where he recovers the ball and wins the ball back for us so much, we just don't get to see him in that [forward] role as much. Tonight he got a goal, so he's beginning to get a bit further up the pitch for us, and let's hope he can get in there and show his ability near the opposition goal."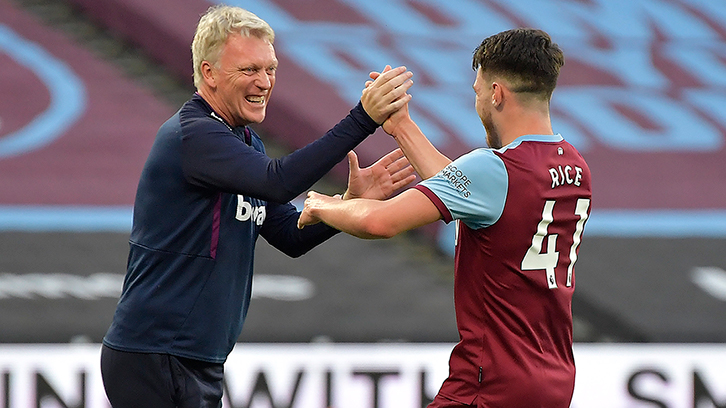 Moyes' side have now scored 12 goals in their last five Premier League games, including in impressive wins over Chelsea, Norwich City and, now, Watford.
Equally important for Moyes, however, has been their defensive improvement in their last two games, with striking that balance crucial to such well-rounded performances.
 
I certainly think the new boys we got in January have made a big difference – they've added something to the group

David Moyes

The manager also reserved words of praise for January signings Soucek and Bowen, who combined for the second West Ham goal in the opening ten minutes – Soucek's third goal since the beginning of the month, and Bowen's fourth assist.
"We're beginning to look as if we're going to score goals," Moyes smiled. "In the first couple of games I was a bit concerned about it, but I have to say it's not felt like there's a lack of goals to me. 
"What I've had to do is try to make us tougher defensively, because I wasn't enjoying losing two goals a game. The last two games we've been better: a clean sheet, and while we've lost one tonight, we've played better and we've got more confidence – but I want us to play much better. 
"I certainly think the new boys we got in January have made a big difference – they've added something to the group – and I think these players [in the future] will want to see what we can do next."
As for the table, West Ham now sit in 15th position, six points ahead – and boasting a significantly better goal difference than – the sides in the relegation zone, with just two games left to play.
"The mindset is that I want to win them," Moyes confirmed. "The old saying is that if you could get 40 points, you were always safe. We need three more points to make sure that happens. 
"I think the big thing for me now is that we get ourselves recovered. We know the job: we've got a really tough game going to Old Trafford [to face Manchester United], but why not go and have a game and see if we can challenge them? 
"There's no celebration now, and even if there were, I'm not going to celebrate staying up. The position we've been in for long parts of the season might not have looked so good, but we're very close to safety now."