Mark Noble had praise for every player in a Claret & Blue shirt after West Ham United secured a thumping 4-0 victory at Norwich City on Saturday.
Michail Antonio took the headlines for his stunning four-goal showing and Noble was thrilled not only with his contribution, but that of all 16 Hammers who took the field over the 90 minutes.
The visitors showed their mettle in responding to Wednesday's frustrating 1-0 defeat to Burnley and claiming the three points which took them six clear of the bottom three, until Sunday at least.
"I'm really proud of the boys," Noble said. "The players knew how important a game this was for us and as much as we knew the situation Norwich are in, they've still got some very good players and it's a tough place to come and play. 
"We know it's different without the crowd, but we had to come here and do our jobs and I thought the boys were brilliant.
"I know Mikey's got the four goals, but I think everyone was on it at their jobs and if you do that, you'll win more games than you lose.
"We haven't played like that enough this season, simple as that, and that's why we're in the position we're in. I'm hoping that with today and a couple more results we can push on."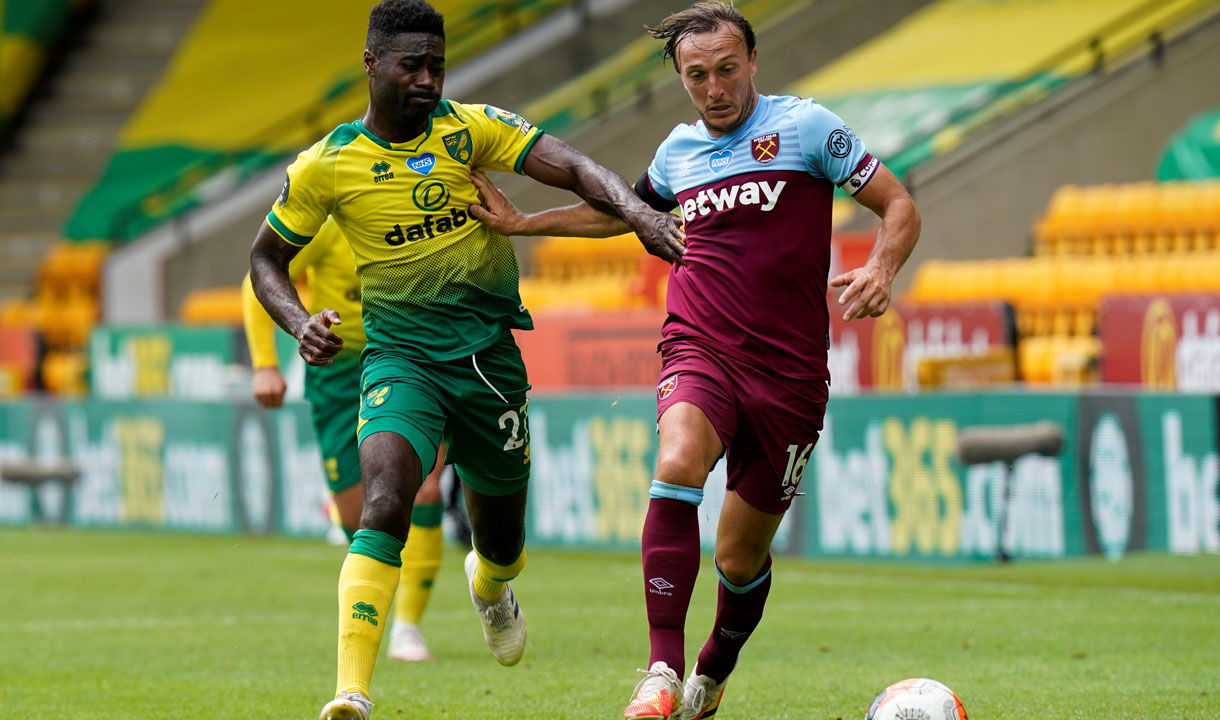 Noble reserved special congratulations for Antonio, whose four-goal haul saw him become the first Hammer since David Cross to net a quadruple strike since 1981, and take his post-restart tally to six.
"He's been a real saving grace for us the last month or so," the skipper added. "He's got the goals for us and I just said to him in there he owes me a drink because I set him up twice today!
"He's been great for us and he deserves his goals because he works so hard for the team. 
"He's such a handful, no centre-half would want to play against him full stop. We know that sometimes he's better running channels and getting the ball in behind, like for his third goal today, I didn't see him but I heard his scream and I knew where he'd be. 
"You can manage to play those balls in behind and it's great for me because I know he's going to run in behind. I've told him as soon as I get the ball to make sure you're on your bike and today that worked out."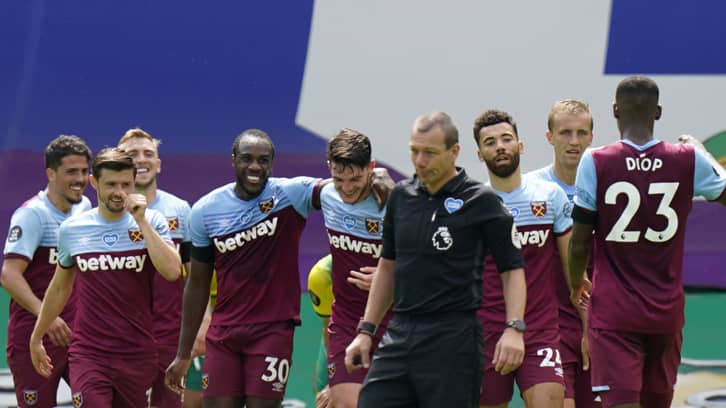 Noble knows his team's job is not yet done, despite their dominant performance at Carrow Road, and wants more of the same when they welcome Watford to London Stadium on Friday night.
"We've won 4-0 and we know we've got quite a buffer on the teams below us, but we want to play like that every week," he explained.
"We've got a home game against Watford next week which is another tough game. They won today and you don't want to keep looking at other people's results. You want to keep working and hopefully we can play at home at the end of the season knowing that we're safe."
Noble concluded with some words of consolation for Norwich, whose relegation to the Championship was confirmed by Saturday's result.
He said: "The one thing you have to respect about Norwich is that they played the same way all season, they didn't change their morals and that's what got them here in the first place.
"I think they'll do alright next season because they're a good side."