Three hundred and eighty five games into his professional career, Michail Antonio has achieved plenty.
But on the 386th he took a step he had never taken before to give West Ham United a huge three points at Norwich City on Saturday.
Antonio netted his first hat-trick as a full-time player to help the Hammers to a 4-0 victory, and even better than that, he notched all four goals on a remarkable afternoon for the visitors.
In doing so, he became the first Hammer since David Cross to score four in a league game - and that came at Tottenham Hotspur in the old First Division back in September 1981 - so it was without surprise that the No30 wore the broadest of smiles as he clutched the matchball.
"It's an amazing feeling," he beamed. "When I scored the first two I could see they were quite open, [so I knew] it was a great opportunity for me.
"I like being in history. The first player to score [in the Premier League] at London Stadium, one of the last players to score at the Boleyn Ground, and now the first player to score four goals in the Premier League for West Ham. I'm just ticking them off as I'm going!
"It's my first ever matchball and hopefully I can add to it."
Since the season restarted late last month, Antonio has been in fine fettle, scoring against Chelsea and Newcastle United prior to Saturday's four-goal blitz at Carrow Road, and he credits his rich vein of goalscoring form to some prescient advice from his manager David Moyes.
"I just think it's been free-flowing, attacking football and I've been getting my opportunities," he explained. 
"The Gaffer has told me to make sure I stay in the box, and all my goals have come from inside the box, so it's just a case of staying there and being around it and taking the opportunities."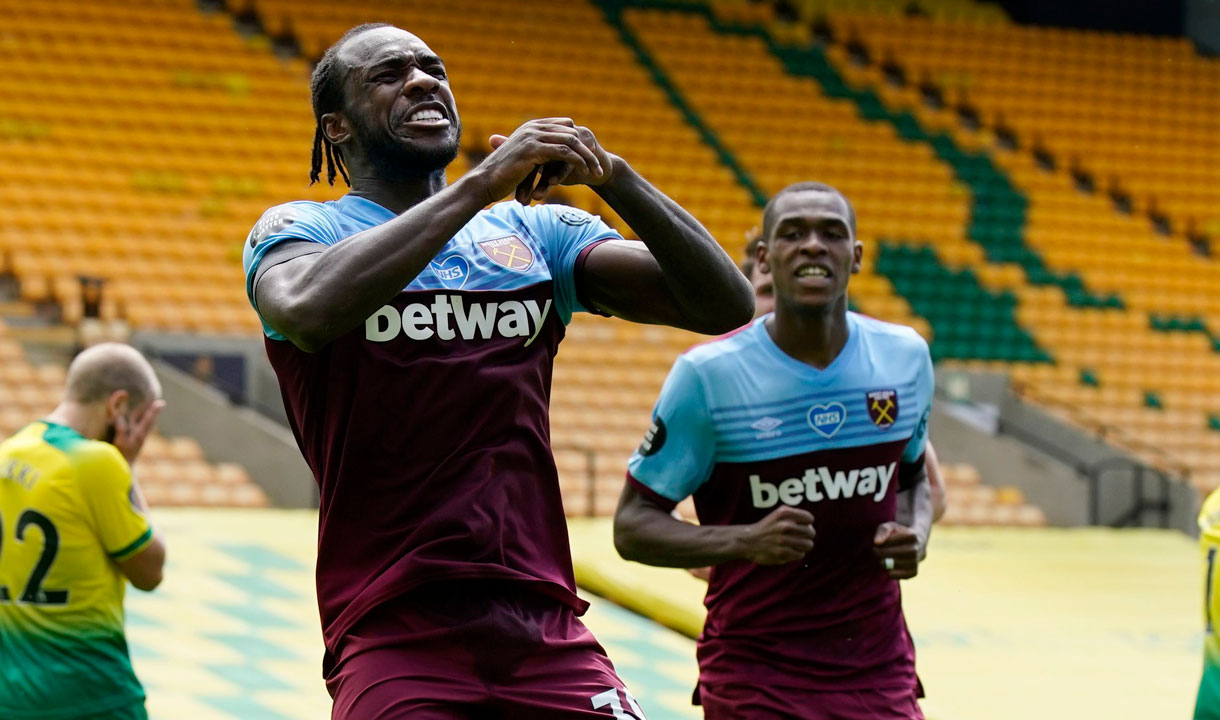 The victory takes West Ham six points clear of AFC Bournemouth and seven ahead of Aston Villa, with the pair to play later this weekend, and Antonio is now fully focused on finishing the job over the season's final three games - starting against Watford on Friday.
"It puts the pressure on Bournemouth, it puts the pressure on Aston Villa now, but we've just got to concentrate on ourselves," he added. "We're in a good position and we can't make ourselves drop.
"I couldn't sleep after the game on Wednesday because I had a great opportunity to get us a point and I didn't take it.
"I'm my biggest critic, so to come out today and get four goals and three points for our club was just amazing.
"Hopefully we can build on this and keep going to the end of the season.
"We've got a good run going on and we've got Watford coming up. We both need to get points and in the situation we're in we've got to focus on ourselves and keep pushing forward."