West Ham United manager David Moyes was delighted with his side's overall display in the 4-0 Premier League win over Norwich City on Saturday lunchtime, attributing it to their consistent endeavour and desire to improve in recent weeks.
The Hammers put on one of their finest displays of the season in the thumping success at Carrow Road, creating clear chances from the off while mostly limiting the home side to speculative efforts from outside the box.
West Ham got the goal their early approach play deserved when Michail Antonio stabbed home from a corner after eleven minutes, and simply did not look back – the No30 netting twice more with his head, and adding a poacher's goal, to become the first Iron to grab four in a Premier League fixture.
After the frustration of struggling to finish their chances earlier in the week against Burnley, Carrow Road was the scene of elation for Moyes and his coaching staff – the manager telling West Ham TV that his team received due reward for their hard work and determination in recent weeks.
"That was a really good performance," Moyes smiled. "We scored four, and really, if we'd have scored seven or eight, I'd probably have been thinking that was about right. 
"The clean sheet was all-important as well, because keeping them to none always gives you a chance. Even when it's 2-0, you don't want them to get a goal; even when it's 3-0, you don't want them to get a goal, so I have to praise them for that, but ultimately we made a lot of opportunities today and probably should have scored more.
"There aren't many players in the Premier League who get to score four goals. I have to say he [Antonio] probably had one of his best days in training yesterday. I can smile about it, but it's a big thing about training well, being good at what you do, and you hope you take it into the games and it leads you into good performances. 
"It's a message for all the West Ham players: let's keep training well, let's keep the standards high, and let's keep trying to get positive results."
Moyes also praised Antonio's growing individual role in this West Ham team, after the No30 doubled his season tally in an afternoon, impressing throughout with his clever running and hard-grafting link-up play.
"He's actually improved even from when he's started [playing as the lone striker], because we were always looking to get him in behind," Moyes explained, "but now we're able to get him a bit more into feet, set things up and play off him. 
"Because of his pace and his threat and his power, nobody really wants to play against him, so he's become a good threat for us."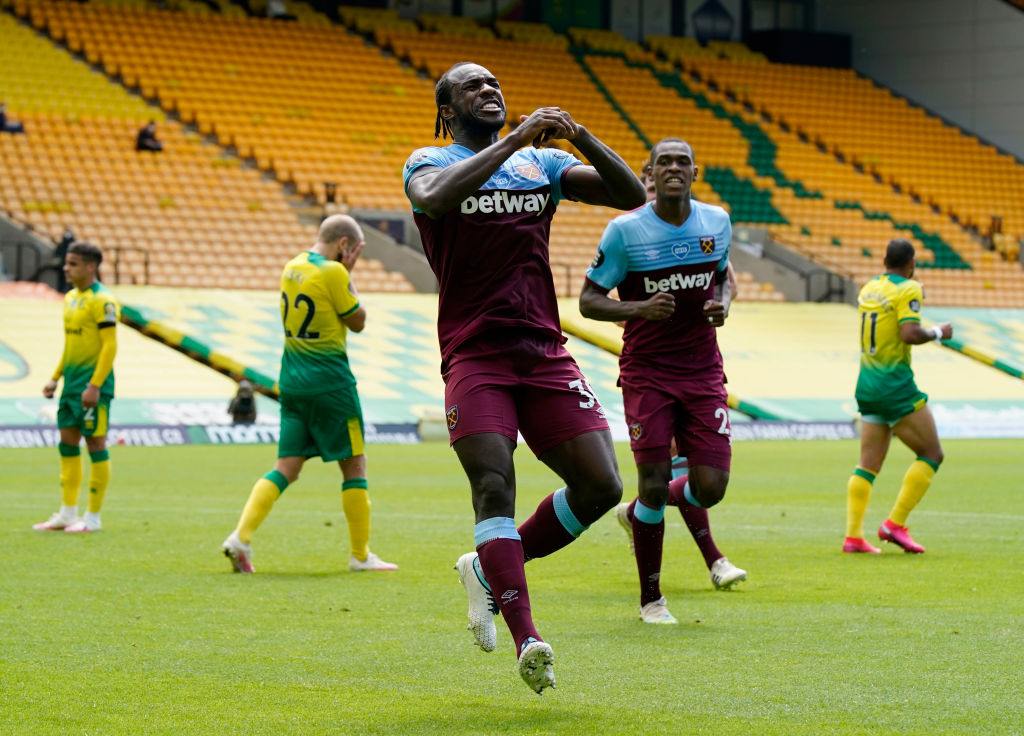 Moyes' sole change to the starting line-up on Saturday was to reintroduce skipper Mark Noble into central midfield for his 499th competitive appearance as a West Ham player.
The captain duly responded with an influential performance in the middle of the park, showcasing his full range of passing prowess and playing a part in three of Antonio's four-goal haul, assisting the two either side of half-time.
"Nobes played really, really well today," Moyes observed. "I've got to say all the central midfield players did a great job today, because Norwich look to play through you and try and pass through, so we had to make sure we were in good positions, intercepting and trying to win the ball back, and then play it forward quickly. 
"I thought Nobes epitomised that really. I thought his attitude, his leadership, his demands on the players – what he wants from them as well – is a great help for the manager."
While the result does not mathematically secure West Ham United's place in the Premier League next season, it does provide a six-point cushion ahead of the Hammers' relegation rivals - as well as a hefty boost to morale.
Pragmatically, therefore, Moyes encouraged his players to retain their focus ahead of the final three fixtures of the campaign.
He said: "The job's not done, that's for sure. The big picture is that we have to be a Premier League team when the supporters come back hopefully at the start of next season. If that's available, we have to give them Premier League football. 
"We're trying to improve, we want to try and keep improving the players, push them on, more demands on them all the time, and today, they were very good – they did everything that was asked of them."