Lukasz Fabianski says West Ham United cannot dwell on the disappointment and frustration of losing Wednesday's Premier League fixture with Burnley.
The Hammers created 22 goal attempts, but failed to convert one, meaning Jay Rodriguez's first-half header was enough to condemn David Moyes' men to a 1-0 defeat at London Stadium.
While he was not happy with the result or the performance, the goalkeeper said the Irons have to put the game out of their minds and look ahead to Saturday's game at bottom-of-the-table Norwich City.
We have to see Norwich as another great opportunity to get to a strong position in the table and further away from the bottom three

Lukasz Fabianski
"We realise our situation and there is no point being negative and thinking today's game was just bad luck," he said. "When you put all the things together, we were unlucky when it came to taking some of our chances today.
"There were some good moments, there were some bad moments, but we have to see Norwich as another great opportunity to get to a strong position in the table and further away from the bottom three, and that's what we'll try to do."
One reason for optimism was the return of Sebastien Haller to action for the first time since the restart, the French forward having recovered from a hip injury, and the potential return of Robert Snodgrass from a back problem.
"All the players who were missing through injuries are slowing coming back – Seb Haller, Arthur Masuaku and Robert Snodgrass is not far away – so hopefully in this very important moment, when you are playing games every few days, it's good to have everyone fit and ready to go," Fabianski observed.
"Having Seb back, he is a proper striker and he can take a bit of pressure off Mikey because he's been putting a lot of effort into every game, which will help the team for sure."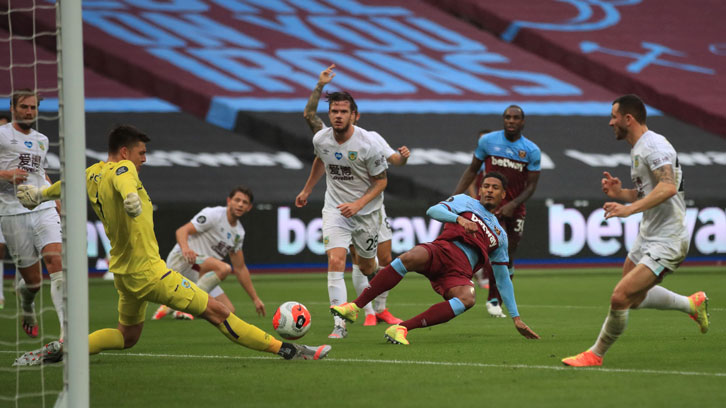 Reflecting on the Burnley game, Fabianski admitted the Hammers had allowed the situation to get the better of them at times, perhaps trying to force things when calmer heads at vital moments may have produced more positive results.
"I think we're all disappointed with the result and in some ways with the performance," he conceded. "We all knew what was at stake and this game could have put us in a very strong position, but we lost the game so again we are back in a difficult situation. Everything is still up to us, but it could have been a little bit different.
"Obviously we had our chances and we didn't take them, which was one issue, and in some cases we were maybe a bit rushed with all our decisions.
"Maybe we could have been a bit more patient and creative around the box but, once we conceded, it was in our minds that we had to equalise really quick with something basic or simple and that didn't happen and that put us under more pressure going into the second half, and we went even more direct when we had time to stick to the game plan.
"All the teams in this position have this in the back of their minds about getting away from the relegation zone and every single game feels like an FA Cup final where there are a lot of things at stake. That is always somewhere there in your mind, so you have to remain calmer in those situations and believe in your abilities, in your game plan and stay cool in tricky moments.
"If you do that, you are able to put in really good performances."