West Ham United manager David Moyes was disappointed to see his side fail to convert some clear-cut chances in the 1-0 Premier League loss to Burnley on Wednesday evening.
After netting five goals in their last two games, the Hammers continued to create good opportunities against the Clarets at a rain-soaked London Stadium.
A combination of committed Burnley defending, fine goalkeeping from Nick Pope and occasionally profligate finishing ensured that West Ham were ultimately defeated by Jay Rodriguez's 38th-minute glancing header.
While there were positives to take from the game, the result disappointed Moyes, who is hoping his side can add a more ruthless edge in front of goal ahead of their upcoming run-in.
"You hope that's what your players, your strikers, are there to do," Moyes told BBC Sport.
"We had clear, good opportunities if you're a striker, so you're hoping that they bury them. Today wasn't their day, but I hope that those days are to come soon, because we'll need to win some more games. 
"I was more frustrated by the game because we didn't take chances, but also a bit disappointed that we didn't keep a clean sheet.
"I was disappointed with the goal – we didn't do particularly well in the middle of the park, they got it wide and we didn't defend the cross awfully well either. There were a lot of positives in what we did going forward, but we couldn't score which was the big thing and we needed to score today."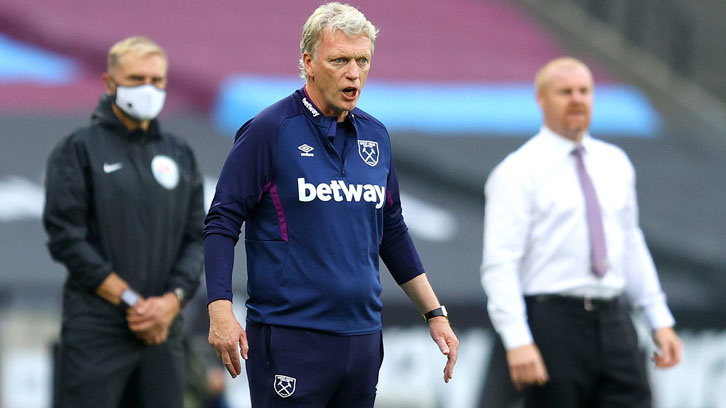 Moyes also credited Burnley and manager Sean Dyche for their stoic defending, with waves of white shirts quick to crowd each attacker in Claret and Blue.
"We made lots and lots of opportunities, but I have to give Burnley incredible credit for the way they defended," Moyes said. 
"The amount of times they blocked it or their goalkeeper made a save… and whenever we looked as if we were going to score, they got back to get us. They did a really good job at it, as we know that's what Sean Dyche's teams at Burnley do."
The Hammers will be keen to put Wednesday evening's frustrations immediately behind them, as they turn their attentions to Saturday's trip to Norwich City's Carrow Road.
Moyes added: "At the moment, I don't think any of the teams at the bottom have got as many points as they'd have liked. That could change at any minute, so all we can do is try and do our work. 
"I've got to say the players gave an awful lot today for no reward, but hopefully they'll get themselves rewarded in the coming games."