Interviews
Lukasz Fabianski: Lockdown training, staying focused and Declan Rice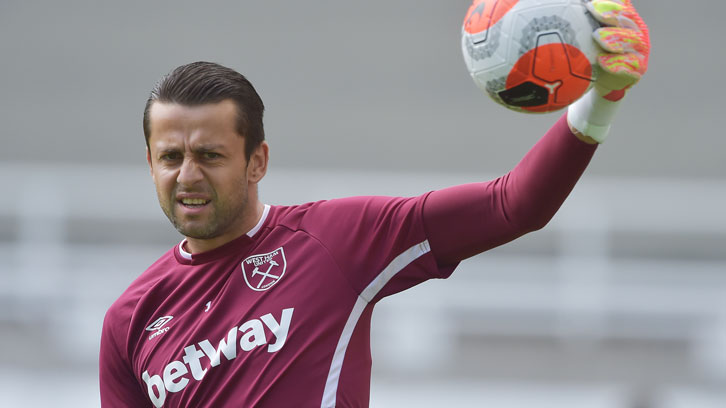 Few professional footballers match the description as well as Lukasz Fabianski - the West Ham United goalkeeper is a meticulous individual who leaves nothing to chance.
After suffering a hip injury clearing the ball in the away fixture at AFC Bournemouth before Christmas, Fabianski spent weeks working to rehab his injured muscle, before returning to action in late December.
Three months later, the COVID-19 pandemic forced football into an enforced break, and the No1 responded by putting together an innovative training regime that included back garden sessions with his four-year-old son Jan.
Speaking to BBC Radio 5 Live, the experienced Poland international reflected on a uniquely challenging season, praised teammate Declan Rice and looked ahead to the final five games of the campaign…

As a goalkeeper, lockdown must have been extra challenging, as you couldn't replicate saving shots, catching crosses, kicking the ball long or anything like that?
"Yeah, there was no chance of doing that! Even if, in my case, I have a little garden, I wasn't able to do long kicks or anything when it came to crossing or coming to claim high balls, so it was a big difficulty. I just had to be patient and try to come up with different exercises that were more or less connected to what we do on a daily basis. It has been really tricky."
What was the most creative thing you did, then?
"What helped me a lot was that I kind of invested in a rebounder net, so at least I had something the ball bounced off and I didn't have to ask anyone to help me, so I was able to throw the ball at the net and I could start practising diving techniques. I also started to do high ball work, which really helped me.
"The other creative thing was that I asked my son to help me by kicking the ball at me and that was funny because it was very unpredictable, and I actually found it helpful in some way. He's four-and-a-half and he took a lot of pleasure from it and he helped me through those strange days!"
Your garden must have taken a hammering?!
"It did, but I have to say I worked really hard on repairing it! At one point it was really damaged and destroyed completely, but it's repaired now!"
You've had a challenging season, even before COVID, with your nasty hip injury?
"Yeah, I've had a difficult one. It was hard to take but those things happen, so it took me a lot of time to do the rehab and to come back to good shape with the muscle feeling strong and feeling elastic, which is very important when it comes to that part of the body. I'm happy that I'm fit now and I'm hoping I stay fit for the rest of the reason and the rest of my career."
You were hurt taking a goal kick, so how do you feel about those situations now?
"The whole thing was strange, because there was no contact and the ball was standing still. There was no pressure, just me kicking the ball. It felt strange and you start to question the reason behind it.
"Now, every time when it comes to kicking the ball, especially from goal kicks, I really pay attention to the ball and try to be focused on the ball and don't want to take my eyes off the ball. I think about the process and I think it will be in my mind for the rest of my career.
"With injuries, when you are relaxed and take your mind off the situation, suddenly something happens, so one of the conclusions I have learned is that I cannot relax in any situation, even when there is no pressure at all, because injuries can happen. I think I'm smarter now."
And focusing all the time is something a goalkeeper has to do…
"It's a different focus. When you are in possession of the ball, your focus turns in front of you and you try to think 'how far should I kick the ball?' or 'where should I kick the ball?' and you forget about your technique or try too hard.
"Maybe you think there is a wind against you and you try to kick it too hard against the wind and your body wasn't ready and that's what happens.
"With saves, it's different, because you are not in possession of the ball and you have to think about your position, whether the player is right or left-footed, and assess the situation. I think you're more focused when you're not in possession than when you are in possession – that's one thing I found out"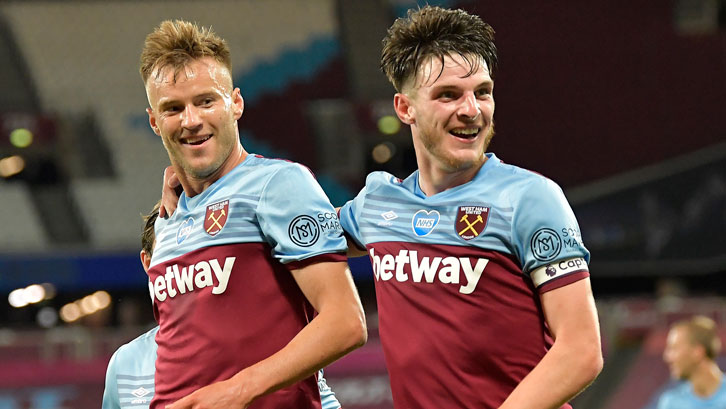 Moving on, what have you made of the way Declan Rice has grown this season?
"I think he has grown massively. What helped him as well in recent weeks is that the manager gave him the armband and that gives you more responsibility out on the pitch, you become more vocal out there and by that you create this aura of being more respected by the players because they look at you as the captain.
"He took this challenge on himself really well. He has always been delivering week-in, week-out, but you can see even more in this difficult moment, he's really putting in great performances and I hope he can continue to do this for the rest of this season.
"He's not afraid of the challenge. He's making really good decisions with and without the ball. Sometimes he is covering positions he shouldn't be for the sake of the team, for the points, so he knows what it takes to get a result and that's something big players have."
Finally, how much of a lift has it been to take four points from the last two games?
"It's been a massive lift, especially after we started the restart with two losses and we were not happy with our performances. It could have affected us and we could have responded in a bad way, but we responded well against Chelsea and managed to beat them and then away from home against another team playing really well in recent games, Newcastle, when we were really close to getting three points.
"It's given us massive confidence going into the next games and hopefully we will be able to get many points as we can from the rest of the season."