West Ham United women's team returned to the training pitches for the first time in almost four months on Tuesday, beginning their preparations for the 2020/21 Barclays FA Women's Super League campaign at their new base at Chadwell Heath. 
Captain Gilly Flaherty was in the first group of Hammers to begin work ahead of the new season and West Ham TV caught up with the skipper following training to discuss how the first day of pre-season went, working on fitness during the COVID-19 (coronavirus) pandemic, and signing a new, two-year contract with the Hammers…

The last time you trained with any of your West Ham teammates or any of the staff was back in March. How good does it feel to finally be back?
It's really nice to be back. Waking up, it felt a little bit like the first day of school. Obviously, we are only in small groups to start with but it's just nice to be back around the environment, seeing the staff, getting the banter back again and be around more people. It's nice to start getting back to some normality.
How did you work on maintaining your fitness and staying in the best shape possible during the lockdown?
It's obviously been a little bit different because, although we finished our season earlier, we were still training for a period after. We only really got two or three weeks with complete rest, but I know some of the girls didn't stop. It's not like we had a holiday to go to, because of lockdown.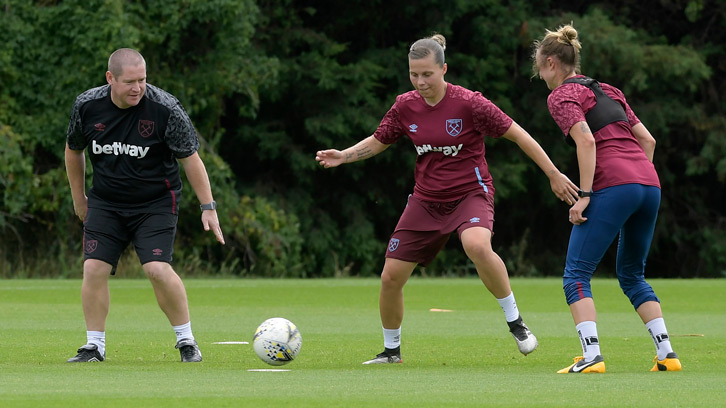 For me, I bought a treadmill and the Club sent us stuff to work with like bands and medicine balls. Colm and EJ were very good in giving us a programme to follow and checking in with us on a daily basis. They were so understanding too because it's been hard mentally as well as physically. They've been brilliant. 
It is going to be a pre-season like no other this summer as we continue to adhere to social distancing guidelines to protect against coronavirus, but the safety of the players and backroom team has to remain the priority doesn't it?
Safety still has to 100 per cent be the priority. The last thing we want is for anyone in the group to have coronavirus or bring it in with us. 
We have to be diligent, even when we are away from here and going home. We can't be going to restaurants or pubs at the moment because this is our job and this is the priority, making sure we all stay safe. 
I know we're diligent here with things like the hand sanitisers. It's about remaining diligent away from here as well.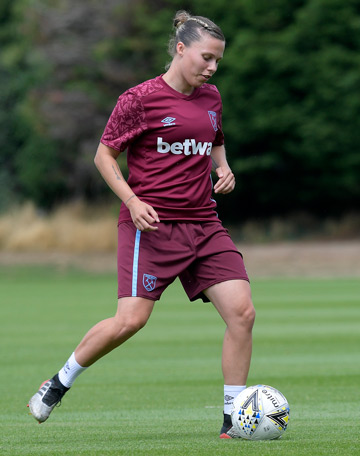 Your first day of 2020/21 pre-season is complete. How are you feeling?
I'm feeling much better than I did after the interview we did for the first day of last pre-season! I asked if we could do it for longer, because I liked the smaller groups. 
It's hard, obviously, because you have smaller numbers, but you have to make do and it's been good. Everyone dreads pre-season because of the running and the fitness, but in Colm we've got an S&C coach who is about bringing the ball in and making it fun for the players as well. That's what you want really – to be doing the running but also enjoying it. 
How eager are you to get through pre-season and finally pull on a West Ham shirt again, for the first time since February?
With the league stopping in March, it's been a long time since we last played a game. It's not the norm but it's about getting a couple of weeks in and, before we know it, we'll start having a few friendlies and start thinking about the new season starting. 
It just feels so long since we last played and it's not the usual off-season. It will be nice just to get back in front of our fans. 
Finally, this is the first time we've spoken since you signed a new, two-year deal at West Ham. How excited are you about signing that contract and for what's to come in the new season and beyond?
I always wanted to stay and extend my time here. For me, I've had a really enjoyable two seasons. Last season was difficult but with the ambition of the Club, from Beardy and Jack and Aidan, it's a place I want to be. 
West Ham is where I call home now and I'm happy to be here and happy to stay. We've got the two years and I hope to be here even longer. It's a great Club to be around, with the new facility and the support we've been given during the pandemic, it's second to none. For me, there was no one else that I would rather be playing for.