After a productive week which saw West Ham United move four points clear of the Premier League relegation zone, courtesy of an enthralling win over Chelsea and draw at Newcastle, manager David Moyes has challenged his players to keep building on their current performances in the matches ahead.
Speaking at his pre-match press conference ahead of the visit of Burnley to London Stadium on Wednesday evening, Moyes spoke of the need to sustain the desire for self-improvement - and harness that to prosper further on the pitch...
 
We've had a good spell – and long may that continue
We're pleased with how this week's gone. I think we'd have taken four points at the end of the week from the games that we had, but overall, we're into a new week now. 
There are games coming up very quickly at the moment. It's Burnley tomorrow night, and we'll do everything we can to keep our momentum going. 
The players have shown great spirit amongst themselves, and within the dressing room they're in good fettle, so long may that continue.

We'll take each game as it comes
I think all games are really important, but the good thing is we've been here before. We had a run-in a couple of years ago which was not too dissimilar, with some games which looked winnable and some other games which looked hard. 
What we're trying to do is focus on the next game and try and prepare as best we can. I think these are still difficult circumstances for players, with the amount of games they're having to play in a short period, and obviously without any crowds as well.
Hopefully the players can keep up their focus and the way they've been playing. If they do that, it'll give us a great opportunity.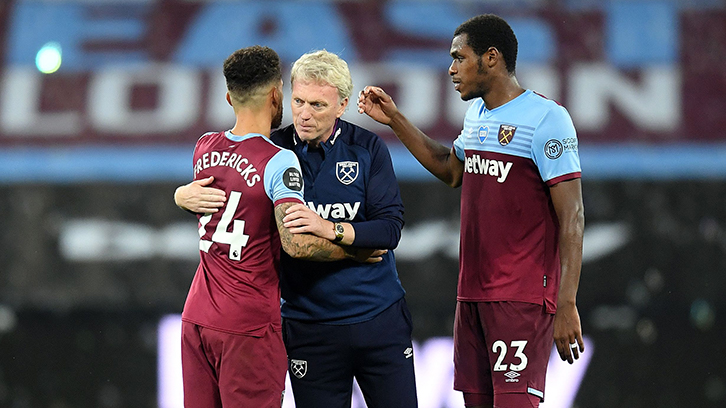 We need to keep fit and keep focused
The players are recovering much quicker than usual, and they know and realise what they have to do to get back ready to play again. 
Players and clubs are not being able to have as many recovery days as usual because of the turnaround of games. We have to do the same as everybody else, and I have to say the players have been great. They've looked after themselves. 
We're trying to keep as many of them fit and ready for games as we can. After they came back from lockdown, they were in good condition. They kept themselves well and we trained hard and tried to prepare, and I hope what we did shows through in the coming days. 
We only have three weeks to go of the season now so we have to try and keep focused and fit, and mentally and physically in good shape.

Water breaks should be at the referee's discretion
Personally, I don't think water breaks should have been introduced. I understood why they were, but I thought it should've been at the referee's discretion in games – if the temperature were up in the 70s or the 80s [Fahrenheit], and they felt that players needed a drink. 
I don't think they're a necessity and it's also a change of rules from where we were at the start of the season. I think it's wrong to start the Premier League season in one way and finish it in a different way.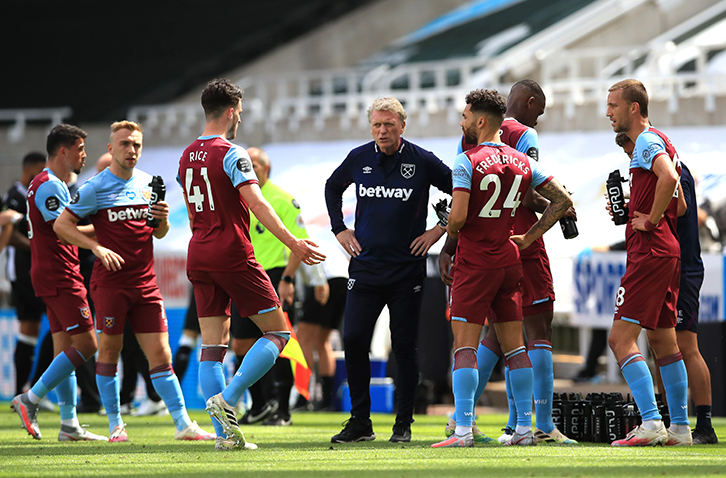 Tomas Soucek and Michail Antonio have made an impact
I actually think Tomas Soucek had just started to become crucial to us near enough when he arrived. He played really well against Liverpool – we were winning there when he had to come off with injury – and I think he's helped us. It's what we thought he was capable of. 
If we're expecting all new players to come in, whether it be at West Ham or any other club, and make an impact immediately, that doesn't happen very often. Quite often players are judged, and managers on their signings, very quickly, when really they need to be given a chance to bed in and take their time. 
Credit to Tomas, he's had an impact on the team. He's well-liked and he's definitely contributing to what we've got at the moment.
I also think Michail Antonio has got an awful lot to offer. He's someone who can fill several roles, partly because of the power and pace which he's got. If you look back, this is probably his best spell of games when you look at how many 90 minutes he's had and continuous games. I also think he's getting to an age when he's maturing in much of the things he does. 
He's helping us, he's carrying the front line for us greatly, and he's got us a couple of goals. He's had a couple of chances in every game, so let's hope he continues taking them.

We've got our noses in front, and we intend to stay in front
First up, we've got difficult opposition in Burnley, and we've got difficult opposition after that, so all we can do is try and play as well as we have, and improve on it. 
We keep on asking for better. We're scoring goals, when we weren't scoring goals in the first couple of games. We're now asking to defend better, and keep the goals and chances up, while we're looking much better at that. 
I think our football's been good at times. We'd like to improve on it, but the big thing for us is to just make sure we get out of trouble and win the games, so we've got a big job to do to make sure we keep our noses in front of the relegation zone.
Our focus is on the job to get the wins and pick up the points. It's all-consuming to make sure that you win as many games as you possibly can.
We've got our noses in front, and we intend to stay in front.