An English pop singer, songwriter and occasional actor - perhaps best known for his chart-topping single The One and Only - Chesney Hawkes recently showcased his love of all things West Ham United on popular quiz show A League of Their Own.
Hawkes sat down to chat with broadcaster Mark Webster to share his favourite things about being a Hammer in episode six of The Six Factor…
Chesney Hawkes, you are a fine young man from Windsor – which I'd suggest is a quite a long way from east London! How did you come to support West Ham United?
It was a long journey to the East End for me and my brother to get to games on a Saturday!
My Dad was a QPR fan and still is, but never really one of those blokes who was passionate about football. I always knew the scores and who we were playing, but Dad never really had that and never really took me and my brother to games. 
We had a family friend, Roger Crouch, who asked my parents if he could take me to a West Ham game. That was it – we were away at Tottenham, White Hart Lane, and I think this was in the 1980s. We lost 5-0 but all the West Ham fans were doing the hokey cokey down the aisles, and me and my brother thought it was brilliant! From then on, it was West Ham all the way for us.
So did any players jump out at you as your favourite Hammer as a kid?
My favourite player in those days was Billy Bonds. I went home and away for every single game through the 1985/86 season. 
My brother and I were just absolutely obsessed. Once you start going to every single one and you get to about a third of the way through the season, my brother and I knew we had to do every single game, so for me Frank McAvennie was my man.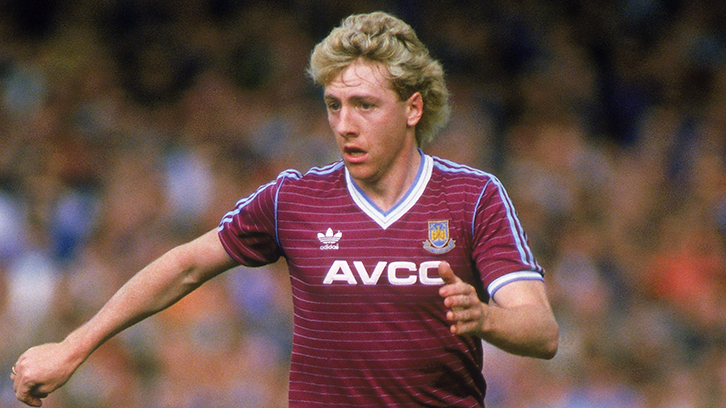 And who's your favourite Hammer now?
I like Declan Rice. He's one of those players who, if he's playing well – which he normally does when he's fit – it's like the whole team takes their place from him. You know that you're in good hands when he's on the pitch. He just makes you feel comfortable, for some reason.
I know we all make our mistakes and players get a hard time, but he seems to be very consistently making the team feel comfortable. I get the feeling he'd be a good influence off the field as well – I feel like he could be a future captain.
He makes the fans feel more relaxed too with his presence! Right, who was your favourite West Ham United manager?
I love a bit of Harry [Redknapp]! He just, for me, is West Ham… but I'm going to go with John Lyall because of my history with them and, of course, that season. It was all Johnny Lyall's Claret and Blue Army.
I remember in those games, the crowd would sing that particular anthem for the whole game – it never stopped. It was always going. There was just something about it.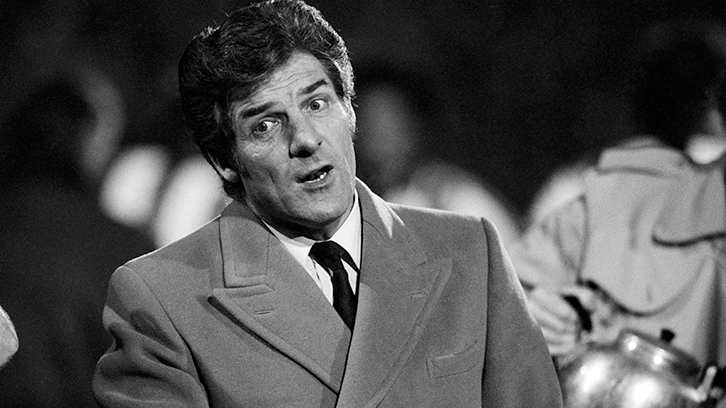 He was West Ham through and through, it cannot be denied. So, what's your favourite Hammers shirt from over the years?
Well with the shirt I'm wearing, I was on A League of Their Own with James Corden, and he had this idea of me doing a penalty against Wojciech Szczęsny – Chesney versus Szczęsny! James is a West Ham boy as well; I'm not sure if at the time he knew I was a West Ham boy, so when he introduced me, I came on and I had a McAvennie shirt, and he was like "Come on!" and we were like best mates then! 
I actually scored the penalty against Szczęsny, and as it happened, the whole panel jumped over the desk and bundled me. If anyone's interested, it's on my YouTube channel!
In terms of actual West Ham shirts, I like the retro ones. Going back to my favourite time in the 80s, I like those ones, so I'm going to say the away kit for the 1985/86 season.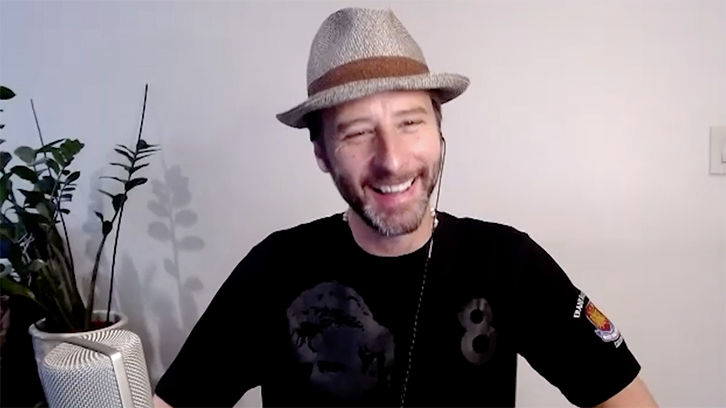 And your favourite West Ham United goal?
There's a couple, actually. One of them was back in the day, in 1987, at home to Watford. George Parris, the legend. My brother and I loved him, and he scored a goal which just flew in. It was perfect timing because it helped us win the game and it flew just under the crossbar, with the goalie in full stretch. It was just the most perfect goal – something you remember as a kid, one of those moments.
There's another one from back then: Liam Brady. I used to love Liam Brady. You've got to respect his talent, and what a left foot he had. There was a goal that he scored against Arsenal in 1987. I think we beat them 3-1. It was another one from the left wing that just flew in, and as a kid, those are the moments. The adrenaline of just a great goal... obviously if West Ham score a goal, it's the best thing in the world – but when they score a good one like that which just comes out of nowhere, those are the ones.
Finally, what's your favourite West Ham United game?
In 2007, when we looked like we were going down, and Tevez saved us on the final day against Manchester United. It was just the most amazing moment. I wasn't at the game, I was watching, but what a moment.
I can see it now – just unbelievable. I think I broke something in the house!