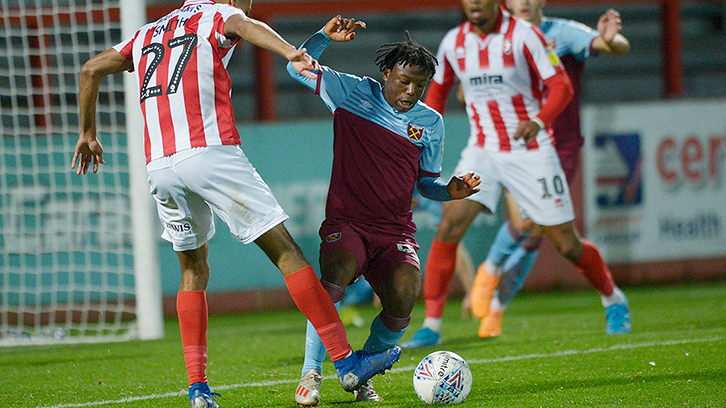 Bright, energetic, tenacious – and, now, a professional footballer.
Last month, 18-year-old midfielder Keenan Appiah-Forson was one of seven scholars to put pen to paper on their first professional contracts, following a successful two-year scholarship at the Academy of Football.
The contract came at the conclusion of a promising campaign for the holding midfielder, who made 17 appearances for Kevin Keen's title-chasing Under-18s side.
Appiah-Forson also gained his first taste of senior football, coming on at half-time during West Ham United U21s' memorable 5-4 comeback win over Newport County in the Leasing.com Trophy in September.
His performance that day playing at right-back warranted a starting berth in the same position against Valencia 'B' the following week, helping his side to an important clean sheet in a 1-0 win over the Spanish side, and he went on to feature for both U23s and U18s throughout the campaign.
"It was great to sign my first professional contract," Appiah-Forson beamed. "It's everything I've been waiting for. 
"I'd like to say thank you to my coaches: Kevin Keen has brought something different into our team, and Mark Phillips, who was my mentor, taught me a lot as well. I felt like my first scholarship year didn't always go as I wanted it to, but he kept telling me to stay focused, keep working hard.
"I've been dreaming about this moment since I was young. All that hard work has got me this contract, so I'm really happy.
"When it's safe, I really just want to get back into it and show the coaches what I'm about. I want to see all my teammates, and start all that hard work again. I just miss it, so I just want to get back to it more than ever now!"
Joining the Academy at the age of 14 following a successful trial, and in recent years lodging at the 'Academy digs' house near Chadwell Heath, Appiah-Forson is the kind of character who evidently relishes everything about the game.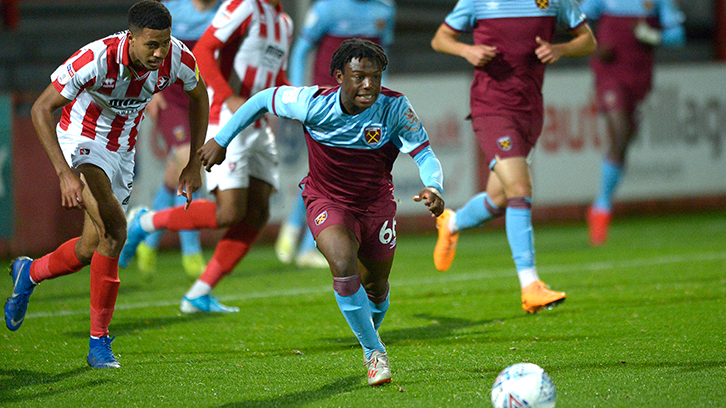 On the pitch, the 18-year-old is a lively presence in midfield who loves pouncing on any opportunity to win back possession.
Given the right moment, Appiah-Forson is also not afraid to burst forwards, the youngster scoring a spectacular half-volley against then-unbeaten Chelsea U18s in January to kickstart another comeback win for the Irons.
"I would say it's been one of my best seasons so far because I've had so many different opportunities," Appiah-Forson explained.
"I'm a holding midfielder, but I'm versatile, so I can play right-back as well and do a job there. I would say I'm energetic, and I try to help the team in different ways.
"I've played for the U23s some of the time and starting lots of games for the U18s. I didn't think that was going to happen this season, but it just shows that hard work pays off.
"As an Academy I feel like we've all done well, and I think we should congratulate our coaches because they've brought something different into the team and made us stronger."
As for the future, Appiah-Forson cites the first-team debuts of fellow Academy graduates and holding midfielders Declan Rice and Conor Coventry as evidence that such graft yields opportunities with West Ham United.
"I really hope to make it into the first team one day," he said. "It's everything I've ever wanted and it shows that Academy graduates are given opportunities here, so that's something I'm looking to achieve one day.
"My dream in football has always been to play men's football professionally. That's my dream. This season coming, I just want to work hard, try and stay injury-free, and get as many of those opportunities to develop as possible."