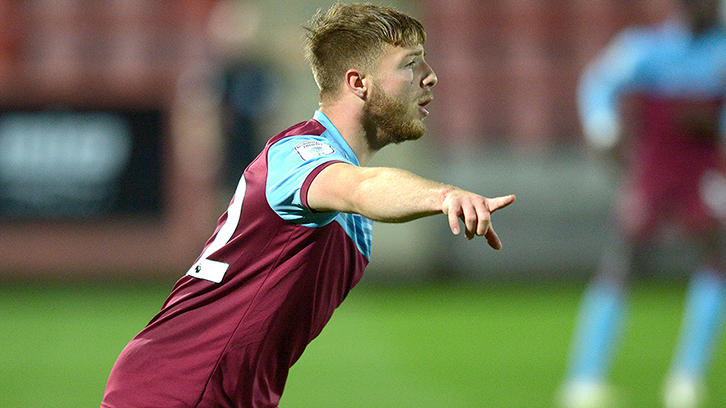 The road to becoming a professional footballer is a long, hard-fought one – requiring patience, endeavour and, especially when luck deserts you, perseverance.
Recently one of seven scholars to put pen to paper on their first professional contracts, everything that Sam Caiger does, he does with drive.
The 18-year-old defender is a popular character around the Academy of Football, but his attainment of professional footballer status is more so a reflection on his outstanding diligence and determination.
Just weeks after representing England at Under-16s level, and having penned a two-year scholarship at the Academy, Caiger suffered serious injury which would rule him out for the best part of a year – a tough blow for any young athlete.
But Caiger refused to allow this to define him, and has battled back to impress with both the Under-18s and Under-23s this season, showcasing his talent through fine form.
"It's just amazing for me and my family," Caiger told whufc.com. "Obviously I was out for a while with that big injury, so it means that extra bit more to sign my first professional contract. It's a proud moment for us.
"I would like to thank [physiotherapist] Anthony Johnstone and [Head of Academy Science and Medicine] Tom Smith. If it weren't for them, I probably wouldn't be a professional right now.
"It was difficult when I first came back. I just kept getting lots of little injuries. My body just wasn't using to playing 90 minutes every week, so it took a while to find my old self, but I found it and I did well over the season.
"While we've been in lockdown I feel like I've got myself in even better shape for next season, so hopefully, when it's safe for us to come back, I can do even better."
Having started out at Welwyn Garden City at Under-6s level, Caiger's talents were identified by West Ham at a Premier League youth tournament, and he joined the Club late on in the Under-11s' season.
His progression was fast – but demanded pragmatism from the youngster.
"When I was younger I was probably one of the tallest in the team, but as I've gone through the age groups, I've become one of the smallest!" Caiger joked.
"When I was younger I used to use that as an advantage, but now I've had to change my game up because I'm small and quick, so I've learned to use that instead of being tall and powerful.
"I made my U18s debut when I was 14, and then at Under-16s I played for England. I've had a great time so far here. 
"Representing West Ham with England was a massive highlight. I was away for ten days – we went to Scotland, and we played against Uruguay, Scotland and Qatar. It was pretty sick! 
"Those were my last games before my injury, so hopefully in the next few years, I can make that international step-up again – we'll wait and see."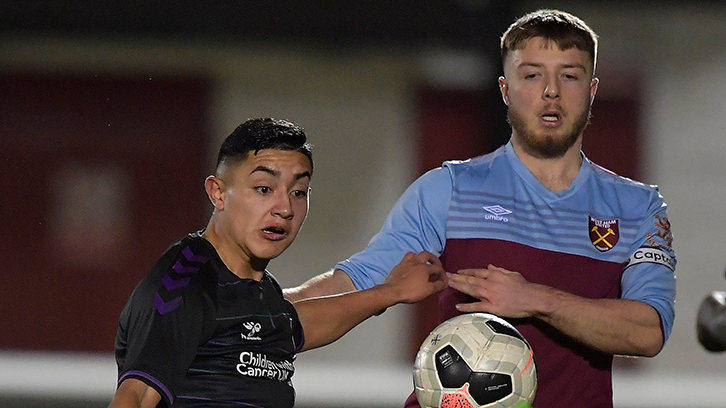 Quick and tough in the tackle, Caiger is an attacking full-back with a penchant for the spectacular – as evidenced by his sensational curling effort to open the scoring in a 2-1 win at home to Tottenham U18s last September.
"I'm an attacking full-back who likes to defend as well," Caiger explained. "I do like to get in opponents' faces, which I think's a good thing!
"I love scoring, considering I'm a defender – goals win you games and there's no feeling like it. I want to score another goal like that Tottenham one!"
Looking to the future, Caiger draws inspiration from an Academy of Football graduate and friend he knows very well.
"I look up to Declan Rice," he said. "We all know his story – he was at the Academy, and soon after he's one of the best players at West Ham. That's something you've got to look up to. 
"I lived in the Academy digs with him for a while and he was quite a funny lad. He loves banter, and he shaved my hair for charity! It just goes to show that it's not as far away as it seems. You never know what's around the corner.
"I've set myself a target for the time being, and that's to get myself in the best shape possible. That's my main priority, being as sharp and fit as I can. If I can do that, I know I can do well.
"I want to be a Premier League footballer and make as many Premier League appearances as I can – and then see where that takes me."