West Ham United manager David Moyes met with members of the assembled media on Friday afternoon and shared his thoughts ahead of Saturday's Premier League game against Brighton & Hove Albion at London Stadium.
Calling on London Stadium to give his team the biggest advantage they can, read on for Moyes' thoughts from his pre-match press conference…
 
We need the backing of London Stadium
We're aware of how tough the upcoming games are, but to make it simpler, you can only play each team twice in the league - it depends on when you get them. We've got to look at it that way. 
There are games which we can win. There are games which look very difficult, but we'll then have played them twice. 
I have to say I've been impressed with Brighton. I think they've shown a good style in what they're trying to do. They're not on the best run at the moment, and we have to try and capitalise on that and use our home advantage to the best we can.
I'm hoping that Saturday gives us a great opportunity to pick up three points. It won't be easy, but we have to try and take every opportunity we get, especially at home at London Stadium, where we could really do with a really good backing from the crowd to help us and give the players a big lift as well.
They're so important. They are at all clubs, but I think at a club like West Ham, more so. The supporter fanbase is really important. At the moment, we need you.
 
We're taking the positives from Wednesday
We have to take the positives from the Liverpool game.  
We played a really good team in Liverpool and did our best to limit them. We played very well, were organised and disciplined in a lot of things we did, and were able to create one or two big moments in the game. 
We'll take positives from it, but obviously were disappointed we couldn't get anything from it.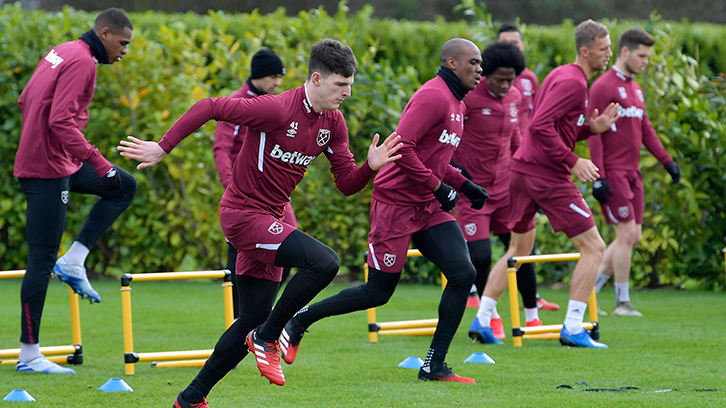 The players know what's needed
We understand the importance of Saturday's game. They're all big games in the Premier League; it doesn't matter when you play, who you play, every game's really big. 
We know we'll have to be at our best. We know we'll have to play very well. We've shown good signs in some games that we're improving, and there've been other times we've wanted to do better, but overall the players have been really committed and determined to get it right.
I'm really lucky that I have a couple of players like Mark Noble, Pablo Zabaleta, some of the boys who have been at the Club for a while. They've not been slow in telling the players what's expected and what's needed at the Club. 
We've been in this position before and we've got out of it. We've got a little bit of experience of this, so hopefully our experience together will help us get out of it.