Academy
Academy supports Holocaust Memorial Day
West Ham United Under-14s showed their support of Holocaust Memorial Day on Sunday by taking part in a minute's silence prior to their match against Watford at Little Heath.
The Academy side also sported commemorative stickers on the front of their Claret & Blue shirts as part of the Premier League initiative to remember the event of Holocaust, 75 years on from the liberation of Aushwitz.
This year, the Premier League Memorial Day theme was "Stand Together", and teammates and staff from both West Ham and Watford joined one another in the centre circle prior to kick-off to observe a moment of reflection in that way.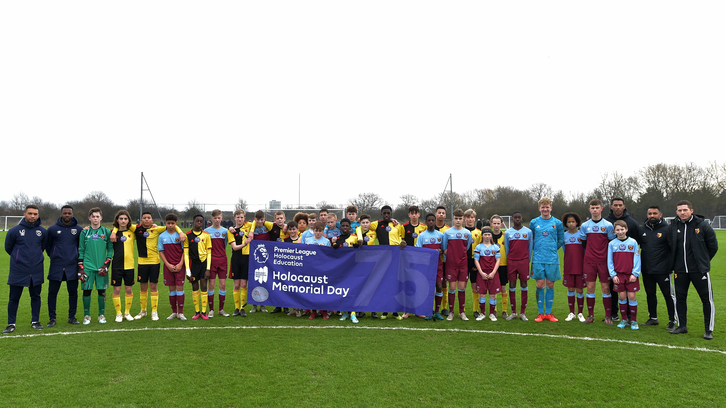 Holocaust Memorial Day (27 January) provides an opportunity each year for people to stand together with those in their local community, across boundaries of faith, age and ethnicity.
 
The Academy of Football prides itself on developing its youngest talents both on and off the pitch, and by taking part in initiatives such as these, the Club can further the educational aspects of its youth development.
Assistant Academy Manager Jeremy Sauer was in attendance on Sunday and spoke of the importance of supplying a comprehensive education alongside football.
"As staff members and coaches at the Club I believe we've got a much bigger job to do than just help our young players to become better footballers," he said.

"We're always working on holistic development, not just focusing on football but making sure our players get a rounded education on how their world is shaped and has been shaped up to this point."
 
The Premier League are an incredible organisation that give us a lot outside of just football. This sort of event gives us a moment to step-back from the football and try to reframe the boy's perspective a little bit

Jeremy Sauer

Category One and Two Academies across the country have also paid their respects over the weekend, and Sauer praised the role of the Premier League in aiding academies' work away from football.
"The Premier League are an incredible organisation that give us a lot outside of just football. This sort of event gives us a moment to step back from the football and try to reframe the boy's perspectives a little bit, helping them remember that there's other things for them to take account of and develop in."
Academy Operations Administrator Sam Lyall echoed the significance of taking part in commemorating Holocaust Memorial Day.
"Days like this are really positive for us. We're taking part in a great initiative and not only promoting it, but making sure we send a real message," he added.
"Whilst our U9s to U16s are very talented young athletes they still have to take their education very seriously and learning about an event like the Holocaust that has shaped the way we live so heavily today is vital."
West Ham United will continue to support the importance of this occasion prior to the fixture against Liverpool at London Stadium on Wednesday evening.
Meanwhile, Mark Noble and Lukasz Fabianski have taken part in a short film, marking Holocaust Memorial Day  Footballers and managers from across the game have delivered a strong message about what can happen if people fail to call out racism and discrimination.
The video has been created by the National Holocaust Centre and Museum and Jewish News and will be shared on social media by clubs ahead of Holocaust Memorial Day, which this year also marks the 75th anniversary of the liberation of Auschwitz, the Nazi death camp in German-occupied Poland.
This followed West Ham United adopting the International Holocaust Remembrance Alliance (IHRA) definition of antisemitism.
In advance of Holocaust Memorial Day, the Club has announced its formal adoption of the working definition of antisemitism:
"Antisemitism is a certain perception of Jews, which may be expressed as hatred toward Jews. Rhetorical and physical manifestations of antisemitism are directed toward Jewish or non-Jewish individuals and/or their property, toward Jewish community institutions and religious facilities."
West Ham United become the second Premier League club, after Chelsea, to adopt the IHRA definition. The Club will also be marking Holocaust Memorial Day prior to our fixture against Liverpool at London Stadium on Wednesday 29 January.
West Ham United is unequivocal in its stance and has always taken a zero tolerance policy to any form of discrimination. Equality and diversity is at the heart of the Football Club and we are committed to continue ensuring that everyone who enters London Stadium is free to enjoy watching their team play football in an inclusive environment.