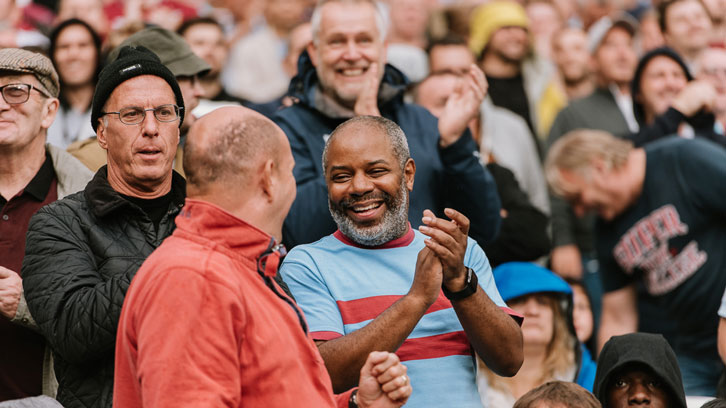 Tickets for our Premier League away fixture at Liverpool on Monday 24 February are now on sale and West Ham United is pleased to once again offer free return coach travel to any supporters attending the game.
This follows the offer which was in place for our fixture at Sheffield United earlier this month and, with limited travel options available back to London from Merseyside after the evening kick-off at Anfield on Monday 24 February, the Club has stepped in to assist supporters on their journey home. Click here for full details.
The Club can confirm the free coach offer will also be in operation for the match at Newcastle United over the Easter weekend on Saturday 11 April and the final away game of the season at Manchester United on the weekend of Saturday 9 May (both fixture dates are still subject to TV scheduling).
Following weeks of planning and productive discussions with members of the Official Supporters Board through its eight subgroups – ticketing, Junior Supporters' Board and the recently-launched BAME Hammers amongst them – who are driving forward ideas and plans in collaboration with the Club for the benefit of all supporters. They represent the many different and varied sections of the Club's vast fanbase, with a number of ideas and suggestions having been put forward and actioned as part of our continued commitment to offering Hammers fans from all backgrounds the best possible supporter experience, however they choose to follow the Club.

We are therefore pleased to also confirm the following for our supporters:
Three complimentary mascot packages at each game are being made available from the 2020/21 campaign via a ballot to all Junior Season Ticket Holders and Claret Kids members aged between 6-12. This comes following positive and continued discussions with our Junior Supporters Board sub-group.
 
A new reward scheme for all of our Under-16 Season Ticket Holders and members, giving them the opportunity to win prizes such as mascot packages, meet and greets with first team players, and special matchday experiences.
 
The a launch of a new dedicated membership scheme for all West Ham United supporters based outside of the United Kingdom, designed to help them feel closer to the Club and ensure they are rewarded for their unique support with regular offers and opportunities.
Further information on the above will be provided across club channels and platforms, but if you have any questions or wish to obtain further information, you can contact the relevant representative on the OSB or get in touch directly with our Supporter Services team at [email protected].

The Official Supporters' Board has a packed agenda for its next meeting on 12 February, where there will be an update on the reconfiguration of seating which will bring fans closer to the action at London Stadium, plans to erect a new statue at Champions Place and celebrations around the Club's 125th anniversary, as well as discussing a number of further initiatives and plans for the benefit of our supporters, while the OSB also expects to ratify the plans for the evolution of the election process which was agreed to be taken forward on 8 October 2019. Click here for minutes.

Official Supporters' Board Chair David Baker said: "We've worked closely with the Club throughout this season on a number of initiatives, some of which the Club has announced today. The OSB exists to represent as many supporters as we can through the range of fans' groups which sit on the board. We're here to offer the widest spectrum of views from our huge and diverse fanbase, and we exist to help the Club make the supporter experience as rewarding as possible.
"We meet regularly with the Club and we're also in daily contact with senior staff, putting forward the fans' views and ideas to the right people. We feel a duty to share those opinions and give the fans a voice, whether it's positive or negative feedback we will always deliver your message constructively."
West Ham United are extremely fortunate to have a wonderfully loyal and devoted fanbase, stretching across the globe. We have 54,000 Season Ticket holders at London Stadium, one of the most dedicated and passionate away followings in the country, thousands of members in the UK, thousands more supporting us from every continent and millions all around the world following us through our various communication platforms.
The Club and the OSB are working together to do everything they possibly can to make West Ham United an open and inclusive and friendly environment for our supporters, no matter what their background, age, race, religion or sexuality, or however they choose to follow the Club.
Our duty is to all West Ham United supporters who follow and dedicate so much to their Club.