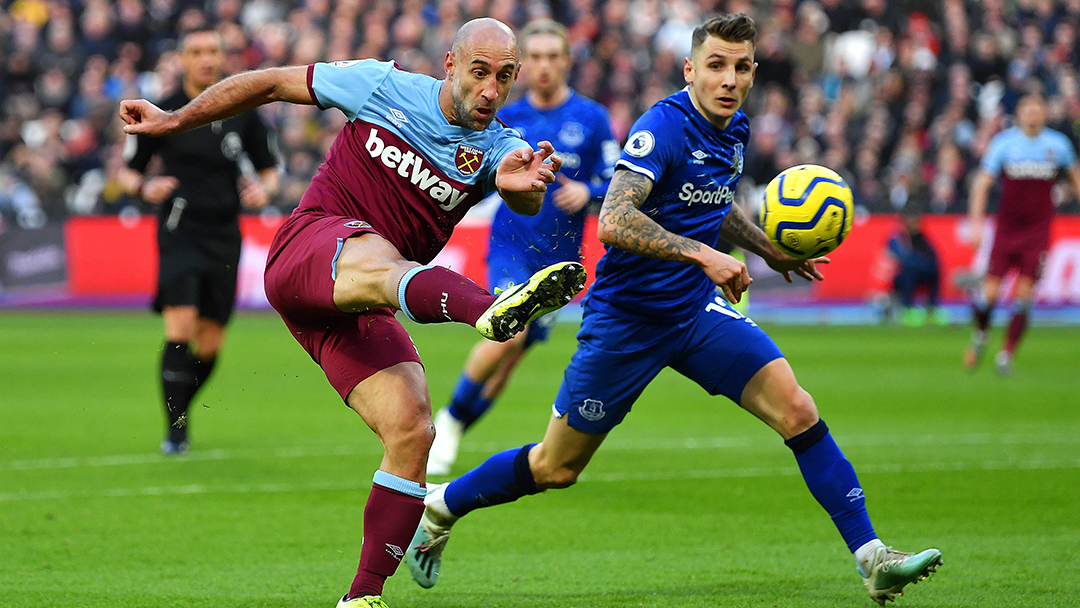 West Ham United defender Pablo Zabaleta believes adding a greater killer instinct is crucial to his side's chances of climbing the Premier League table.
The vastly experienced Argentinean recently demonstrated such composure himself when he netted his first goal in Claret and Blue against Gillingham, putting his side ahead late into the FA Cup third-round tie.
Such a clinical edge has also been present throughout the side in a number of the Irons' more impressive Premier League victories this season, such as the 4-0 home win over Bournemouth on New Year's Day.
A win at third-placed Leicester on Wednesday evening would certainly rank amongst those, with Premier League title-winner Zabaleta calling on his teammates to ensure they make the most of the opportunities they have been doing well to fashion in recent weeks.
"There's still room for improvement, but I think the best thing we can do as a team is to take our chances in front of goal," Zabaleta told Premier League Productions. 
"We have to be clinical because all the games we've won home or away are because we've been like that: relentless in front of goal. It gives us a chance to win football matches.
"Hopefully we can improve on that and, of course, defensively we've improved in the last few games. We need to try and not concede goals; keeping clean sheets is important for our team."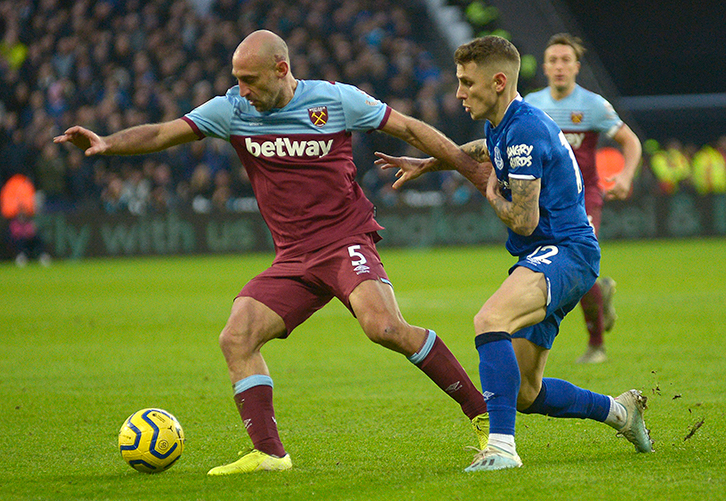 Zabaleta's call for more consistent conversion of opportunities comes after the Irons largely outplayed Everton at London Stadium on Saturday afternoon, but found themselves unable to make the most of a largely dominant first half.
After the interval, the game's pace settled and chances became more sparse – a factor Zabaleta noted in his reflections on the game.
"We'd been good in the first half," he recalled. "I felt we had three or four good chances to kill the game off, especially after we had scored. 
"Probably this is something we found from playing against Bournemouth at home; when you are so clinical in front of goal at home, it gives you a much bigger chance to win a game.
"I think our focus now is on Leicester on Wednesday night. It's going to be a tough game – they are a great side – but I'm a hundred per cent confident that we have a good team to go there and get a result. Of course it's going to be hard, we know that, but we need to believe that we can get something from the game."
 
I think a manager like David Moyes, with all his experience in football and the Premier League, knows what we need and what he has to do to bring the best out of all the players

Pablo Zabaleta

The 35-year-old full-back also took time to praise the work of West Ham United manager David Moyes, who is coaching Zabaleta for a second time at London Stadium.
"It's good to have David back. Most of the players we know him from his previous years here at West Ham," he said. "He's a good manager and a good person. He's a manager who's fairly demanding in terms of everyone having to do their jobs for the team, so it's good to have him back.
"I think what we need at the moment as a team is just a couple of good results to come from up from the position that we are in. We go into every game thinking that we are a little bit under pressure and must get a result. 
"You saw with Southampton, and some of those teams who were also struggling, that they won three or four games a row and now they are in a better position. It gives you more confidence to work with.
"I think a manager like David Moyes, with all his experience in football and the Premier League, knows what we need and what he has to do to bring the best out of all the players."