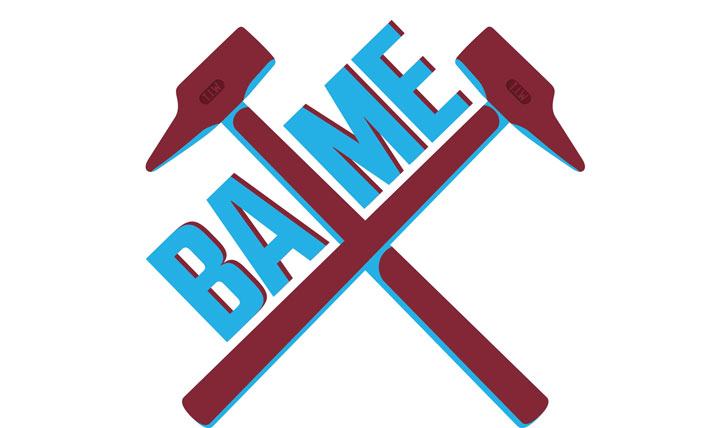 BAME Hammers is a new West Ham United fans group giving a collective voice to all Black, Asian and Minority Ethnic supporters, complementing the Club's commitment to place equality, diversity and inclusion at the heart of everything it does.

The Club is very proud to see the launch of BAME Hammers today, who, as an official independent supporter group, will sit alongside Pride of Irons, Any Old Irons, the Junior Supporters' Board and the Disabled Supporters' Board on the Official Supporters' Board.

West Ham United is committed to encouraging and valuing diversity and eliminating discrimination and we expect commitment and involvement from all our players, staff, partners, suppliers, and match-day fans. 

The Club has been put forward for the Premier League's Advanced Equality Standard, after having already been awarded the Intermediate Equality Standard, in recognition of a range of its initiatives and campaigns, and the new BAME Hammers group will continue to play an integral role in our supporter engagement 

Here, Lee Vehit, Chairman of BAME Hammers, shares his views on the new supporters' group and promoting equality in our communities…

 
Lee, you've been a huge part of the formation of the BAME Hammers supporters' group – tell us a little bit about how this has come about?

I'm under the impression that there is nothing quite like what we're trying to achieve here with the BAME Hammers. I know there are diversity and equality groups throughout the country affiliated to football clubs, but I don't think there is a particular group that is as broad as us. We're launching today officially, but we've been part of the Official Supporters' Board and the Club's equality subgroups for some time now.

In terms of support from the Club and Pride of Irons, I can't have asked for more really. From our perspective, we didn't really have any know how to create an official supporters' group, but we had some ideas, and we knew that Pride of Irons were already set up and established, and they've got a structure in place which is current and is working. They've been able to support us with a structure, and without that structure I don't think we'd be in a position to a) be where we are now and b) have long term aims and objectives of where we want to be in six to 12 months, and even further.

In terms of the Official Supporters' Board – every one of those people on that Board, including the back office support from the Club, have been fantastic, and we've been able to bounce ideas off them, and they've come back to us saying 'we think that's a good idea' or 'how about thinking outside the box and trying these others bits and pieces' as well. I can't thank Pride of Irons and the Club enough.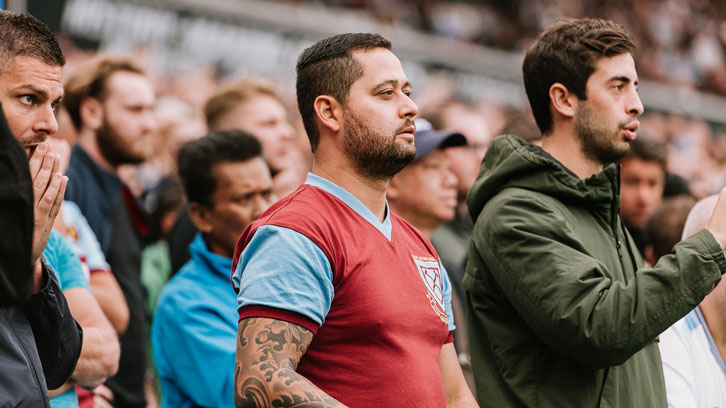 Tell us a little bit more about BAME Hammers and what the group is looking to achieve…

This is all about breaking barriers. We don't want BAME Hammers to be specifically about race, we want it to be broad, because ultimately I want to sit in a room with people that traditionally might have had conflict with each other, might've had a difference of opinion, but under the banner of BAME Hammers, we have a common goal to discuss something that we can all agree on, and have a chat and a laugh and a joke, and share our similarities rather than our differences.

This is probably our biggest thing. Under BAME Hammers we want to create a group which promotes our similarities rather than our difference. When you get together, you see that there's no difference between a white West Ham fan brought up in Plaistow or Canning Town, to a BAME supporter brought up in Green Street. Culturally they are different, yes, but we share a common passion which is West Ham, so our focus is very much on the similarities.

Aims and objectives wise, we want to be able to tie into the Club's equality work that's currently being undertaken, and be a conduit for discussion with BAME supporters across the Club. Having a particular supporters' group which is incredibly diverse already puts the Club in a really good position to be able to speak to us, get some opinion on what is happening, and that's really important.

Medium to long term we want to promote the Club to BAME supporters around London and in the local community. We need to look at why local BAME fans aren't as engaged in football as other demographics. If we could attract just anything from 0.5 to 2% of the local fanbase in Newham, Waltham Forest, Tower Hamlets and Redbridge, our local boroughs, it would make a huge difference. We're looking to communicate with that local fanbase to get them into the Club, see what fantastic work is being done by the Club, and ultimately what a fantastic football club it is. That where we want to be and what we want to achieve.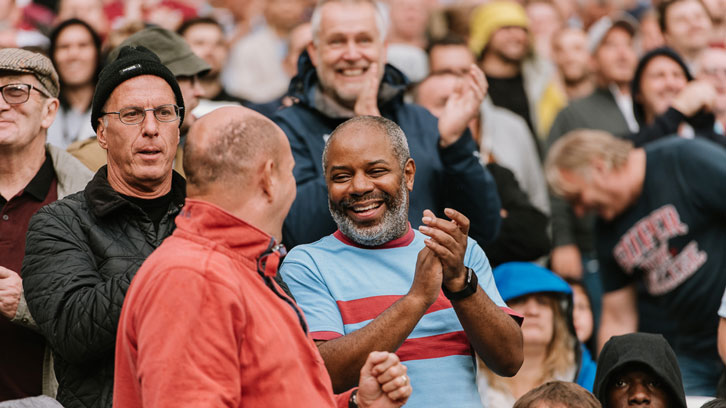 Tell us about the term BAME, for those that perhaps aren't familiar with it?

BAME is an acronym for Black, Asian and Minority Ethnic. When we first started discussing the independent group, even some of our more active members said they didn't really understand what BAME stands for. So, in terms of education, work still needs to be done to make sure people know this, to get them comfortable with the term, making sure that they understand BAME covers a multitude of ethnicities, races and cultures.

When it comes to the terminology and using the right words, it is something people are conscious of and can be concerned about. I sometimes feel like I don't know the right terms for sexual orientation, ethnicities, for religions, so getting people comfortable with BAME is really important.

You are launching on the day of the Kick It Out fixture – how important is it that organisations like Kick It Out continue to tackle discrimination?

It's incredibly important. I think, when it comes to promoting equality in general, in football and society, people have got a bit comfortable, where they think discrimination can happen in some walks of life but maybe don't think it is prevalent. We're starting to see racist incidents again in football, and it's having an impact, not only on professional footballers but also at grassroots level. 

We want to be dealing with that, and we want to be pushing it to the forefront of people's minds to show that this is a problem and it needs to be addressed, and it needs a collective audience to go and tackle it. 

Through BAME Hammers we want to join up with the good work that the Club is doing with Kick It Out, which is all fantastic in this area. We want to be able to tie into it all, make sure that we can work together to help diversity in football to be more important than it is at the moment.
Do we need to see more BAME role models in football?

The ultimate aim one day is to see lots of Asian footballers gracing the Premier League, supported by more BAME coaches and community leaders in football. Because footballers are so high profile, they're looked upon as role models, even if they're not necessarily comfortable adopting that tag, as it were. What we really need is people who are comfortable being role models, from all levels of the game. Sometimes, those people come from grassroots circles; someone like a coach, or a mentor, or someone at the Club who offers good quality advice, someone that is there for you when you need it… And I think this is why we're doing the community work that we're doing, coinciding with the West Ham Foundation's work*.

If you would like to become a BAME Hammers member, you can get in touch through Instagram @bamehammers, Twitter @BAMEHammers or through their online registration form here.