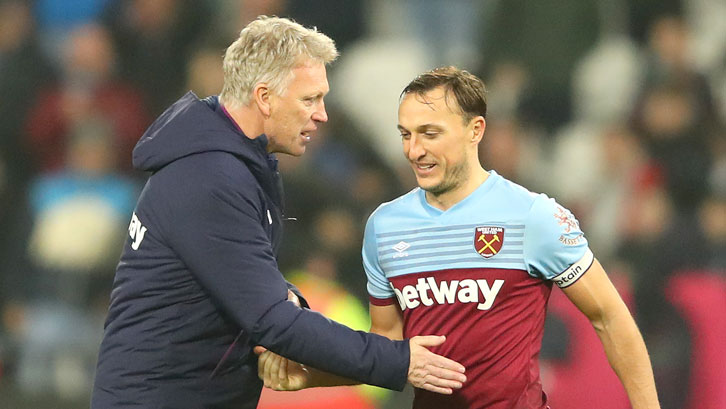 Mark Noble says David Moyes has made his demands on his players and staff very clear since his return to West Ham United – a return that has been followed by back-to-back wins over AFC Bournemouth in the Premier League and Gillingham in the Emirates FA Cup third round.
Moyes has told his squad from his very first day that there will be no excuses not to give their all, every time they step onto the pitch, into the gym or onto the training ground.
The skipper knows the Hammers will not win every game they play but believes the structure put in place by the former Everton and Manchester United boss will give him and his teammates the best-possible chance to succeed.
When David Moyes was manager at Everton, they finished consistently in the top seven and when you went there, you knew you were in for a game

Mark Noble
"Yes, we're going to lose games, but as a start for the manager, to come in and get two wins, especially away in a difficult cup tie, the sort of game where we've been rolled over in the past, it couldn't have gone any better," the No16 observed ahead of Friday's Premier League trip to another hard-working, organised side in Sheffield United.
"The team we put out at Gillingham was the strongest available and for me, it has been a hugely encouraging week. I'm hoping to be available for tonight's game at Sheffield United and that will be a test of a different sort.
"I thought we deserved to win our home game against them, but it ended in a draw. We'll be ready tonight and it will be a good challenge for us.
"They are flying high, have a certain way of playing which is serving them well and I think their manager, Chris Wilder, is terrific. He's honest and his mantra is similar to our gaffer's — you win your battles and everything else will follow.
"When David Moyes was manager at Everton, they finished consistently in the top seven and when you went there, you knew you were in for a game. They had talented players but would be trying to win battles all over the pitch as well."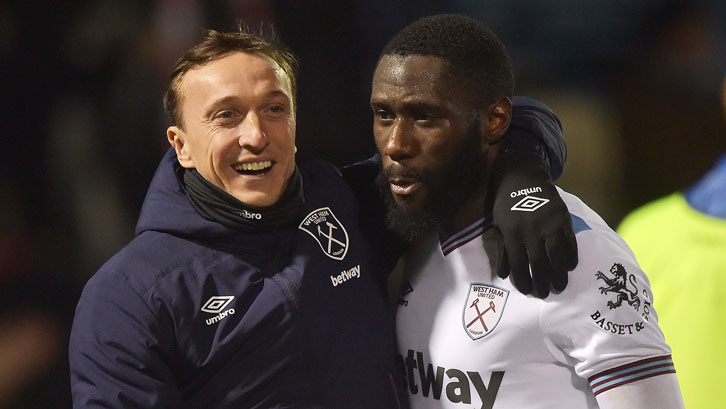 Noble has also revealed that a foot injury enabled him to dip his toe into coaching for the first time.
The captain was forced to miss Sunday's victory at Gillingham where, with Alan Irvine and Academy manager Dmitri Halajko providing assistance, manager David Moyes asked Noble to join his coaching staff for the day.
The 32-year-old, who is a regular visitor to Halajko's Academy, where he mentors and keeps tabs on the Club's promising youngsters, eagerly agreed, offering Moyes his experience and advice during a testing tie that West Ham came through 2-0 winners.
"I had a metatarsal injury so didn't play, but I was at Priestfield and I can assure you, it was a proper test," Noble wrote in his regular Evening Standard column. "They bombarded our penalty area and it was a case of our three big central defenders, Angelo Ogbonna, Fabian Balbuena and Issa Diop, dealing with everything Gillingham could throw at us.
"The manager asked me to be in the dugout with him and I recall sitting there and thinking, 'If this was my team, I would be really proud'.
"I was only too willing to give the manager any help I could. He was probably thinking that, after just one game in charge, I knew some of our players better than him, in terms of substitutes Albian Ajeti, Carlos Sanchez and Nathan Holland. Nathan has since gone out on loan to Oxford United which, I am sure, will help his career.
"Being in the dugout was a fantastic experience for me, an invaluable learning curve and really honest of a vastly-experienced manager to say: 'I could do with your input tonight'. The tactics worked a treat, we managed a clean sheet and scored two goals. It was never going to be pretty, but with those games, you just have to win.
"The fact we defended so resolutely in the first half meant that we could — and did — dominate after half-time. I've played in loads of similar games, but never had one where you could just turn up, play pretty football and cruise to victory. It's just not like that in real life, not on a pitch like Gillingham's anyway."