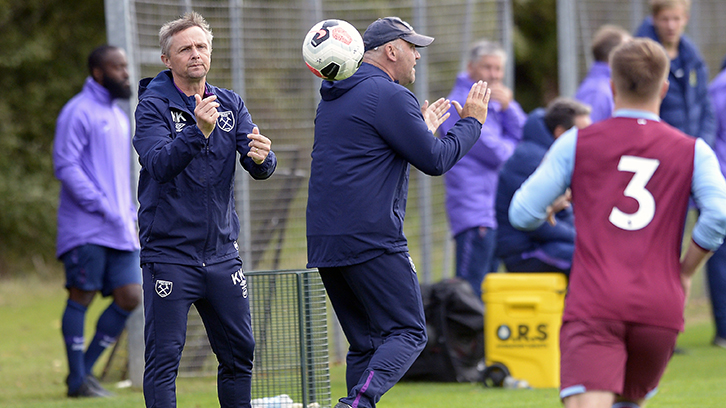 After nearly 20 years of affiliation with Claret and Blue, there are few better-placed to identify that so-called 'West Ham way' than Kevin Keen.
The Academy of Football graduate and former Hammers midfielder made 279 appearances between 1986 and 1993 before spending a further nine in east London as a youth, reserve and first-team coach from 2002 to 2011.
After returning to the Club this summer as U18s Lead Coach, Keen has witnessed his young charges net a remarkable 37 times in just 12 league games to place third in U18 Premier League South at the halfway mark.
Keen attributes his players' performances in front of goal towards his youngsters' investment in the Club's values – their constant desire to attack, entertain and enthral.
"Certainly going forward we're always a real threat, and everyone in our team tries to attack – even our centre-backs at times have broken with the ball to make things happen in the final third," he reflected.
"We've been scoring all different types of goals too. There's been lots from little cut-backs, crosses, a couple from distance, free-kicks, corners… a real variety of goals. We perhaps need to tighten up a little bit defensively, but that's a team effort. 
"We've only kept one clean sheet – our last league game – which was a big relief, but at the same time I would say that is a little bit the 'West Ham way' as well!"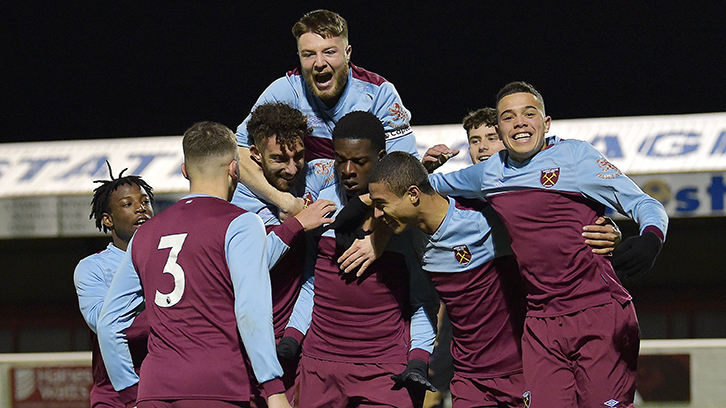 After a month's festive break in their fixtures, West Ham United U18s are set to return to action this weekend when they host Chelsea at Little Heath on Saturday morning.
Positivity is rife throughout the Academy of Football this season, with the outstanding performance of the U23s side – buoyed by the impressive U18s scholars in their midst – leading the charge.
 
I've got to say we've made really good progress in terms of results, the individual development of the players, and our progression as a unit, a squad, a team

Kevin Keen

Such belief in those pathways of progression has been vital at Chadwell Heath as the Lead Coach balances pushing his players to the next level whilst shaping a competitive U18s side.
"I just love working with a young group of players who want to get better," Keen smiled. "I've spent the previous six or seven years working with first teams where there's a different agenda of having to get results, and it's a completely different beast.
"To come back to West Ham and get hold of a young group of U18s players, and to try and build them into a strong team, who have a good work ethic and the right spirit to play for this Club, has been the most enjoyable challenge for me.
"I've got to say we've made really good progress in terms of results, the individual development of the players, and our progression as a unit, a squad, a team.
"Results aren't the be-all and end-all – it's about pushing players on – but they do give a little bit of an idea of whether or not you're getting players up to the necessary standards, and especially in the league this season we've been excellent."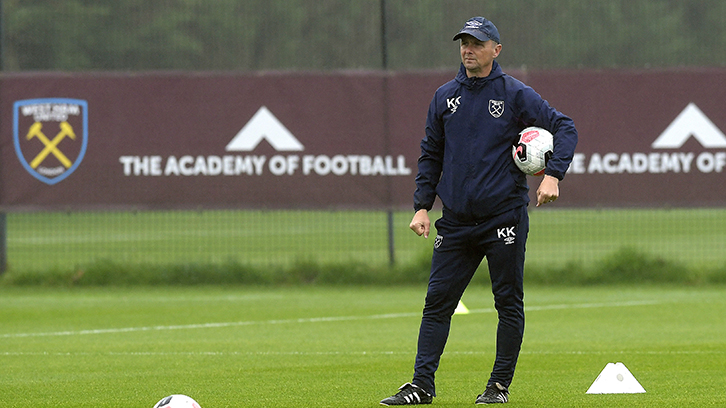 While the U18s' top scorers are versatile Slovakia U19 midfielder, Sebastian Nebyla, and 18-year-old attacker Veron Parkes, with nine apiece, for Keen it's the consistency at the core of the squad that has often shone through.
"Seb has had a good first half of the season. He works hard and plays very much for the team, and Veron's picked up quite a few goals too," Keen observed.
"There are also unsung heroes everywhere in my squad. People like Sam Nsumbu and Josh Okocha, Jake Giddings and Will Greenidge, players who are our core. Every week they play for me, for the team and for the badge."
Many of the facilities at Chadwell Heath have been revitalised since Keen's last spell at the Club, but for the former midfielder, it is the overall direction of the Academy of Football which has proved most exciting.
"Coming back into this new facility, into an environment of young coaches who all want to learn, has been one of the biggest positives for me," he noted. 
"Ricky Martin's come in and really got hold of what the 'West Ham way' is and how we want to produce players for the first team in the correct manner. The atmosphere around the coaches' room and the Academy environment is really positive, and our results have stemmed from this."
As for the second half of 2019/20, Keen has challenged his players to simply keep pushing.
"We were disappointed not to progress in the Youth Cup, but we've put ourselves into a position in the league where we can kick on," he reflected. "I'm optimistic over the next three or four years we can start talking about having another Nathan Holland or Declan Rice in the first team. That's the ultimate goal for us all at Chadwell Heath."
West Ham United U18s return to action on Saturday 11 January when they host Chelsea U18s at Little Heath. Kick-off is at 11am.