After a year beset by injury problems, West Ham United U23s defender Olatunji Akinola was delighted to be back in the thick of the action against Manchester United U23s on Monday evening.
The 21-year-old centre-back hadn't played a competitive game since 5 January 2019 – a 5-1 Premier League 2 win at Manchester City, during which he sustained a serious injury while clearing the ball off the line.
 
It was a top-of-the-table clash, and especially for me being out injured for a year, and coming back into a game like this, it was amazing

Olatunji Akinola

The young defensive prospect, who has been with the Academy of Football since he was eight years old, nevertheless embraced the challenges posed by a lengthy rehabilitation process.
The reward for such perseverance and professionalism was a starring role as the Hammers defeated Manchester United U23s 2-0 in the top-of-the-table Premier League 2 Division 2 clash, first-goals from Alfie Lewis and Nathan Holland ultimately decisive on the night.
"It's a great day for me, it's really positive," Akinola told whufc.com after the game. "We needed this win today, it was a top-of-the-table clash, and especially for me being out injured for a year, and coming back into a game like this, it was amazing.
"I knew it was going to be a massive game to come back into but it's the kind of challenge I look forward to. I've been working all those months in the gym, doing my physio, doing everything properly to be ready for nights like this, and I was happy that I could help the team today to get a good result.
"Obviously I have to thank all the staff. Tom [Smith, Head Of Academy Elite Performance & Sports Medicine] has been great with me since day one.
"With Lewis [Coldham] and James [Cheeseman] in the gym as well, and Dmitri [Halajko] and Steve [Potts], all the staff have been so great to me, and I can't thank them enough. The result is just the perfect reward for that."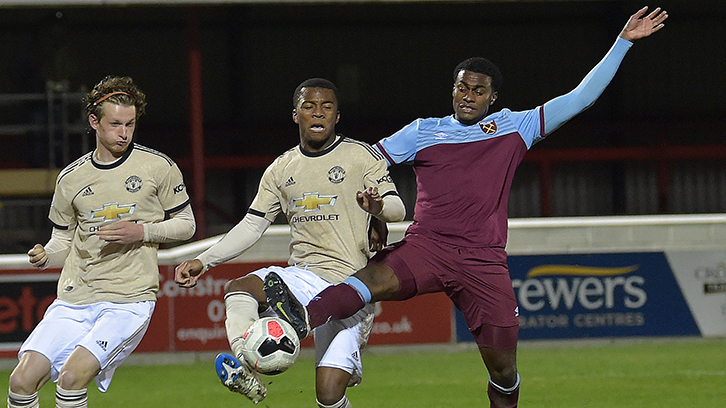 Akinola's presence proved a huge boost for the junior Hammers and helped them record their seventh clean sheet in nine home games so far this season.
After joining his side in putting in hard graft against a talented Manchester United U23s side, restricting them to just a solitary shot on target, Akinola revealed his delight at shutting out the second-placed Red Devils.
"You know for a defender, a clean sheet is like a goal!" he smiled. "It's a great feeling for us, especially against one of the best teams in the league. It was a special feeling and I'm just happy for the boys and happy for the manager as well."
After his team opened a four-point gap at the top of the table, Akinola also revealed that he is keen to make up for lost time in the best way possible – by helping them compete for the Premier League 2 Division 2 title.
He said: "I've got 90 minutes under my belt now, and I'm just looking forward to getting more training and more games in, getting myself as fit as possible and just keep putting good performances in towards the end of the season, and hopefully we'll lift the trophy.
"Tonight was great and everyone in the dressing room was dancing and happy, but we know we've got to take it to Reading next week now - and get another win."