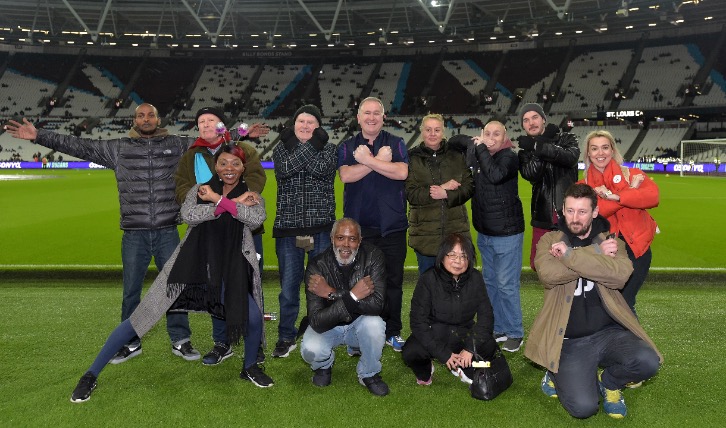 West Ham United's Players' Project has once again teamed up with homelessness charity Crisis, to spread some festive cheer for local homeless people.
Helping tackle poverty is a key strand of the Project, with the Club hosting local homeless people twice at London Stadium in 2019 to put on a range of support services.
Last weekend, eight local homeless people visited London Stadium for the Leicester game, enjoying the match, some food and a pitch-side tour.
For the fifth year in a row, West Ham's contribution to the Crisis was personally funded by joint-Chairman David Sullivan, at no cost to the Club or the Foundation. He said: "Crisis is a cause that is really close to my heart and I'm very proud to be able to support it once again. It does wonderful work, and each year our brilliant Foundation staff deliver the programme right across the festive season, even on Christmas Day. 
"The Club has now cemented its place as a pillar of support in the local community and works closely with a range of charities year-round through the Players' Project, and this positive impact is something we want to keep offering to those in our community who need it most."
Crisis is a cause that is really close to my heart and I'm very proud to be able to support it once again.

David Sullivan, joint-Chairman
Each year Crisis sets up centres across Britain, to bring food, warmth, companionship and vital services to over 4,000 homeless people over the Christmas week. The charity also runs year-round centres across Britain, where its frontline staff provide ongoing support with housing, employment and wellbeing to help people to leave homelessness behind for good. 
Mark Noble, the Club's ambassador for tackling poverty said; "Small gestures like this; coming here, spending time with people and giving some warm clothes out, some scarves, some trainers and some hot food, it means a lot to people. If you're in a privileged position like I am, or a lot of people are, you don't realise what this means to other people. As I've said, I'm from this area and it means a lot to me to be here. Hopefully just a little bit of my time and everyone else's time makes someone's Christmas. That's really important.
"Supporting Crisis is something to be hugely proud of and it's great the Chairman has shown his support once again to a great cause."
Throughout December, West Ham United's women's captain Gilly Flaherty also embarked on a personal fundraising campaign to support Crisis. Alongside her own contributions, she collected donations from other women's players, backroom staff and supporters at Rush Green Stadium.
Having championed the support of those less fortunate during the festive period for a number of years, Flaherty said: "Unfortunately, homelessness is a continuing issue in our area and as a Club we love doing what we can to make a difference, particularly at this time of year. Through the Players' Project, all the players from across the squads have been able to get involved and support amazing local causes, it really is part of what makes West Ham the community Club it is."
Ian Richards, Head of Crisis at Christmas, said: "For people experiencing homelessness life is difficult on a daily basis and for many the festive period can be a particularly difficult time. Many people we work with tell us that loneliness and isolation are just as difficult as the physical hardships of homelessness. We are very grateful for the support from West Ham's Players' Project and showing that everyone is part of society."