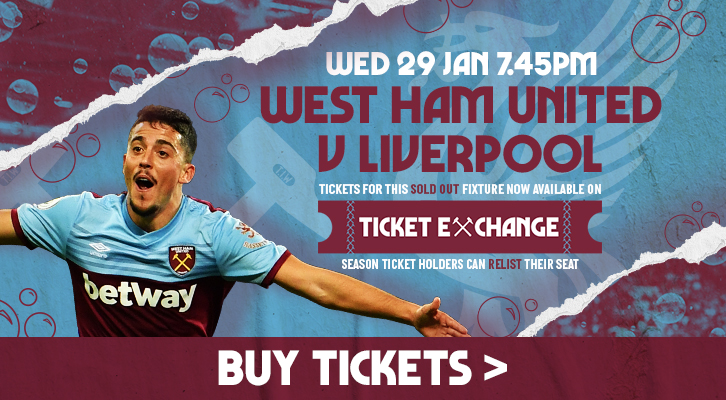 Seats for the sold out game against Liverpool are now available on the Ticket Exchange - click here to buy!
Tickets become available for the meeting with the Reds as Season Ticket Holders who cannot make it relist, and as there are a limited number of seats currently listed on the Ticket Exchange, with thousands of supporters still trying to secure tickets, if you list your seats now they are practically guaranteed to sell.
League leaders Liverpool head to east London to end a busy January as the Hammers look to climb the table.
Get your seat now to fill London Stadium with Claret & Blue and ensure the atmosphere is rocking.
Supporters can purchase their seats on the Ticket Exchange, while Season Ticket holders who cannot make this match can also relist their seat, allowing fellow fans the chance to be at the game and fill London Stadium with the Claret and Blue army.
Season Ticket Holders who relist on the Ticket Exchange will earn Club Cash to redeem against club products, including their Season Ticket renewal, when their seat sells.
Current Ticket Availability
West Brom (h) - Saturday 25 January - General Sale - Click here
Liverpool (h) - Wednesday 29 January - Ticket Exchange open to relist and buy - Click here
Brighton (h) - Saturday 1 February - General Sale - Click here