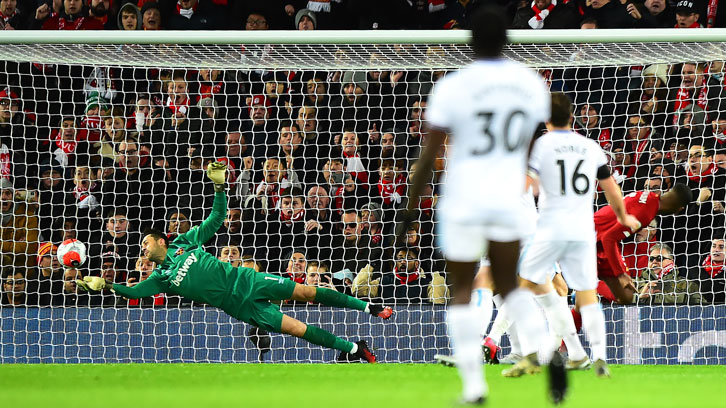 Lukasz Fabianski's character has never been in doubt, and it was in evidence again as the goalkeeper spoke to the media after Monday's 3-2 Premier League defeat at Liverpool.
Usually so reliable, the West Ham United goalkeeper made errors to allow shots from Georginio Wijnaldum and Mohamed Salah to get past him – the first despite him getting a strong right hand to the ball and the second to squirm through his legs – and provide an unwanted platform for Sadio Mane's late winner.
Speaking with typical honesty, the No1 held his hands up and apologised to his teammates.
I held my hands up and 'I am really sorry for my efforts. I am the reason why we lost'

Lukasz Fabianski
"My mistake basically cost the team the three points," he said. "We did really well. We actually pushed Liverpool to the edge and I think if it was not for my mistake then we could have even won. I am really sorry that I let the team down tonight.
"It was not [that I saw] anything late. I think the first goal and the second goal I should have done a lot better, because I was set, I was ready to react, and my hands were there. For some reason I just misjudged it or maybe I was a bit relaxed in those situations thinking that it was already caught or saved. It was me being a bit too relaxed in those situations, not really being aggressive with making saves.
"I just apologised [in the dressing room after the game]. I do not think there is anything else I can say. I held my hands up and 'I am really sorry for my efforts. I am the reason why we lost'."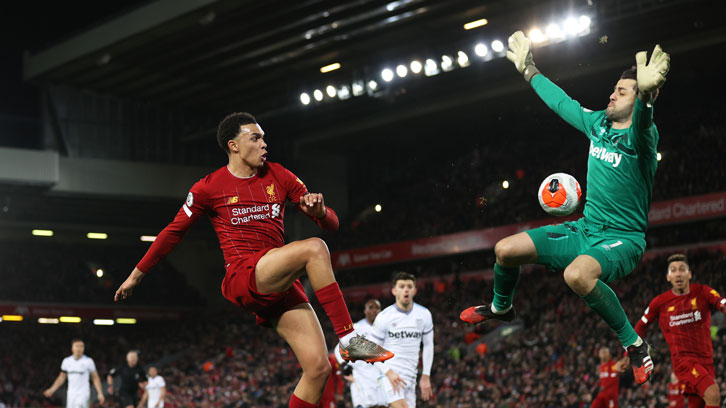 It is a goalkeeper's lot that when they make mistakes, goals conceded are often the result, so the experienced Fabianski knows the only thing he can do is put the game out of his mind and concentrate on Saturday's important home game with Southampton.
"I will do my best, work hard and make sure I cut out all the mistakes, and try to be an important part of the season, because we are still in a bad position and I will just make sure I am more focused and more reliable to help the team in the next games," he confirmed, before praising his teammates for their performance in pushing the unbeaten leaders all the way.
"There were loads of positives. It was probably one of our best performances, especially against a team like Liverpool who are going to be champions. We managed to score two goals away from home and created decent chances. The only thing was lacking from the night was points, because we deserved the points. Like I said before, I am the reason why we did not get any."
Last but by no means least, Fabianski thanked the vocal Claret and Blue Army for their support on Merseyside, where they could often be heard loud and proud above the Liverpool fans.
"It is great, especially on Monday night," he observed. "It's a long trip for them and they have were there for us, supporting us for 90 minutes. They were very loud and noisy, so we are very thankful for that and hopefully it will be like until the end of the season because they have an important part to play in helping the team stay up."