Charities
Bobby Moore Fund - Tackling bowel cancer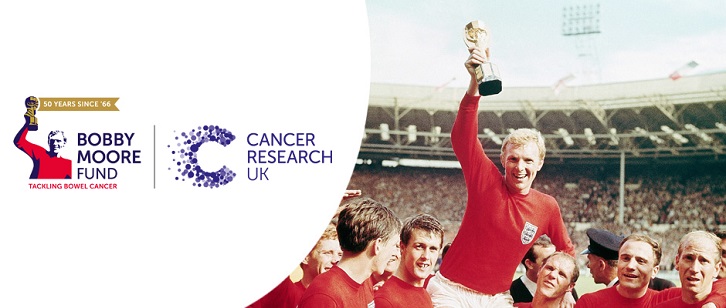 Bobby Moore tragically died from bowel cancer aged just 51, with Monday marking the 27th anniversary of his passing.
Shortly after Bobby's death in 1993, his widow, Stephanie Moore MBE, established the Bobby Moore Fund in partnership with Cancer Research UK to fund pioneering bowel cancer research and help raise awareness of the disease.
In memory of the greatest-ever Hammer, West Ham are dedicating Saturday's Premier League fixture against Southampton at London Stadium to the Bobby Moore Fund (BMF) to help raise vital funds for life-saving bowel cancer research.
Know Moore about your body
It is known that early detection of bowel cancer is key. When diagnosed at an early stage, more than nine in ten people survive for at least five years. This drops to less than one in ten when the disease is diagnosed at the latest stage.
So, if you do spot something unusual, tell your doctor. In most cases it won't be cancer – but if it is, finding it early can make a real difference.
If you want to learn more about spotting cancer early, including information about screening across the UK, click here.
As well as raising awareness, BMF funds vital research into ground-breaking new treatments. For example, the Fund is currently supporting a project at Queen's University Belfast which is exploring whether immunotherapies – treatments that harness the power of our immune system to fight cancer – could be used to treat advanced bowel cancer in patients for whom chemotherapy is not effective.
All of this potentially life-saving work is only possible thanks to the tireless efforts of our supporters, who go above and beyond every year to help us beat bowel cancer.
This year marks the 27th anniversary of BMF and during this time the Fund has raised an incredible £27million. Since Bobby's death, mortality rates for bowel cancer have fallen by more than 30%. But sadly the disease still kills 44 people in the UK every day, showing there is still a long way to go.
How you can help tackle bowel cancer
Look out for bucket collectors in red BMF t-shirts at Saturday's game, or you can make a £5 donation by texting SHIRT to 70180*
Looking ahead, Football Shirt Friday is back again on 24 April. The campaign marks Bowel Cancer Awareness Month and BMF will again be asking the nation to wear their shirts, donate and share a selfie to raise vital awareness and funds.
Whether you fundraise at work, your school, your local sports club or go solo, BMF will be there to support you the whole way.
Click here to find out more or email FootballShirtFriday@cancer.org.uk to register you interest.
*Text costs £5 plus 1 standard rate text (age 16+, UK mobiles only). CRUK receives 100% of this donation. T&Cs at www.cruk.org/terms. Reg charity nos: 1089464 & SC041666.